Understanding which compass point your garden faces:
A gardens aspect, ie which way your garden faces North, South East or West, is one of the first things I do when I'm working on new garden designs. If you ignore the position of the sun in the garden you will struggle to find the correct plants. It also means you may not choose the best seating areas or plan paths that are then shady, damp and slippy. It's key that you understand and plan your garden design based on the aspect first.
When designing and planting a garden, you can accommodate virtually any aspect/compass direction if you understand it.
Tip: A Gardens aspect relates to which of the 4 compass points or directions it faces. North, South, East or West.
Most people are aware of the 'South facing' garden and how this is the holy grail for horticulturists. This is because south-facing gardens usually get full sun all day long.
It's not the be-all and end-all though. I'm going to help explain using diagrams and examples of how to work out the aspect of your garden. I'll also be sharing hints and tips in the guide below on garden aspects to help you get the most out of your garden.
Please note that the shade will move throughout the day as the sun arcs over your property. These guides are to give you an idea of where the shade will predominantly lie. This means that the shaded areas will be colder and receive less light than the non-shaded areas. It is also affected by neighbouring properties, trees, fences and other obstructions.
Knowing where the sun rises & falls in your garden
Understanding how the sun moves over your garden is important as it wil highlight where the sun moves but also it will show you where shade is cast throughout the day.
By knowing this you can better plan your garden and plant choices to make the most of these areas.
The sun rises in the East and sets in the West.  This is because the Earth spins with a rotation towards the east. The diagrams below are for Gardens in the Northern Hemisphere, Southern Hemisphere aspects need to be switched.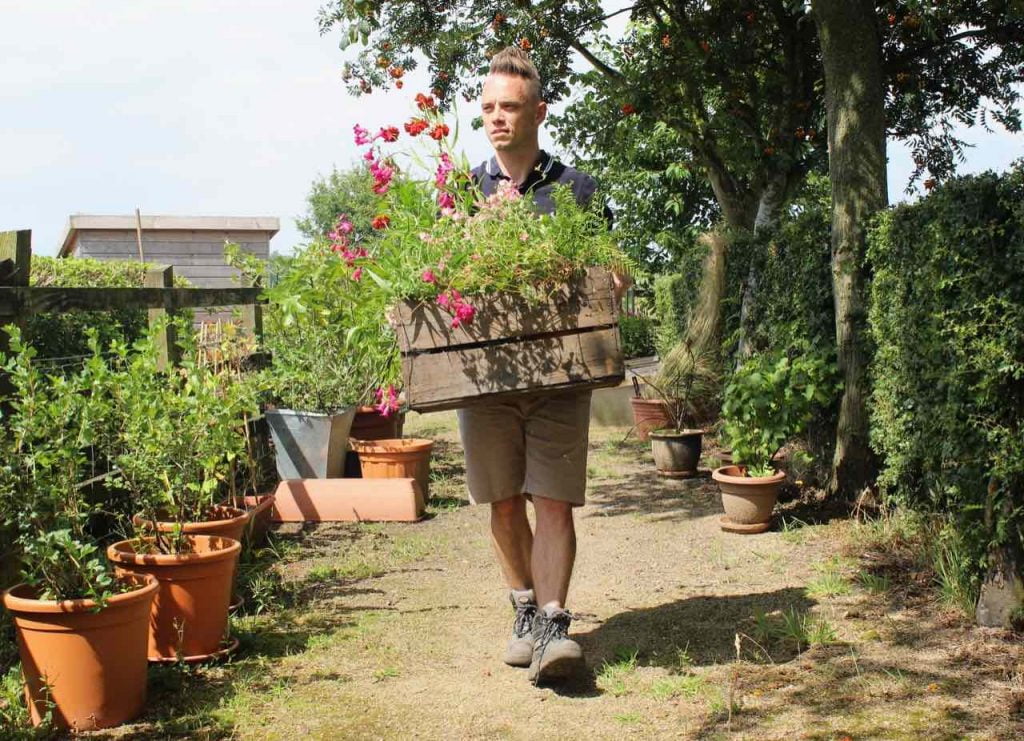 Garden Aspects Explained
Knowing where the sun rises and sets is not just important when working out where to put your seating area. It's also vital information to make sure you choose the right plants for the right place. No matter how enthusiastic you are about planting, choosing plants for the wrong aspect will lead to them struggling to establish or simply dying. This is because all plants will require different amounts of light or exposure to the sun so knowing this helps you choose better plants for your flower beds.
South facing gardens
Receive more sunlight and are usually brighter.
Tend to be hotter and warm up earlier in the season.
May require more watering as they tend to have drier soils.
Can require more planning for shady seating areas they can get super warm!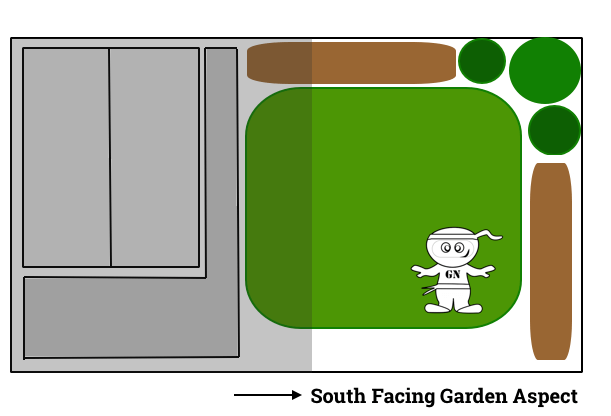 North facing gardens
Receive less sunlight or dappled shade which will affect planting choices.
Tend to be cooler and only warm up later in the season.
Has fewer high and low extremes of temperature.
Longer gardens may be less affected as they could get light pockets at the far end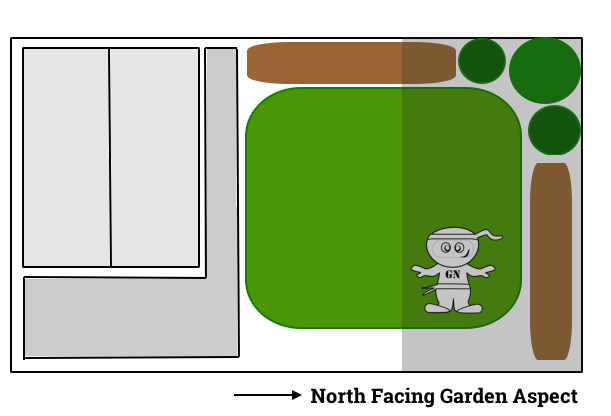 East facing gardens
Will receive more sunlight in the morning, perfect for breakfast on the patio!
Will be darker in the afternoon and evening.
Include garden lighting in your design, maybe a fire pit if you're a night owl that wants to entertain in the evening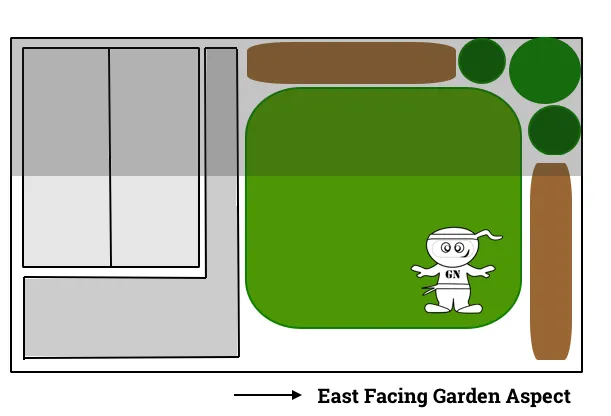 West facing gardens
Will receive more sunlight in the afternoon and evening. Perfect for the party house!
Will be darker in the morning, with shade nearest the house.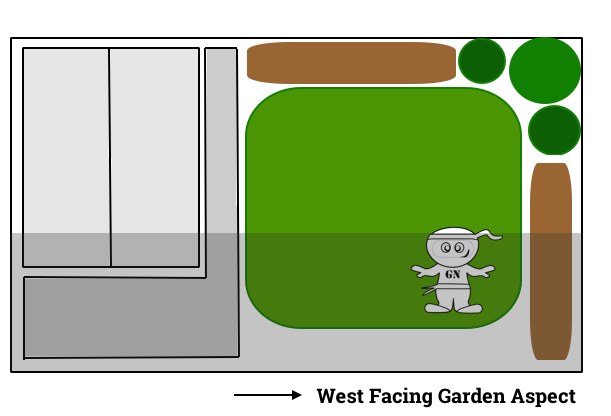 Another helpful tip is to see what plants and trees are flourishing in your next-door neighbour's gardens to each side. This can be a good trick to work out what kind of plants work well in your aspect. Take your time when planning your garden, really work out where the sun moves to and from. Think about your garden design and where you would like to sit, eat, relax and sunbathe. The same goes for your plant choices, a few carefully considered planting groups will work much better than a 'pick and mix' have a go planting scheme.

Plants for a South Facing Garden
Chose plants that enjoy full sun and warm temperatures. There are obviously plants that will cope with a bit of dappled shade too but here are some full sun worshipers! A few examples to get you started would be
Echinacea
Asteraceae family (Daisies)
Lillies
Iris
Erysimum cheiri (Wallflowers)
Eryngium
Salvia
Verbascum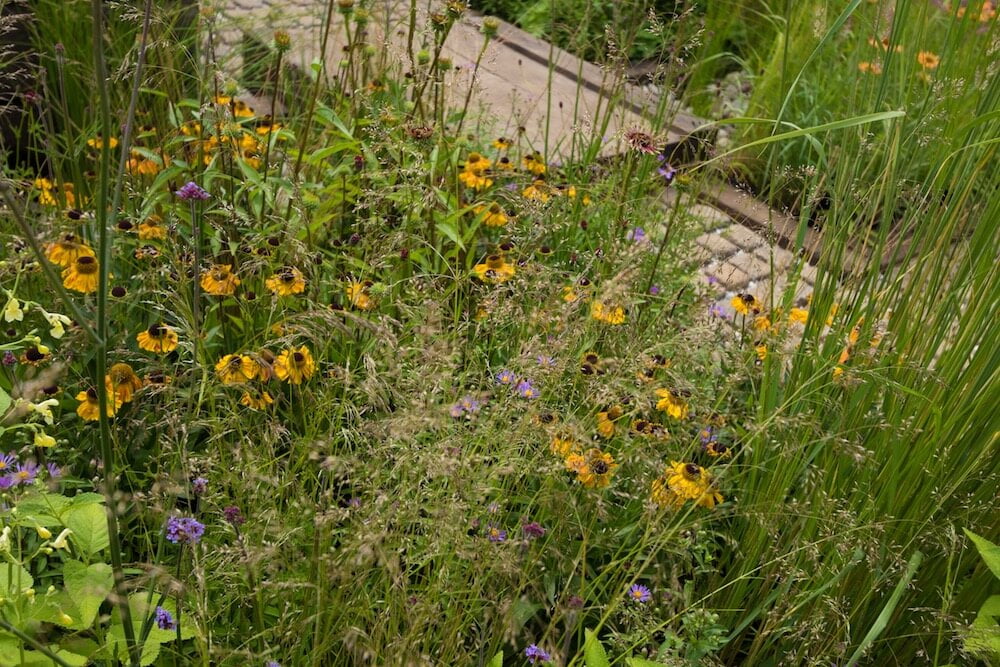 Prairie planting schemes will work incredibly well in these gardens as they love full sun and a mix of moist & dry conditions. Grasses will tolerate dry and damp conditions whilst Prairie plants like Heleniums love a damp sunny spot. Have a look below at how even a small garden can benefit from a prairie border scheme.
Plants for a North Facing Garden
Any plant that thrives in shade or cooler conditions will love a North Facing Garden. A selection of popular examples are
Hostas
Ferns
Dicentra
Vinca major
Viburnum
Erythronium (Dogtooth violet)
Begonia
Primula vulgaris
Aquilegia vulgaris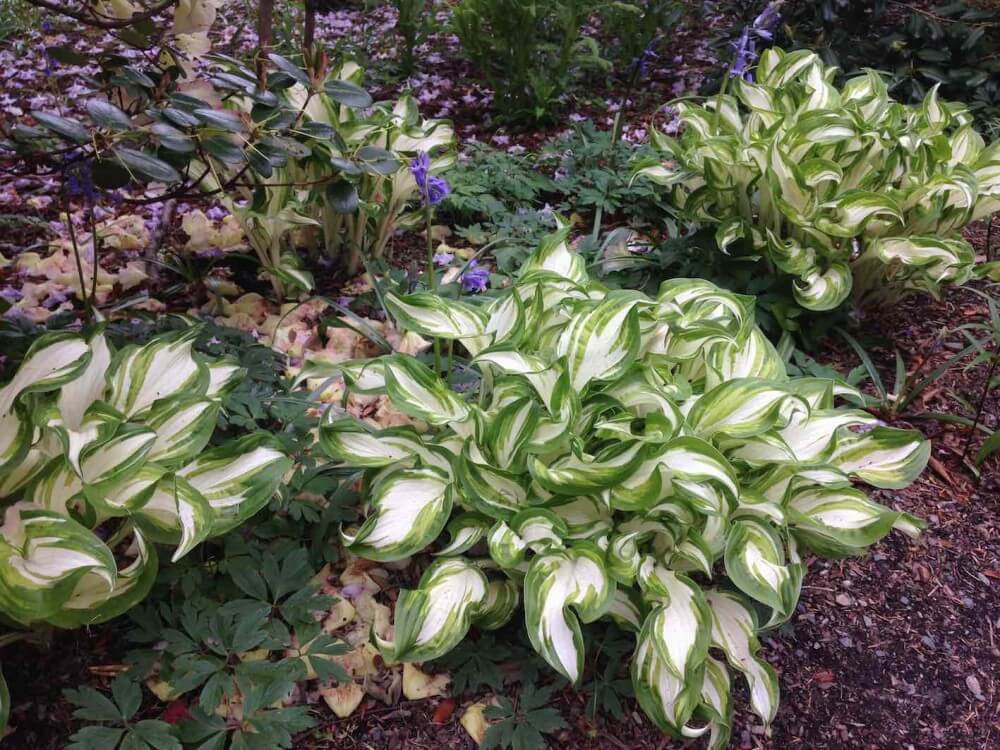 East and West Facing Garden Plants
Now for East and West, it's not quite as critical as you are going to get a mix of light and shade. So the advice here would be to choose plants carefully for parts of the garden that feature more heavily in the shade or full sun. You really have the best of both worlds! Don't forget also that any structures will create shade even in a South facing garden.
Choosing the right plant for the right place is the most sensible approach to garden design planting. As hard as you try you are not going to get a shade loving plant to thrive in full sun or vice versa. The RHS website is an excellent resource for locating pants for aspects and soil types. It's also essential if you're designing your own garden to work out a consistent theme or feel for the garden. The best place to start is by working out if you prefer a formal or informal garden design. Then the sky is the limit, let your creative juices flow!
Summary
Ignoring the aspect of your garden is often at your peril. As much as you may want that Fig tree to fill your garden with Mediterranean summery sunshine, if your plots a damp North facing garden then you may need to readjust your planting requirements! That's not to say you can't have an incredible garden; it just needs a more selective plant approach.
The next thing I must urge you to check before designing a new garden is what soil type you have. Without understanding soil, your best-laid garden design plans may fail to launch. Check Out my guide to soil types here.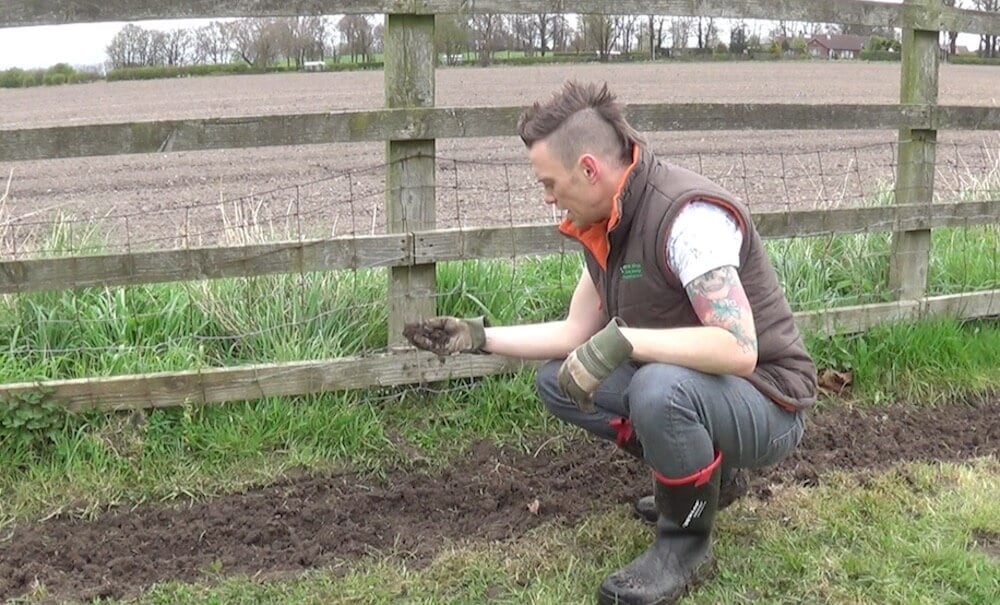 If you're new to gardening then my beginner gardening playlist below will help get you up to speed quickly! It should help you make fewer gardening mistakes and succeed more in your garden design journey!
Need more help with your garden? Why not get in touch on social media on the links below or use Garden Ninjas garden design service?
You can Tweet, Facebook or Instagram me with your questions or ideas! You can also follow me on Youtube where I've got plenty of garden guide vlogs.