New Build Garden Makeover
Often new build gardens are random shapes that don't quite work with many designs or ideas. They nearly always feature hundreds of utility grids right smack bang in the centre of the lawn area. It's a shame that the garden space is most often tiny and they give you the smallest of spaces.That's not to say you can't turn it into something totally awesome, you just need a bit of creative thinking and zoning.
This new build garden was no different. It has three awkwardly placed grids. Boundaries on odd angles and when you put your spade in you hit rubble at every strike.
The owners wanted a space that they could sit out in and entertain whilst having a separate smaller sun trap area as well. They were overlooked but luckily for them the garden was south facing and receives full sun most of the day. So at least one positive start! They wanted low maintenance and a clean contemporary layout. They also wanted it to be a sensory garden focusing on smells and scents.
Solution:
I used zones in this garden to enable it to have a clear use and structure. The owners wanted a social garden so the first zone is that of a sheltered seating area with raised beds. Using olive trees it provides some screening from the neighbours that overlook the property.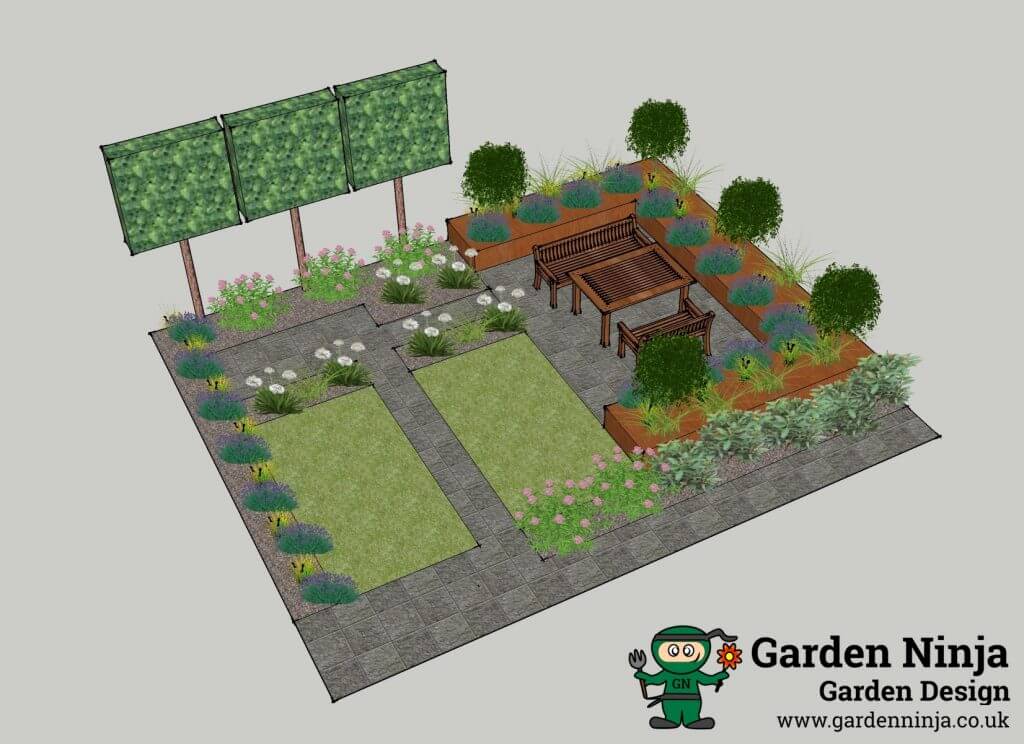 By splitting the garden into zones it gives the small garden a real clear purpose a place to relax and socialise.  The planting is very simple using blocks of Lavender, Stipa and Carex together which is mirrored in both zones of the garden. The other zone is to admire the garden and features a small lawn and nested seating area for two amongst the borders under the pleached trees. Agapanthus adds some excitement to the first zone of the garden, using white to calm the area. Skimmia japonica adds more structure and enables the garden to look neat even in the winter months when the Lavender and Agapanthus are dormant. Verbena bonariensis will be used within all the borders to give some height and summer interest. It's also a great plant for insects and the bright purple will help bring out the green in the Carex grass.
The pleached trees give privacy without blocking out too much light. Many people simply fit high fences thinking this will give more privacy; quite the opposite though as it usually makes the garden feel smaller and more claustrophobic. Using pleached trees or a living screen is a better alternative. It also gives a home for wildlife and gives year-round colour and structure to the garden.
Updates soon. Garden installation planned for April 2017.