When were the Winter Gardens created?
Prior to the Dunham Massey Winter gardens, the area where they sit was used by the main house as a pony field for the family horses. Over years, the ground became more and more overgrown and the usage became less and less. Covered in weeds, brambles and thicket it needed some serious TLC.
Luckily in 2007 work began to revive life into this area and create the Winter garden. After pathways, trees and planting schemes were installed the garden was given some time to bed in before the Winter Garden officially opened in November 2009. It is run by a mix of professional gardeners and enthusiastic volunteers all of whom keep the gardens looking pristine. In fact one of their volunteers recently got in touch with me on twitter to give me some inside gossip on what to look out for!
What to see in the Winter Gardens
The winter gardens layout begins with the 'Yellow meadow' which is a border that mixes some older trees with carpets of Narcissus, commonly known as Daffodils. Given the time of year, these vibrant yellow flowers brighten up what otherwise would be a very sleepy border. It's a great idea to use winter flowering bulbs to perk up borders that otherwise die back during the winter months. This is especially true of cottage planting schemes which rely nearly entirely on annuals, sown and grown each year from seed. Once these dieback Narcissus or Iris species can add colour and interest to the garden during dormant periods.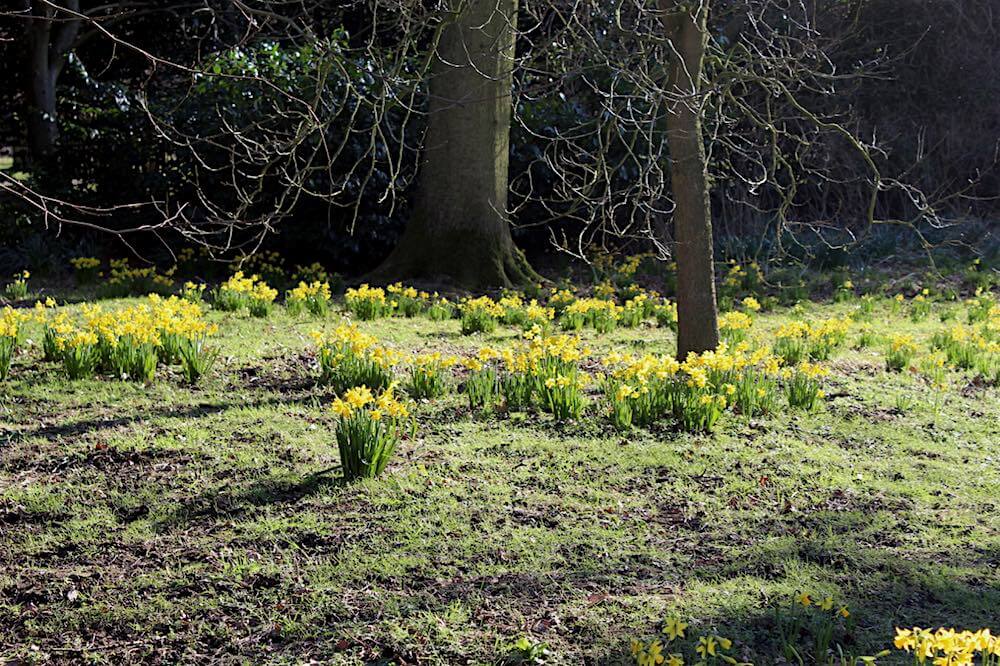 The Birch Triangle follows on which is the real showstopper piece of the gardens. It features a triangular arrangement of silver birch trees, Betula pendula, these trees have white textured bark that jumps out at you against the dormant deciduous planting behind it. This is a classic example of using groups of identical plants in a block planting scheme. It gives a really bold effect as you can see below. You do need space however, this could be scaled down for a back garden using maybe fewer or smaller varieties of Silver Birch.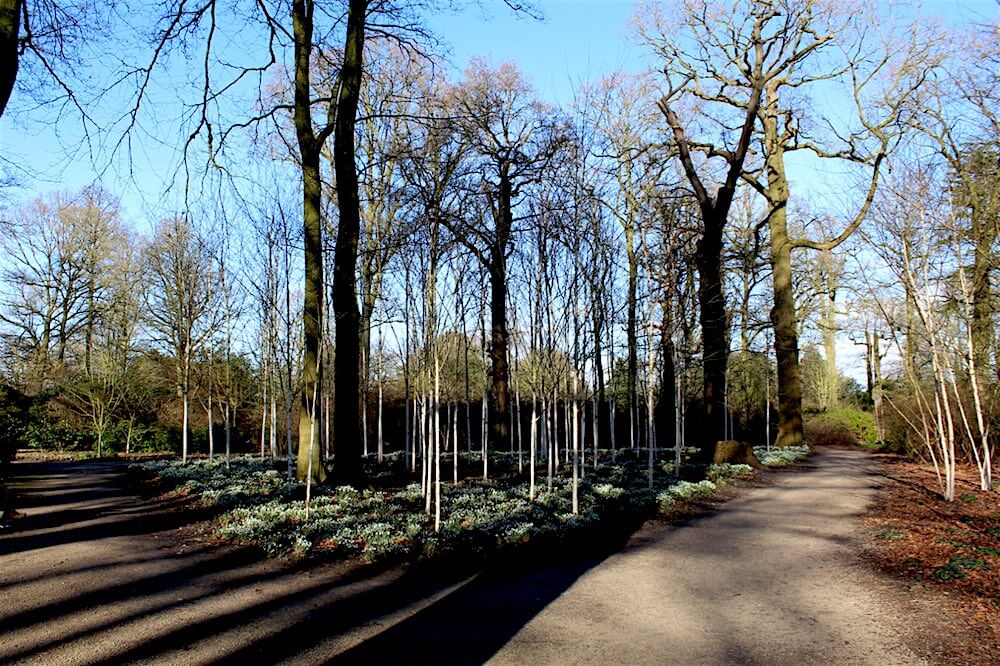 In designs I have created, using a focal point such as block planting, even in a small garden can give a design a real wow factor. Doing less in a smaller garden, but on a bigger scale works far better. I like to use maybe one focal point in a small garden and using a block of colour or striking plant type make a real statement. It's far too easy to just overcrowd a small garden with lots of bit and pieces.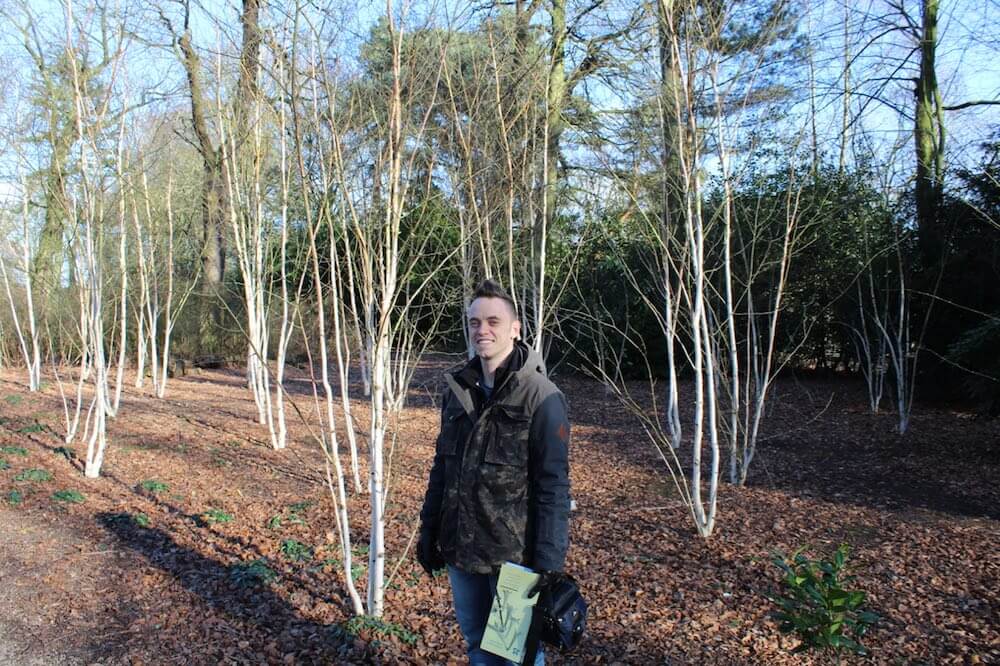 The division between the formal and informal parts of the garden near the bog garden is somewhere you definitely want to focus on during your trip. It's just a wall you say! But its much more than that. It's a clever divide between the formal part of the garden and the informal. This is a key piece of garden design to help separate the two parts and, what's more, the moat that's filled with water acts as a reflective surface which tricks the eye into giving a greater depth to the height between the winter garden. As you can see below the water gives a dark reflective surface to the wall duplicating its height giving the illusion of depth. Very clever.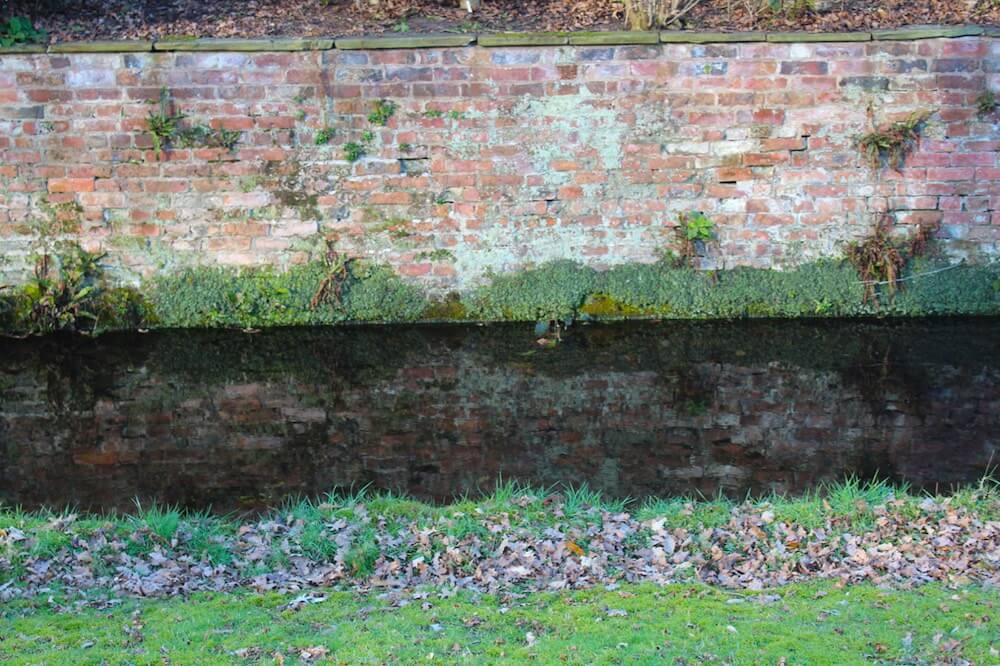 The Parterre area of the garden is a symmetrical set of rectangular beds which line up in perfect proportion to the back of the main house. Given its winter, it's not setting the world on fire with colour just yet, but it's a great time to start to apply garden design principles. Take a look at the size of the beds in proportion to the windows, the placement and depth. All the beds are
Take a look at the size of the beds in proportion to the windows, the placement and depth. Did you notice the symmetry? Great garden design allows the garden to become part of the house or adjacent properties. Again, don't fight against neighbouring structures, work with them. It makes it easier on the eye and gives a much more harmonious garden in nearly all instances. Using the width of windows and doors to create a grid that then scales onto your garden design is a sure fire way to ensure the proportions work.
All the beds in the Parterre are accessible from one side or another, meaning no walking over the beds, which helps lend itself to a no dig system. A no-dig system is one method of soil cultivation which advocates not single or double digging each year, simply adding a mulch of compost or organic matter each year and letting the earth works do the hard work!
The rose garden also uses this principle. Being in an awkward corner it dissects the garden to provide a set of symmetrical beds with a central focal point of a rose arbour. I'm looking forward to revising this part of te garden in summer to see it in full bloom. This segmentation of space is another design principle to trick the eye into thinking that a garden is a formal symmetrical space when in reality its an awkward triangle! You can see this in the top right of the map of Dunham Massey gardens below.
Map of Dunham Massey Gardens
I tried to locate a map of Dunham Massey but oddly they only lend them to guests when they get there. This does seem a bit odd, but I asked the garden staff who said I could photograph it. So if you're stuck trying to find anything hopefully this will help. I wish sometimes the National Trust would catch up with the age of assistance as having to lend a map seems a bit archaic! All rights belong to the National Trust and my own rights as the hand model.
Designing with what you've got
Given the time of year the moss garden, where the old rose garden lived before the trees outgrew it and prevented light from allowing them to grow, and linked formal rose garden are in a state of hibernation. It is interesting to see how the garden has adapted to the conditions, the moss garden being a prime example of this. I often articulate how garden design should always play to your strengths, or sometimes weaknesses. You can spend many hours fighting conditions to grow plants you are desperate for, but ultimately some conditions just need to be worked with not against.
If you have a super wet garden, rather than trying to add french drains, soakaways or lorry loads of grit, why not just accept it and start to design a bog garden? This is where garden design can save you a lot of money, effort and strained muscles!
What to take away from the winter gardens
The winter gardens are all about making the most of the conditions you are faced with. Winter can be a harsh season, but the gardening year is filled with all sorts of wonders that can grow in any condition. By choosing varieties that prefer winter or early spring you can still have a fantastic garden space irrespective of the freezing weather.
When designing a garden working with your environment, soil and boundaries will reap easier results that trying to completely rework or change them. If you have an awkward plot, dissect it into spaces to give an illusion of the space you want. If the conditions won't favour your Lathyrus odoratus as its too wet and shady, then work with the moistire and lack of light!
The RHS has an excellent plant finder which can assist with this, or why not get in touch with Garden Ninja for a Garden Design or planting plan? It can save you the fuss, expense and time considerations!
Why not get in touch via Twitter, Facebook or Instagram me with your pictures! You can also follow me on Youtube where I've got plenty of garden guide vlogs.