The gardens of Levens hall, Versailles in France, Bodelwyddan's knot garden, clipped hedges of yew and box will all bring to mind the classic formal garden. Neat lines and symmetry are key for formal gardens along with a restrained colour palette and paired back mix of materials.
Formal gardens can sometimes be folded on an axis to make a completely symmetrical garden. Imagine folding a pattern on a piece of paper and this is sometimes a good analogy of a 'true' formal garden. Whilst there are many derivatives the formal style of a garden follows a set of rules or standards that make them fit the 'formal style'.
Formal gardens are often higher maintenance due to the amount of clipping or attention they require to keep them looking neat and tidy.
Rules of a Formal Garden
Symmetry and geometry
A restrained / definite / obvious colour palette
Planting schemes that can be trained / pruned or shaped into set shapes.
Patterns may be used to provide the template for planting, repeating shapes and symmetry are key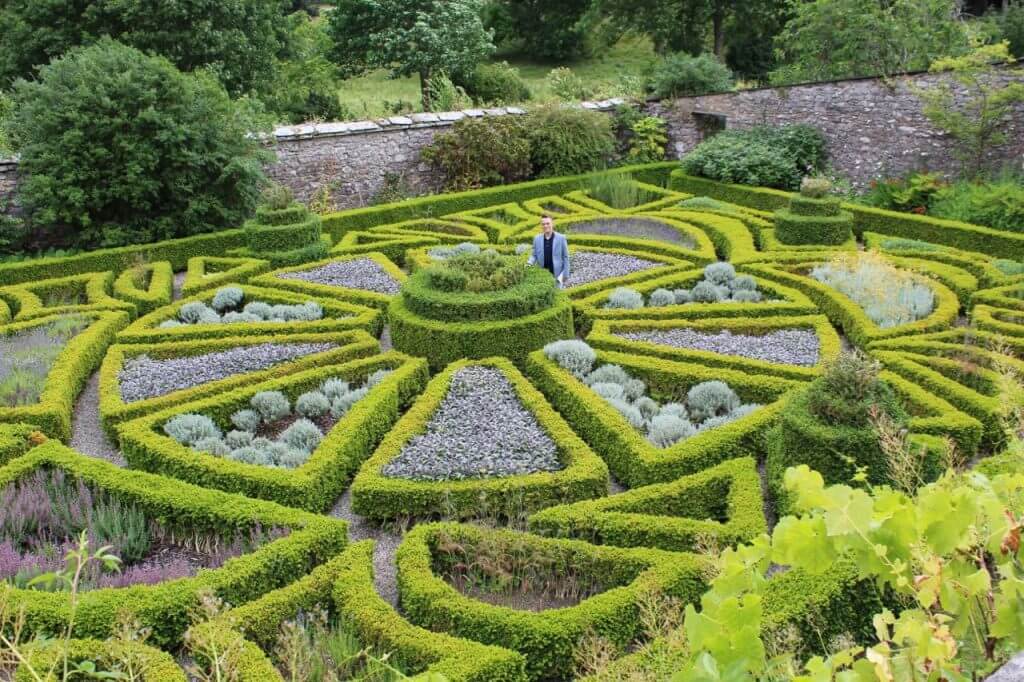 Who do formal Gardens appeal to?
People who choose a formal gardens style will be drawn towards them because they appeal to certain characteristics.  Here are some general statements around formal gardens.  If you agree with these it may suggest a formal garden is a style you're most drawn to!  This is not a definite but there are characteristics of a formal garden that appeal to certain personality types.
Gardens that are clean cut and have shapes that are symmetrical.
People that like rules, order and consistency.
Predictability of the garden, pruning shrubs or hedges to give a defined 'obvious' shape
Neatness, order, tidy and always dressed appropriately!
A clean or reduced colour palette allowing the layout to speak louder than say competing colours
Are formal gardens hard to maintain?
Formal gardens are not necessarily harder to maintain than any other garden but they do require more time dedicated to them. This is because they start to look messy and unkempt far quicker than say a formal garden.  It really does depend on the components used in a formal garden. If you have for example clipped box hedging, then yes there will be some maintenance to keep them looking sharp and trim. If however, you went for raised beds or a walled garden to provide your pattern then these structures are lower maintenance in comparison. Choosing slow growing shrubs will also reduce the maintenance of any hedging you use.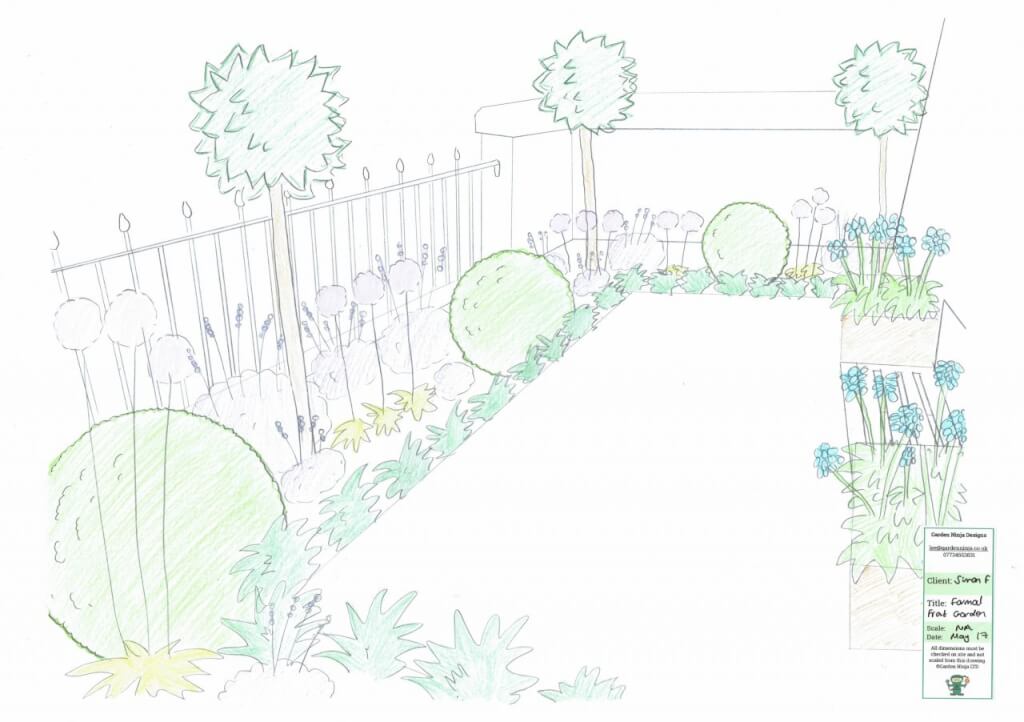 Utilising gravel and slow growing plants a very formal structured garden can be created with minimal maintenance. Garden Ninja can design you a garden that provides the neatness and order of a formal garden but with a low maintenance planting scheme. Gravel is often used within formal garden patterns to provide interest to ground cover, rather than just exposed soil, it also helps suppress weeds and keep patterned borders looking unified.
Bodelwyddan formal garden 
Garden Ninja recently visited Bodelwyddan formal garden and Kitchen Garden during its prime season in Summer. It's a wonderful example of a classic format knot garden and formal kitchen garden. Lovingly looked after by the grounds people in the garden which overlook Llandudno in Wales.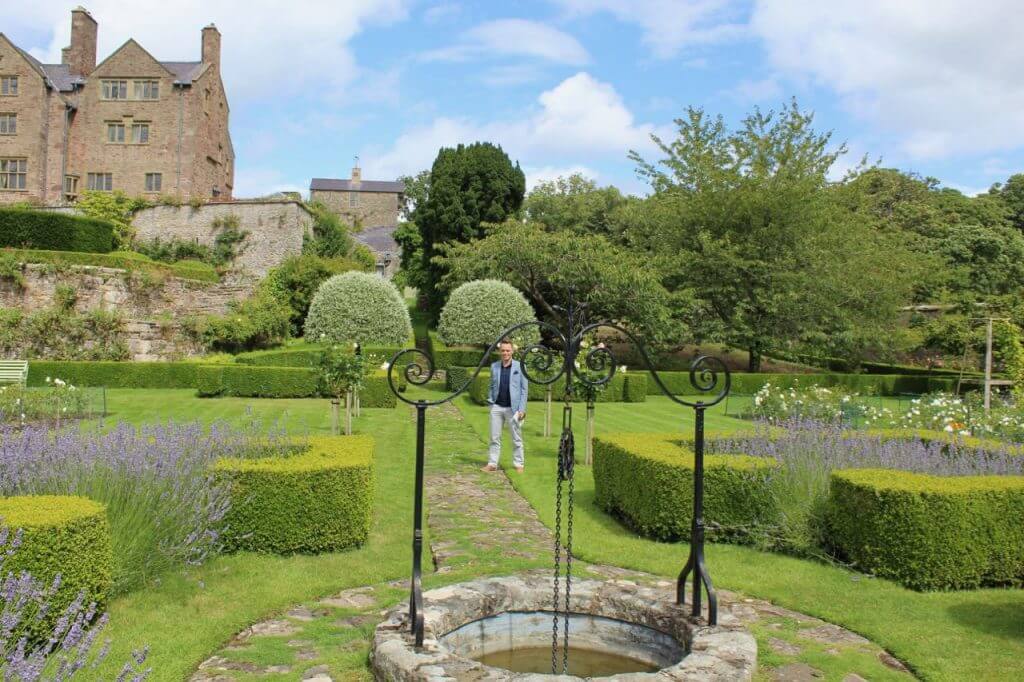 The award-winning restaurant provides amazing views over the gardens which are serene and incredibly well ordered. This is a perfect example of a formal garden showing restraint and razor precision with the planting. It's definitely worth a visit if you're thinking about a formal garden or traditional walled garden.
Can small gardens be formal?
The short answer is yes! Smaller gardens require more care when being designed to make the most of the space and the layout. Formal gardens can work really well on a small scale as they can draw the eye to certain parts of the garden and give an order to a small space that looks a bit lost. Using patterns you can even elongate a small garden by using certain optical illusions, distractions or borrowed views. Get in touch to discuss how a formal garden design could work for you.
Are you a formal gardebn fan? If so why not Tweet, Facebook or Instagram me with your pictures! You can also follow me on Youtube where I've got plenty of garden guide vlogs.