I specialise in garden design in the Manchester, Liverpool, Southport and Cheshire areas of the North West of England. Specifically small, awkward or unconventional gardens. I love problem gardens and love to use my creative design and problem-solving to make incredible spaces for customers. I have a passion for good design with plants and I'm one of BBC Radio Manchester's gardening experts for their live Saturday morning phone-ins. Small garden design is something of a speciality of mine!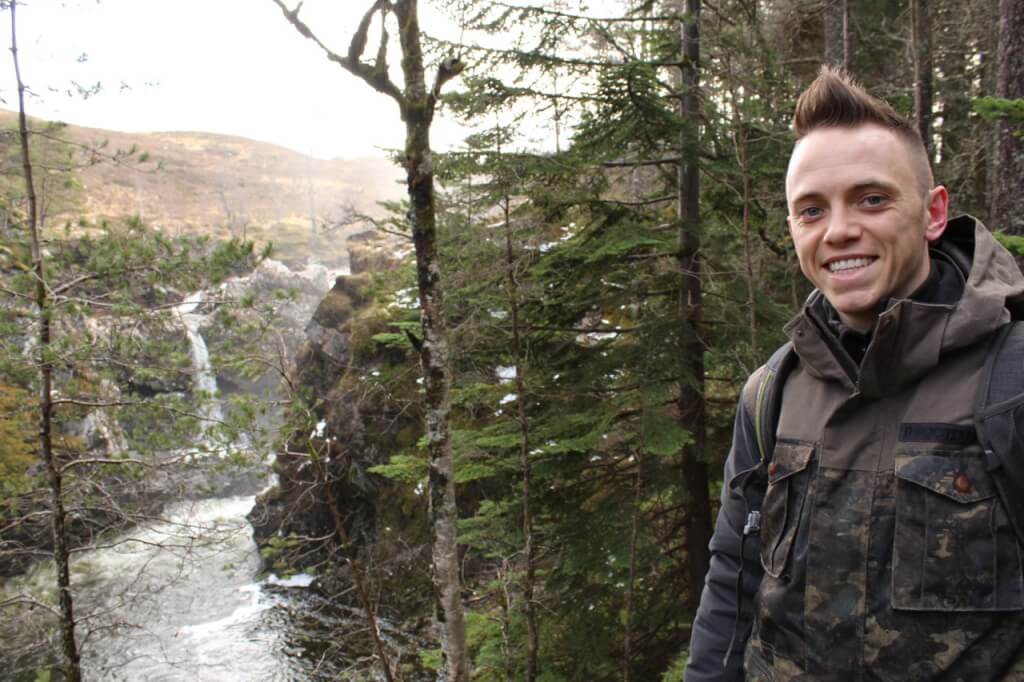 People often confuse a small garden with an easy garden. This is often one of the hardest gardens to design effectively. Given the fact that you have such limited space; getting the design aspects wrong can completely ruin your garden space.
Garden design can actually save you money by:
Providing a scaled design of your garden for contractors to quote from
Allowing easier comparison of quotes as they are all from the same blueprint
Saving valuable time in getting to your final design
Giving a vision and clear view of the garden you're creating
Design expertise means you can avoid 'guesswork' in materials & planting
Removing wasted money on unsuitable plants
Small and awkward gardens can be difficult to design yourself as you may simply become overwhelmed with what to plant, where to put it, how many plants, how big will they grow and exactly how much is too much?! My full design service starts from £500 for a complete garden design see my prices here.
Manchester Garden Design services:
Garden Ninja takes the fuss and stress out of garden design, delivering a truly fantastic outdoor space for you to relax or entertain in. Whether you want a full garden redesign or a planting plan for an awkward space then Garden Ninja can help you.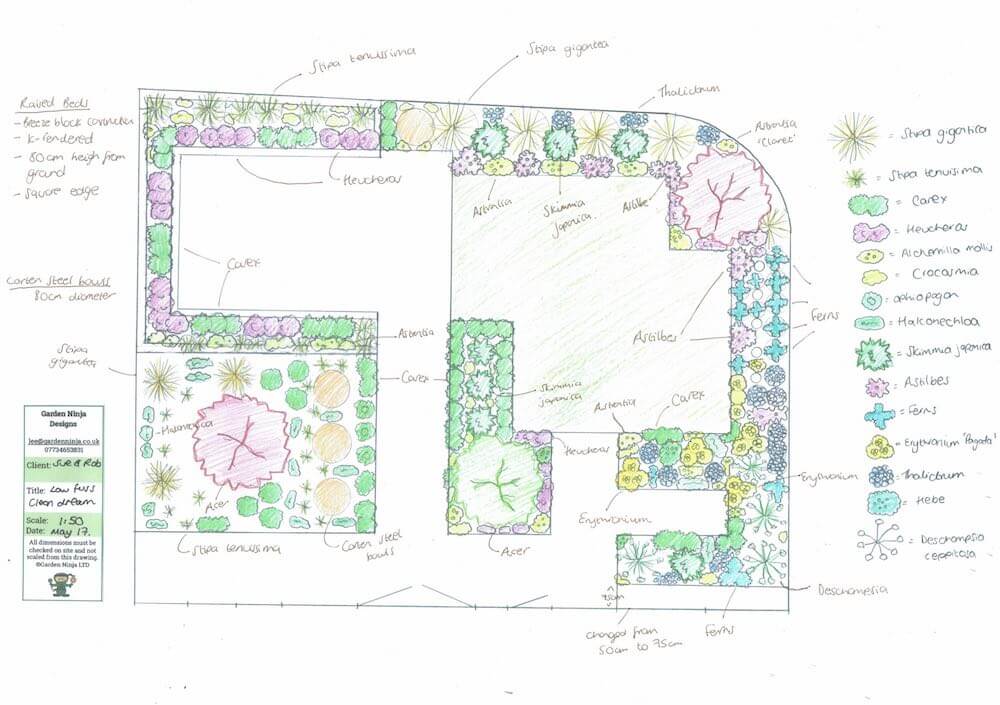 I love using height in a garden as part of my style, whether this is raised beds, planters or containers. I also like to use striking colour palettes. Whilst my designs usually have a contemporary feel I quite like bucking the trend and mixing in some more traditional elements especially in my planting. I like to look back as well as looking forward when finding inspiration for my garden designs.
What is garden design?
Garden Design is a specialist skill in which a garden designer, like Garden Ninja, must survey a plot and then craft a design that applies both hard landscaping and planting to create a look that is both functional and beautiful based on the client's preferences. Considerations such as soil type, property aspect, climate, topography, hazards, adjacent properties, existing planting and a myriad of other factors all need to be taken into account.
It's a really tricky specialism, as often a designer is having to interpret what a client wants, ie a look, into a practical design with planting that can give the look they want under the garden conditions they are faced with. Creative problem solving is a key skill that all designers share. It involves considerations that most lay people would miss or overlook, ie will that tree lose its leaves in winter and make that lovely slate path super slippy?
Garden designers differ from a landscape designer, as usually, they are horticulturally trained and not builders or tradespeople like construction workers. Landscapers, usually specialise in the hard landscaping and not so much on the horticulture or planting. So the designer has a solid knowledge of construction principles but wouldn't necessarily undertake that work. They have the expertise in the planting. The garden designer should be trained in horticulture, botany and design. If not they may have amazing design ideas, but without the foundation in plants, they will struggle to ensure the design works long term.
Garden Design Tips
There's a lot to consider with a garden redesign, so I've created some garden design tips to help with garden design thoughts. There are a number of considerations when designing a small garden or awkwardly shaped garden.
1. Using the space effectively
Often people with smaller gardens try to cram in as much as possible, pots here and there, beds, hanging baskets, art and small water features to name a few. The issue with a smaller garden is the more you put in it the smaller and more overbearing it can feel.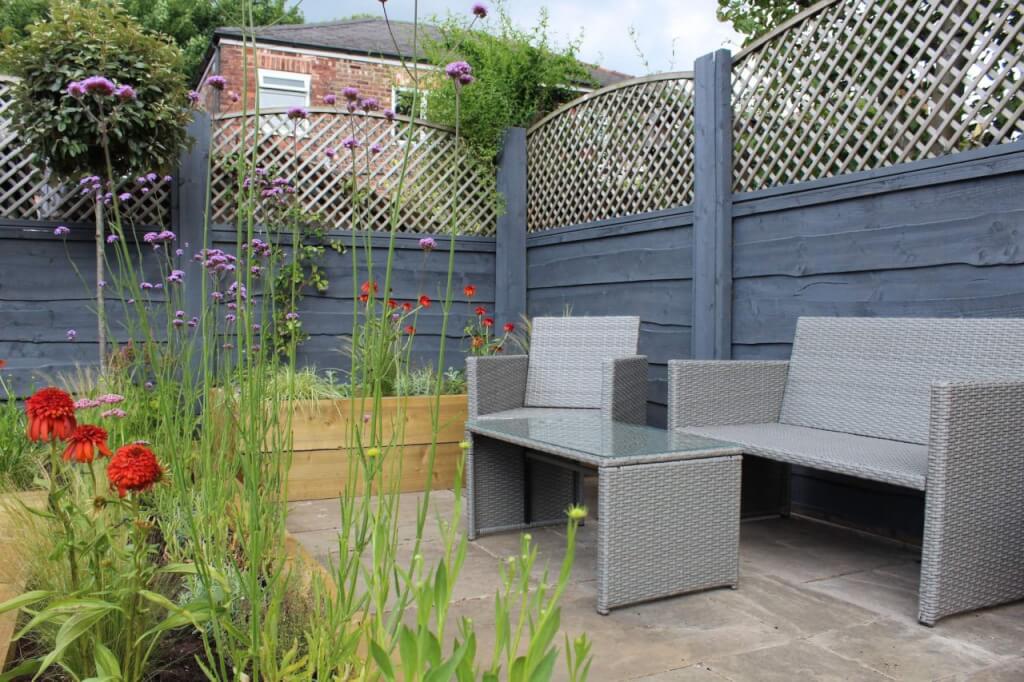 Having restraint is often the key to a successful smaller garden. If you want a small Japanese themed garden for example using sculptures, Acers, gravel, stone formations and multiple buddhas will probably completely overshadow the design. If there's just too much to look at, it looks forced and piecemeal. It's best to stick to a few items and display them properly with space to breathe. Less really is more.
2. Striking Colour Palette
My style with small gardens is to take time choosing a really striking or obvious colour palette. A more informal natural garden design would let you use a mix of various colours and soft shades over a larger area. However, in a smaller garden, this can emphasise the lack of space as you can only fit maybe one or two of each of these coloured plants in before your garden is full. It can also make a garden look quite disjointed unless done in a cottage style.
I prefer to take say 2-3 colours and contrast them. This not only allows you to group plants based on colour to give cohesion but it also creates a real focus in a smaller garden.
You want to slow down the impact of a smaller garden so it's not a one hit wonder. Using a striking colour palette of a couple of colours makes you focus in on each which in turn slows you down. There is less to distract and interrupt your attention when you use a more limited colour palette.
3. Play to your strengths
If your garden or terrace is nearly always covered in shade, then work with it! There is no point trying to grow Hemerocallis (day lilies) or Iris in a shady garden. As they thrive on the warm baking sun. Mother nature has a way of creating plants for all aspects, lighting and conditions so my designs always work with this. If your garden is baked in all day sunshine, then work with it!
I can provide planting plans that will thrive in your garden conditions. By paying particular attention to the aspect and conditions you can avoid those sad sorry looking plants that are being forced to try and succeed in adverse planting conditions!
4. Focus your Gaze
I usually advise that a focal point is used to draw attention to the best or better areas of your garden. What's the best area of my garden you may ask? This is the area that either gets the most sun, has the nicest view, aspect or conditions. A focal point provides something for the viewer's vision to be drawn to. It doesn't need to be smack bang in the middle of a lawn or a huge sculpture. A focal point can be subtle such as a doorway that gives a hint of something on the other side. It could be a sculpture in a border that makes you wonder, 'what's that over there?'.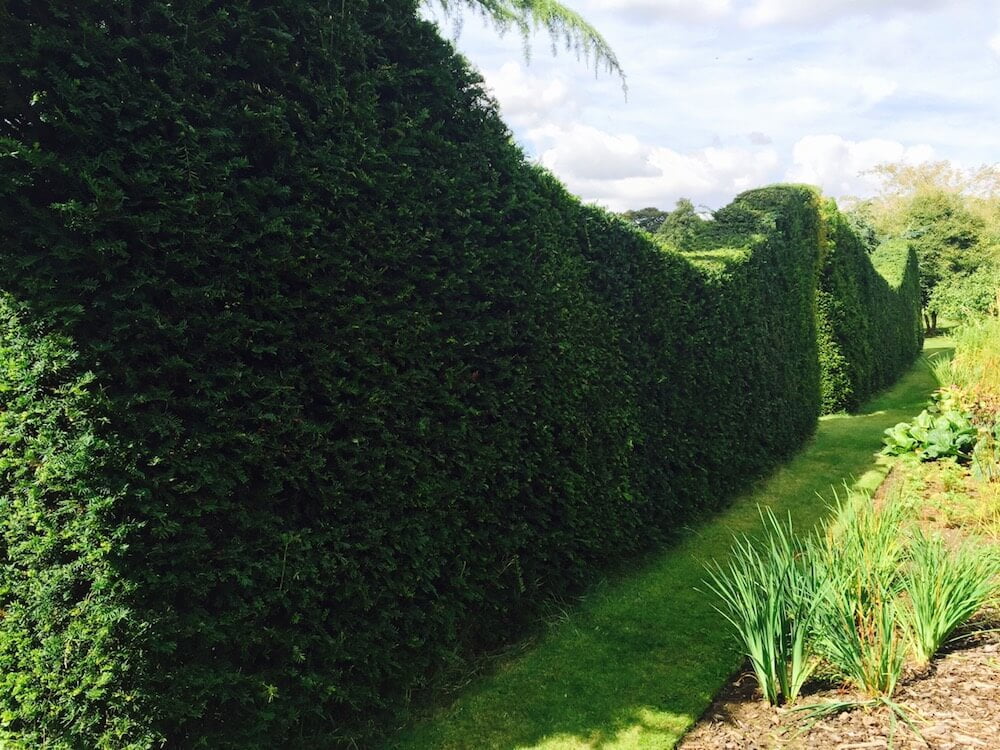 Most gardens are designed piecemeal leaving a 'shop window' approach. This is where you can see everything on offer at once. It reduces the impact of your garden and is thought of as poor garden design. Even the smallest gardens can have intrigue and mystery causing the viewer to be pulled out into it rather than being able to see it all out of a back window.
5. Encourage Wildlife and Nature
With the increase of 'Urban sprawl' and the conversion of many front gardens into concrete driveways and back gardens into 'maintenance free terraces', wildlife has a challenge on its hands. It is a sad fact that many green front gardens have now been converted into parking as the increase in motor vehicles has soared in the past 20 years, with many properties having a car per occupant! I find it equally sad to see back gardens decked corner to corner with no 'green space'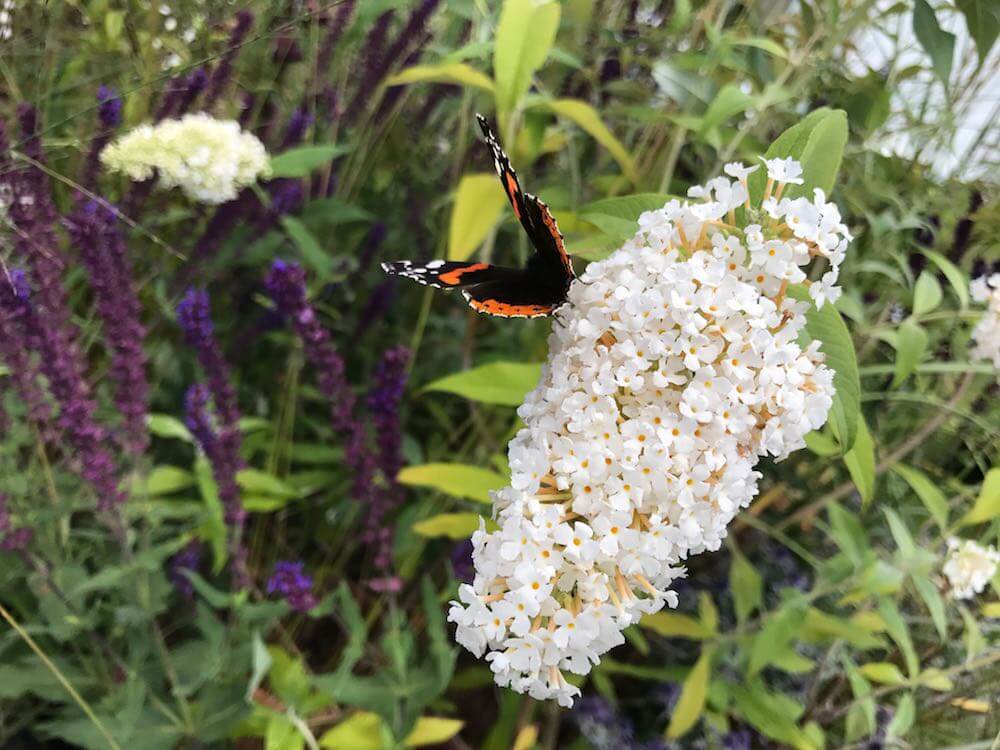 Garden Ninja can help design both an environmentally friendly garden whilst incorporating the necessities such as a parking space or seating area for the back. Whether it's using window planters, container planting and low maintenance schemes you can have the best of both worlds. This both encourages wildlife, reduces the increased flood risk of non-permeable driveways and makes your property much more attractive to look at!
Wildlife is an essential part of garden design because it not only will it keep garden pests under control but it also helps ecology. The reduction in honey bees has already shown a severe impact on crop production. We must always do our best to reduce our impact on mother nature and a garden ninja planting scheme always has this at the forefront of its design. I encourage pollen rich planting for bees and insects providing habitats where we can coexist with existing wildlife.
Garden Ninja Design Services
Garden Ninja can you help you achieve that dream garden. If you want a functional but fantastic garden then please get in touch. Why not have a look at my portfolio for examples of my work or email me on [email protected] for a chat. If you want to see what is involved in a garden design then have a look at my Garden Redesign service
Article Writing, Presenting, Youtube and Radio
I currently work with the BBC as one of their gardening experts for BBC Radio Manchester. Live on air I take calls and help provide handy hints and tips for people to get the most out of their garden. Garden Ninja also writes for other plant blogs, magazines and publications spreading my passion for gardening! Why not check out my Youtube channel to see my handy Garden Ninja garden design how-to guides?
Want to speak to me about how I can inject endless enthusiasm into a gardening show or publication? Give me a call and let's talk!