Not only is this garden a welcome retreat from the sometimes unpredictable highland weather but it is free to enter. Meaning more cash to spend in the coffee shop stuffing yourself with homemade delicious scones and fresh coffee, well maybe that was just me. But before you dive into the delights of the cafe I've written a brief review of what the expect at Inverness botanical gardens and some top tips for a visit there.
About Inverness Botanic Gardens
Founded in 1993 the gardens where original known as Inverness Floral Hall before more recently changing its name to the Botanic gardens. It's situated just off Bught road a short walk from the River Ness and main city centre of Inverness. It features a number of glasshouses, much like a smaller scale Edinburgh gardens glasshouses.  The garden features a tropics house and a cactus house both joined by a small covered walkway.
There is also an outside less temperate garden featuring grasses and site grown planting, but given it was January when I visited I was far happier with the warmth of the glasshouses than outside! However, I am told by a fellow gardener that in warmer months the outside gardens are fantastic too.
What to see at Inverness Botanic Garden
The gardens are relatively small compared to the official RHS gardens you may be used to, but that is not to say it isn't without merit. The team that run it are incredibly enthusiastic and passionate. The botanic gardens feature some beautiful rare orchids, ferns, coffee bushes, epiphyte plants and a full selection of mature cactus that makes this somewhere to definitely schedule an hour or two aside to visit. I'll be giving you some tips on what to look out for and showcase some of their specimens. There are also some great garden design ideas to take from the gardens in terms of planting combinations, especially for around garden water features such as a koi pond.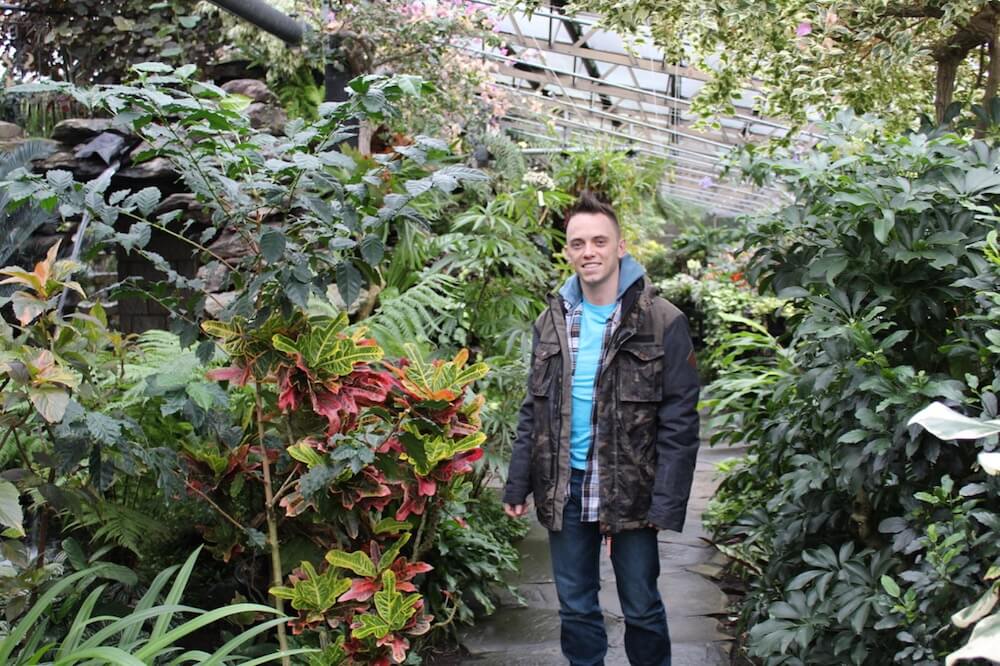 Tropics House
The tropics house features a number of exotic and exciting plant combinations. It simulates the conditions found in the lowland equatorial regions of the planet. The temperature in here rarely drops below 18 degrees Celsius and there is no real division between the seasons. Something us UK gardeners will probably really welcome in our own gardens. It features a number of plant groups, some that prefer shade, given the canopy of growth higher up the glass house and one of my favourites, epiphytes.
Epiphyte plants are those that use other plants as a host to grow on. This does not mean they are parasitic per se, but orchids, air plants and ferns may use another plant, such as a tree trunk to attach themselves onto. This could be to enable them to reach the light that otherwise would be obscured or to catch and importantly release moisture from the atmosphere.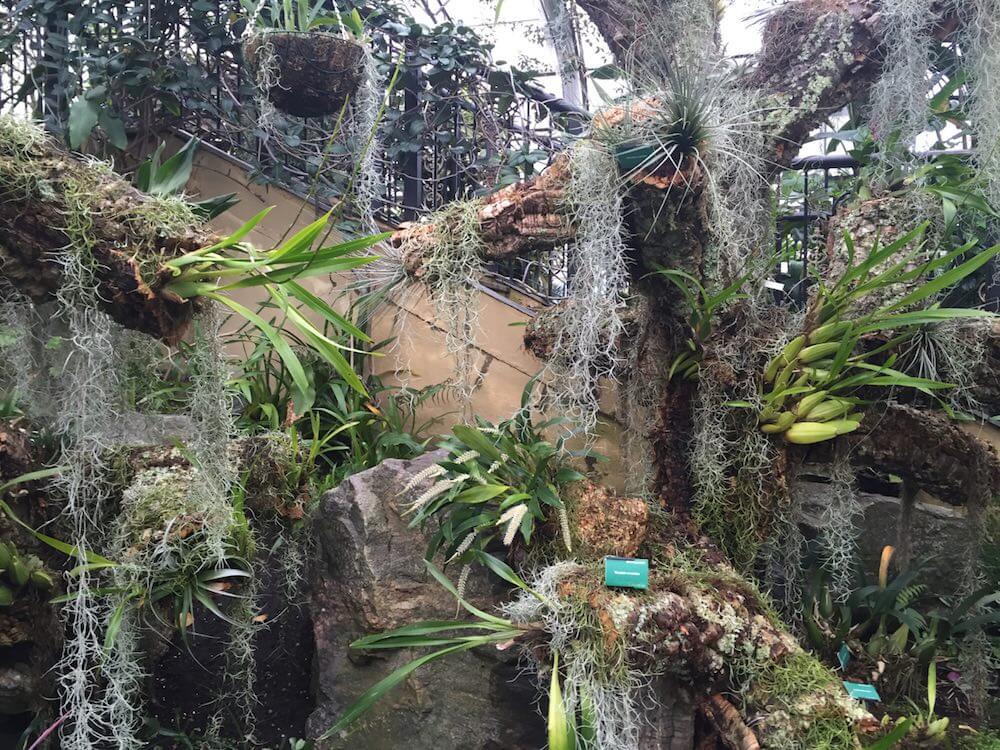 When I was there I spoke to one of the gardeners who took me to see the Coffee plants, Coffea arabica, explaining how people forget just how far coffee beans travel and the conditions they grow in. It's all too easy to forget the origins of plants that we take for granted such as coffee. She told me how coffee had first been, or should that be bean, discovered by an Ethiopian farmer who noticed his goats had become rather frisky after eating the beans. The rest they say is history.
I'm a complete coffee addict. Fairtrade as standard. Try as I may, to give it up, it's the vice that Garden Ninja just can't shift. There's a section below on how coffee is grown with some interesting biodiversity points to consider.
One really interesting practice is the replacement of bark on some of the stumps the garden uses for growing orchids. Quercus suber from Portugal has its bark stripped, by hand, which I'm told grows back and helps with the vigour of the tree, and then the bark is attached to growing trunks for the orchids in the garden. It retains moisture and gives a good adhesion point for the epiphyte plants. Every day really is a school day!
Orchids at Inverness Botanical Gardens
Where ever you look in the tropics house you will see orchids in a whole array of different planting types. Some are in hanging baskets, nicely disguised with moss or air plants others are wired onto the tree stumps and bark. The essential point with orchids survival is they hate being waterlogged and their roots, which you will see dangling like old ladyfingers absorb moisture but need a lot of airspace around them.
This is why when you buy an orchid from a supermarket they are in a clear plastic pot with bark. This enables both light and air to get to the roots. If you put an orchid in a solid glazed pot it will soon struggle and potentially die. They require bark based specialist orchid compost. Never mix loam or soil which is far to moisture-retentive as this will finish them off!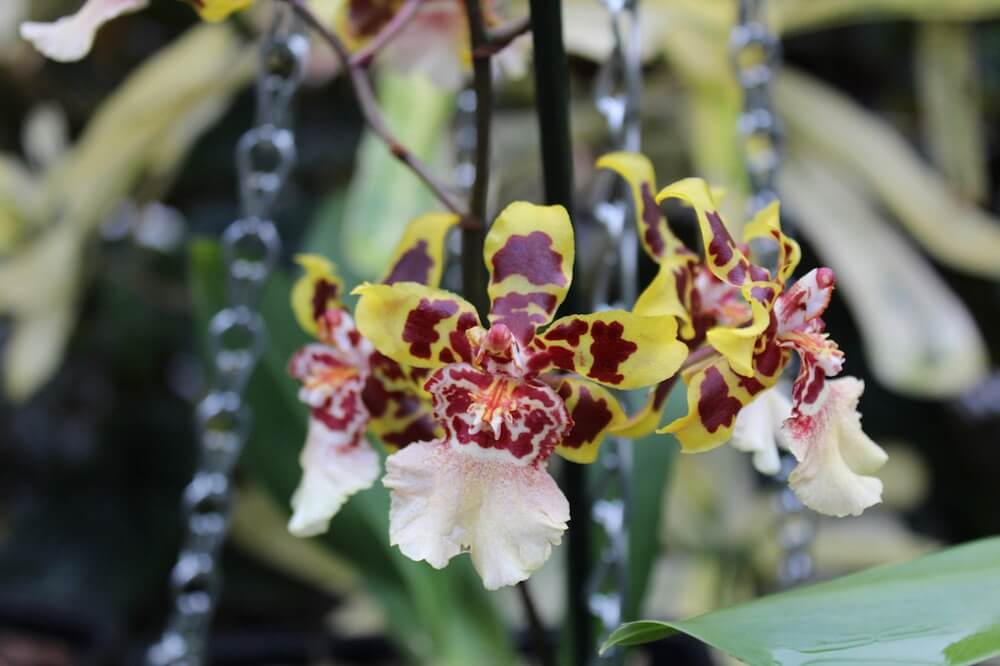 I must admit it has taken me years to finally be able to keep a house orchid alive for longer than 3 months. My advice is that they need indirect sunlight, some mild warmth, weekly water and draining and a bit of TLC. As much as I've struggled to keep orchids in the past, they are simply exquisite and are worth the effort. I would recommend everyone tries one, even in the darkest moodiest weather house orchids can lift the spirits.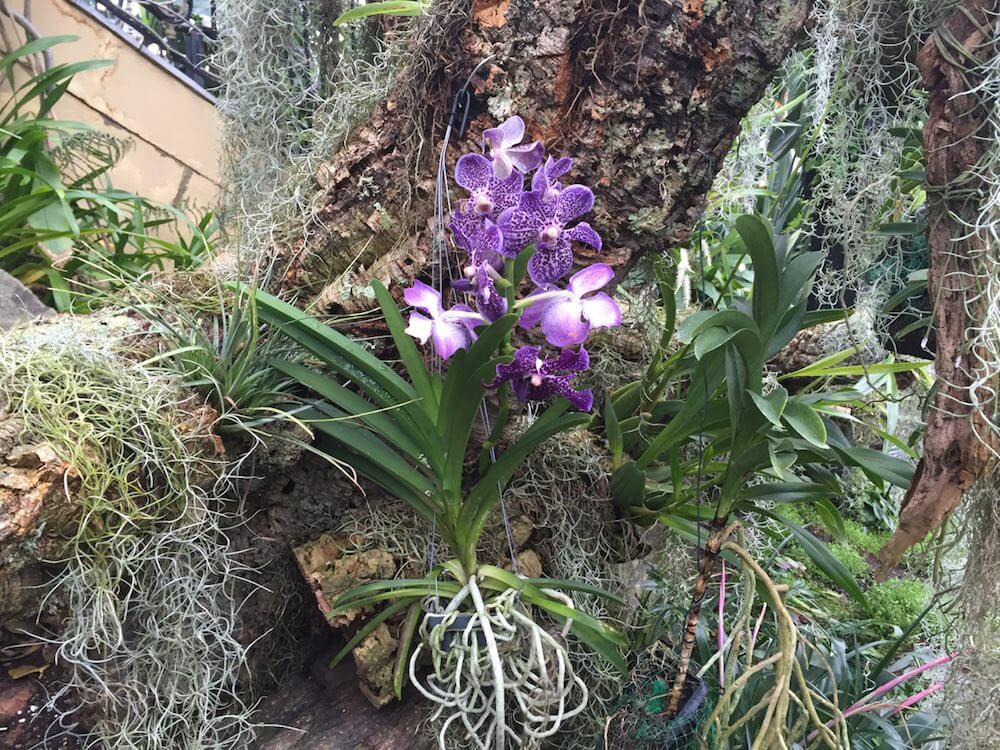 There are too many species in the tropics house for me to mention and sadly a lot of them lack name tags that you can often find at RHS gardens. This is the only negative I have about Inverness botanical gardens.
A walk around soon takes you past numerous bougainvillaea plants, native to South America and often seen in Greek villages where they are known as 'paper flowers'. They have vicious barbs though so I wouldn't advise running your hands through them whilst dreaming of a Santorini sunset.
The Koi pond is lovely and has been carefully planted with numerous tender plants to give a real wow factor. There are what I believe to be Fatsia japonica species around the pond which are really huge. There is a water wall which just adds to the ambience. Variegated plants also feature heavily in this foliage rich area which helps break up the dense green matting of plant growth. A type of Carex grass overlaps the liner to disguise it and give a 'natural' look to the pond.
What one of my pet hates is when people go to the trouble of having a water feature or pond fitted and then simply leave the edges exposed showing some liner or plastic shell. There are plenty of ways to make it blend in, see my water feature design for an idea.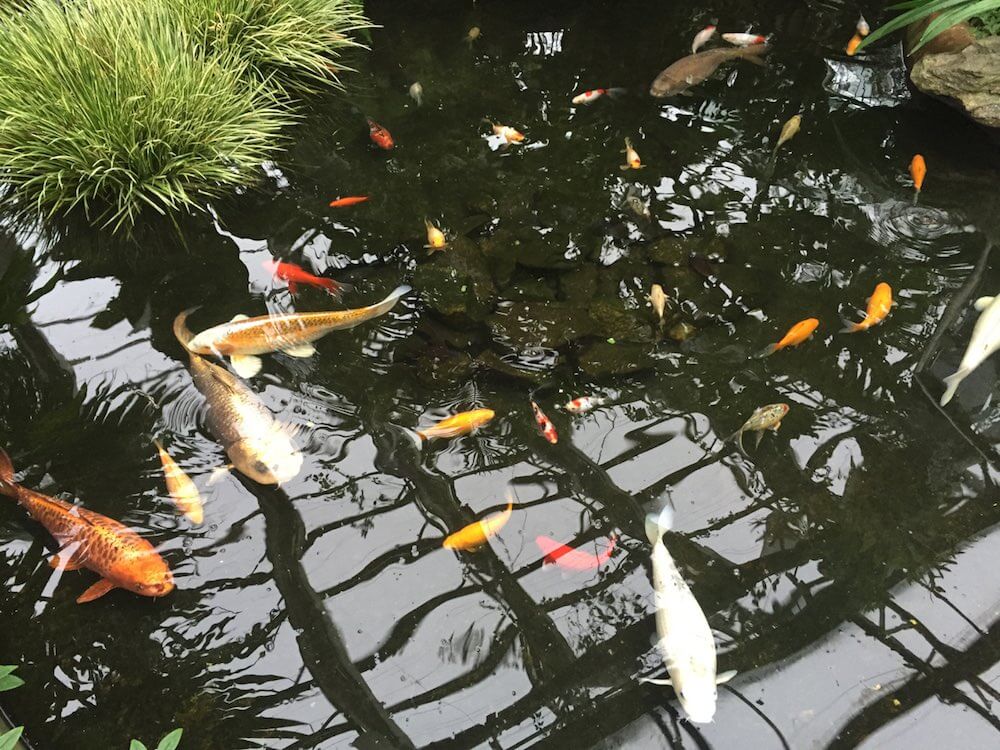 How are coffee beans grown?
The gardens have a number of Coffea arabica plants to show the diversity of plant life in the tropics. Coffee is the second-largest export of petroleum on the planet.  What a crazy statistic eh! However, I bet that most people who drink coffee have no idea where it comes from or how coffee, Coffea arabica, is grown. Coffee is predominantly grown in the tropics of South America, Africa and South Asia. The berries, which are converted into beans during ripening and roasting, are bright red in colour and take 9 months to ripen. Once ripe they're picked by hand and then fermented to remove the outer pulp of the berry. This is a bit like the propagation method sometimes used on Tomatoes but takes longer. The green beans are then slow-roasted until they turn various shades of brown. The quicker and hotter they are roasted the darker and earthier the flavour can become.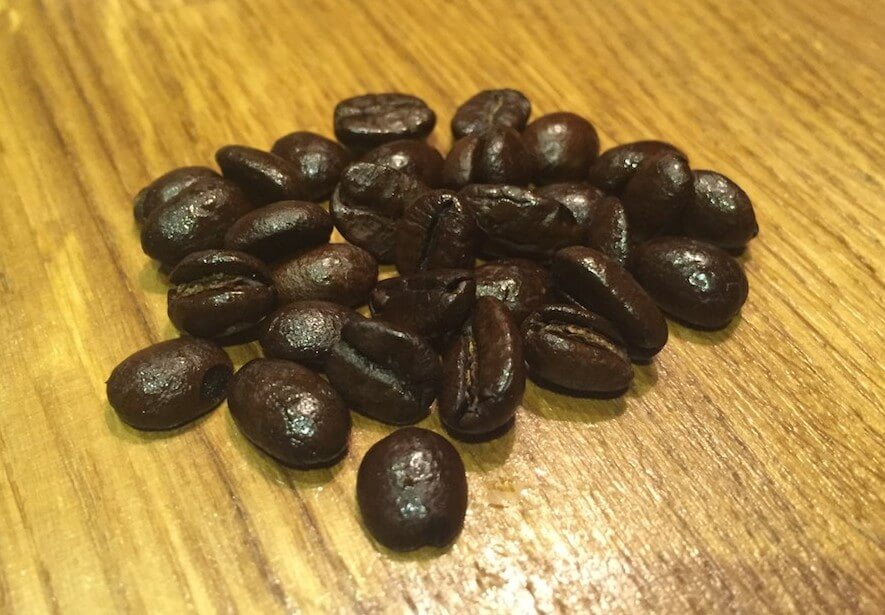 Coffee trees are shade-loving plants which may come as a surprise. However to speed up the commercial growth cycle they are often grown in full sun. This impacts the environment as fertilisers and more water is required for this process. They usually grow under canopies in the tropics and so removing them to a sunny exposed habitat has an impact on plants and ecology. Given the scale of the coffee plantations, this has a real impact on biodiversity which critics claim damages wildlife.
Cactus house
I'll be honest, I struggle to find cactus plants of any real design interest. They always remind me of those 1980's garden in big glass bottles or jars you saw at garden centres. However, cacti are an incredible species of plants for being adapted to their surroundings. So even though aesthetically they don't set my world on fire, I most definitely give them credit for being tough as nails.
The cactus house shows exactly why these specimens are so adept. Thick waxy skins, spines to prevent them from being eaten and moisture catching hairs or follicles. These plants mean business when it comes to conserving water!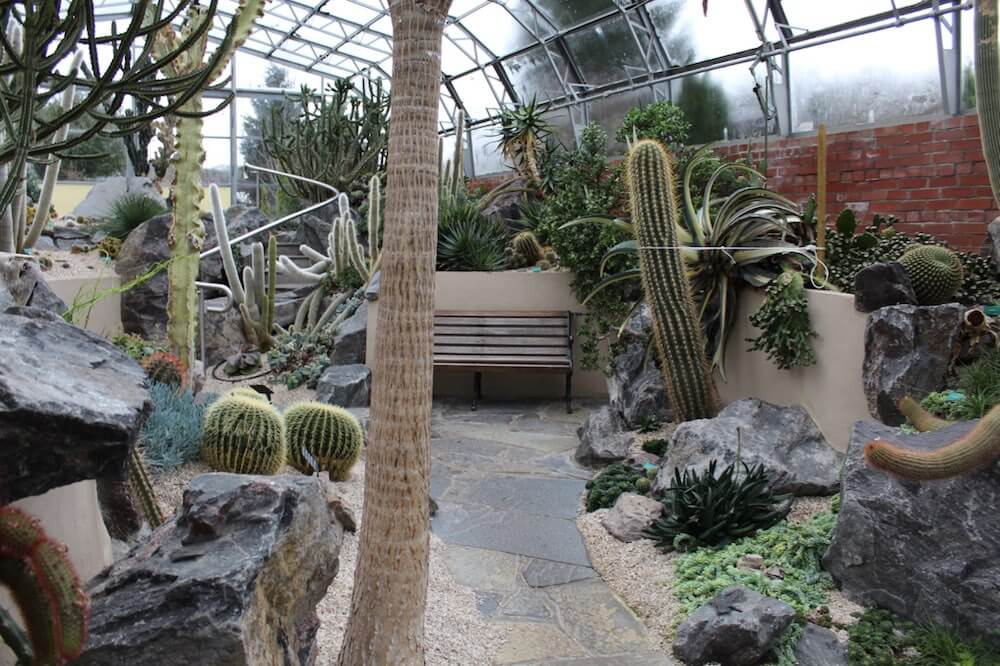 The layout of this glass house is really interesting as its a split level and you could honestly be tricked into thinking you were stood in a desert. Well, a desert with a handrail. The specimens in here are huge and really showcase the care and specialisms of the staff at this garden. Whilst they are tough they are also exacting on the temperatures they require. I would hazard a guess that this part of the post causes some controversy as I've stated I'm not a massive cactus fan. Please use the comment function below to argue otherwise and to convince me!
The colours of some of the cactus and succulents really did get me thinking. How nature has managed to contrast such colours so well always amazes me. We humans think we invented the colour wheel and styling, but really nature and evolution have possessed the skill of design far, far longer. The red barbs on the below cactus, fine hair membrane to catch water and vivid waxy green flesh is a stunning example of this.
Garden Design Inspiration
So you may be thinking how a tropical or cactus garden can be applied to a UK garden environment. Sometimes with garden design, it is not mimicking exactly something you have seen, such as trying to force cactus to grow in a heavy clay back garden but taking inspiration from themes within the garden you're looking at. A prime example is the planting around the koi pond which cleverly blurs the boundary between the concrete liner and the planted border. It's almost impossible to tell where it begins and ends.
Inverness botanic gardens have used large waxy foliage around the pond and some tropical tender plants to disguise the border between the hard landscaping and the planting. Although you probably can't grow these plants in your climbs, other plants such as Carex and Ferns, which are evergreen, can be used to soften a pond edge. I've even used Heucheras to blend a pond edge.
Another design example would be contrasting. Anyone who is familiar with the colour wheel will know that opposite colours have the biggest contrast, purple & yellow, green & red etc. The variegated plants in the garden are a prime example of how contrast can help break up borders and makes plants really jump out at you.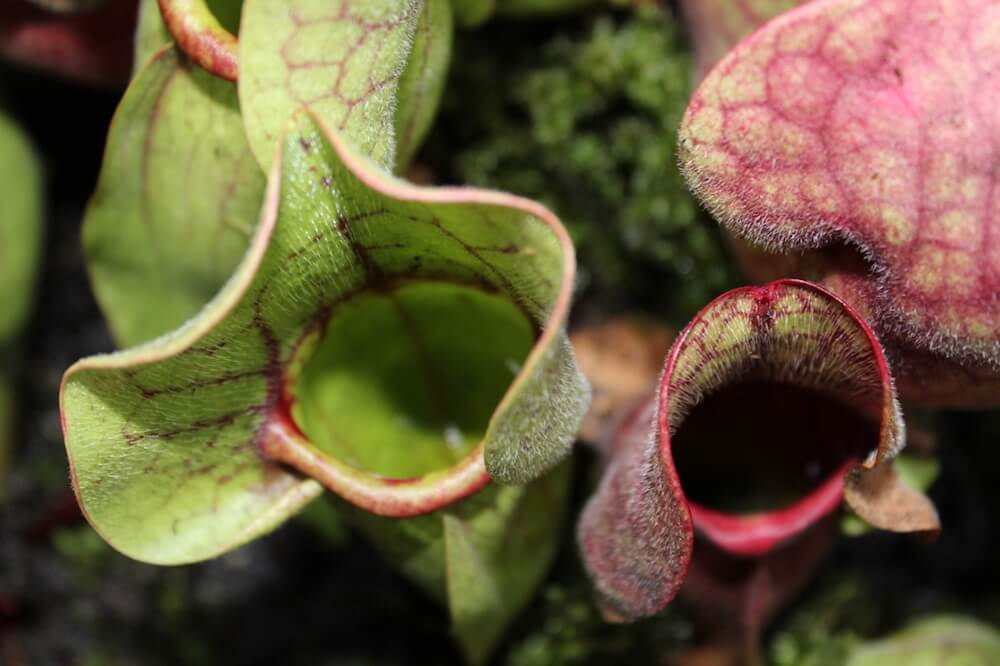 The pitcher plant, from the Sarraceniaceae family, naturally shows this contrast.  Where using the opposite colour on the colour wheel makes the plant stand out. I believe the pitcher plant has evolved with this colouring to attract insects. However, as a savvy garden designer, you can use this principle to attract interest to your borders.
Why not get in touch with Garden Ninja about a garden design using contrast as your theme?