When it comes to garden design for children you may have seen gardens simply turned into playgrounds with wood chip everywhere. There are ways however to subtly design a garden that makes it exciting for children without completely removing the attraction for grown-ups! Usually, people start by buying a huge set of play equipment and then try and shoehorn it into the garden as it takes over. However, there are far more subtle ways to create a garden that your children will love without sacrificing our own enjoyment.
Zones in garden design
If you've seen my other work on Family friendly garden design you will know how I love to zone off gardens. Zoning helps give a purpose to each space. Whether its the childrens' play area, the grow your own section or the relaxed adult chill-out area. Zoning will help you easily design a space that has separate needs without it turning into a mishmash of flying footballs, prize flowers getting damaged or having to relax in the middle of a play area!
Examples of garden design zones
Seating areas
Play areas
Grow your own zone
The separation between the zones (walls, borders, hedges)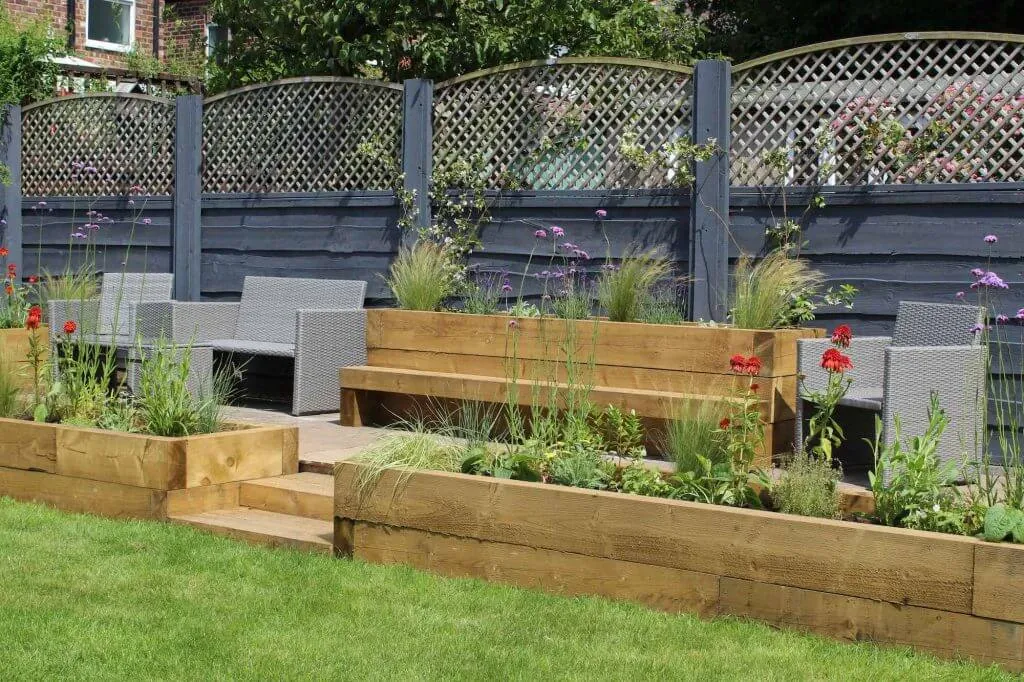 Child Friendly Materials in Garden Design
The first thing I like to do is to plan exactly what type of materials I'm going to use in a child-friendly garden to separate the zones and provide structure. I find that timber sleepers are both multifunctional, safe enough and soft enough to blend a number of areas. Their height, when stacked two sleepers high, is tall enough for a toddler to be protected from the border but tall enough for a seat or perch for growing children and adults.
Walls are also suitable but harder materials such as stone can provide risk in terms of children running into them or sharp edges.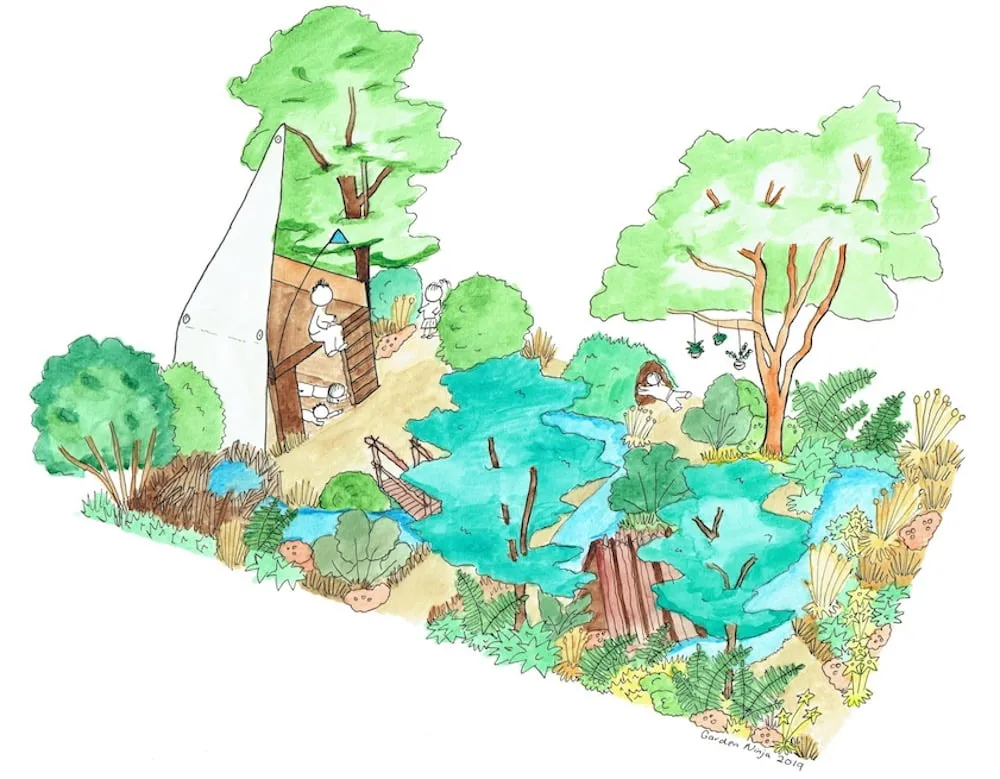 Paving materials can be tricky. Often parents worry that stone will provide a harsh surface for children to play on. Gravel is a much softer surface for any trips and falls but also leads to uneven areas for seating. Also, very young children have a habit of trying to eat small pieces of gravel! In my experience paving for paths and seating areas is the best option and turf or woodchip used in play areas where falls and bumps are more likely. So pick the material for the zone you're designing.
Why artificial turf is a nightmare
Artificial turf or plastic grass is often listed as an ideal child friendly garden material. However, I have a real aversion to artificial turf. Not for reasons of snobbery but due to the environmental impact in which covering our gardens with plastic matting has.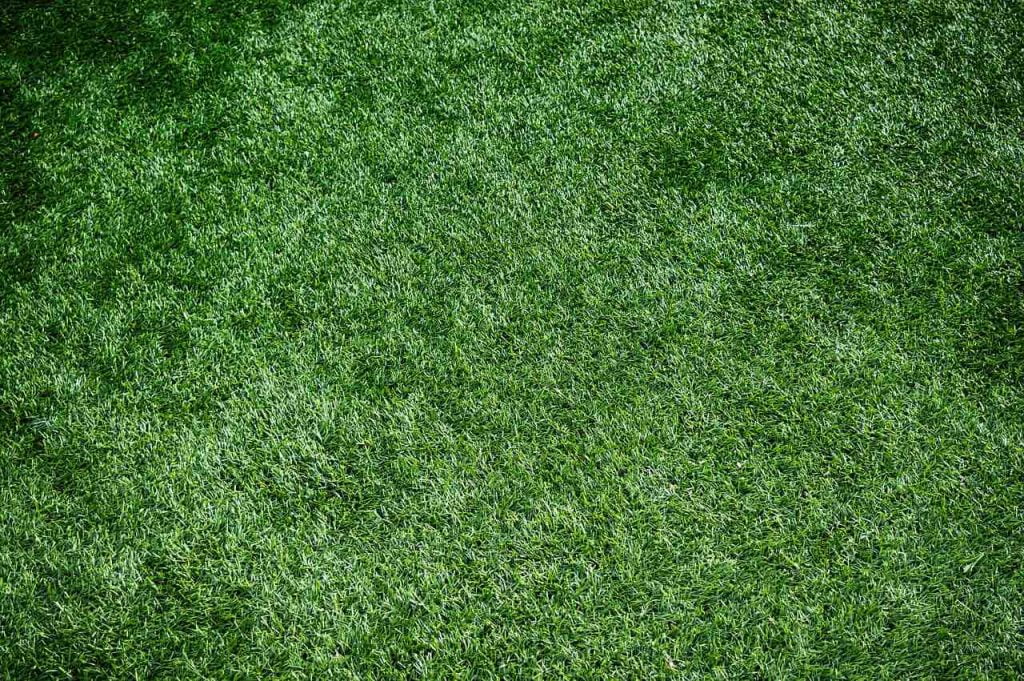 It's not really maintenance-free. With artificial turf, you still need to brush it and treat it a bit like an outdoor carpet. If your dog wees on it, it won't turn yellow, but you have wet wee covered plastic instead.
Lastly, I find it really unsuitable for children. Falling on turf may leave a grass stain on your knee, but falling on artificial turf leaves one heck of a friction burn at times. Rather than artificial turf, I would always advocate either real turf (its barely more maintenance in reality) gravel or wood chip.
Create areas of interest
Most people are used to seeing a swing set of the massive jungle gym in a garden as the only way to keep children entertained. However, a better way to create entertainment is through more subtle approaches.
Why not create a path of cross-sections of logs like in the design below? These logs run through the borders allowing children to use all areas of the garden. This way children can hop and adventure through the garden borders. This doubles up as a route for playing a game of tick or musical statues. The lawn below is edged so that there's a mini path around the lawn, so if it's wet the children can avoid soggy grass. There are loads of tricks used in this garden to provide all sorts of play activities for children. Even the pergola walkway doubles up as monkey bars for older children!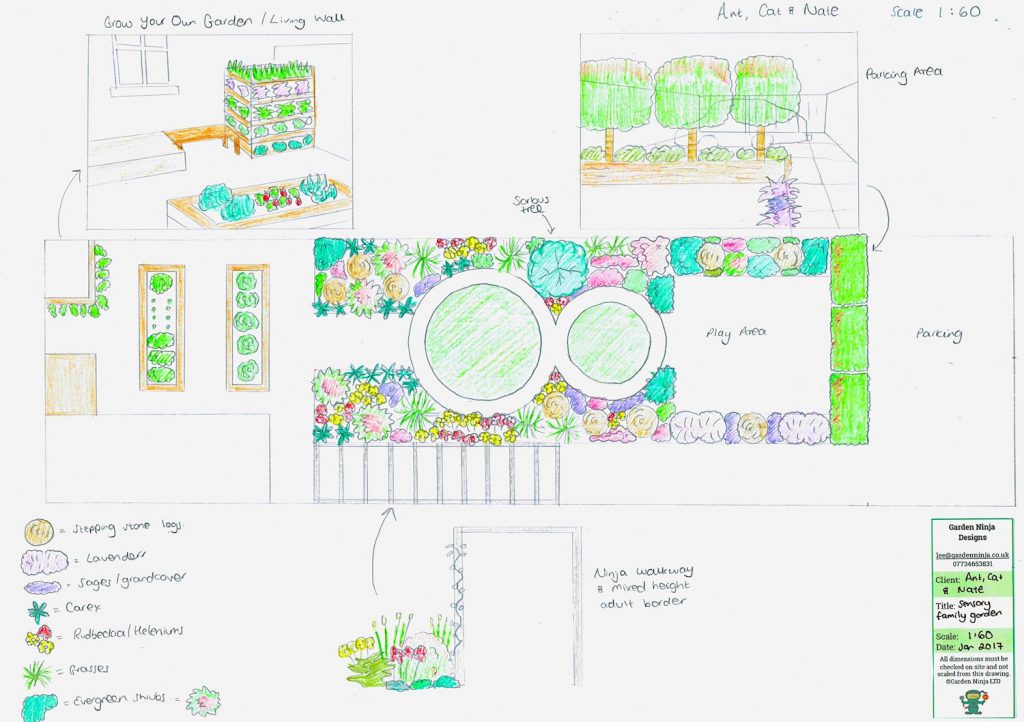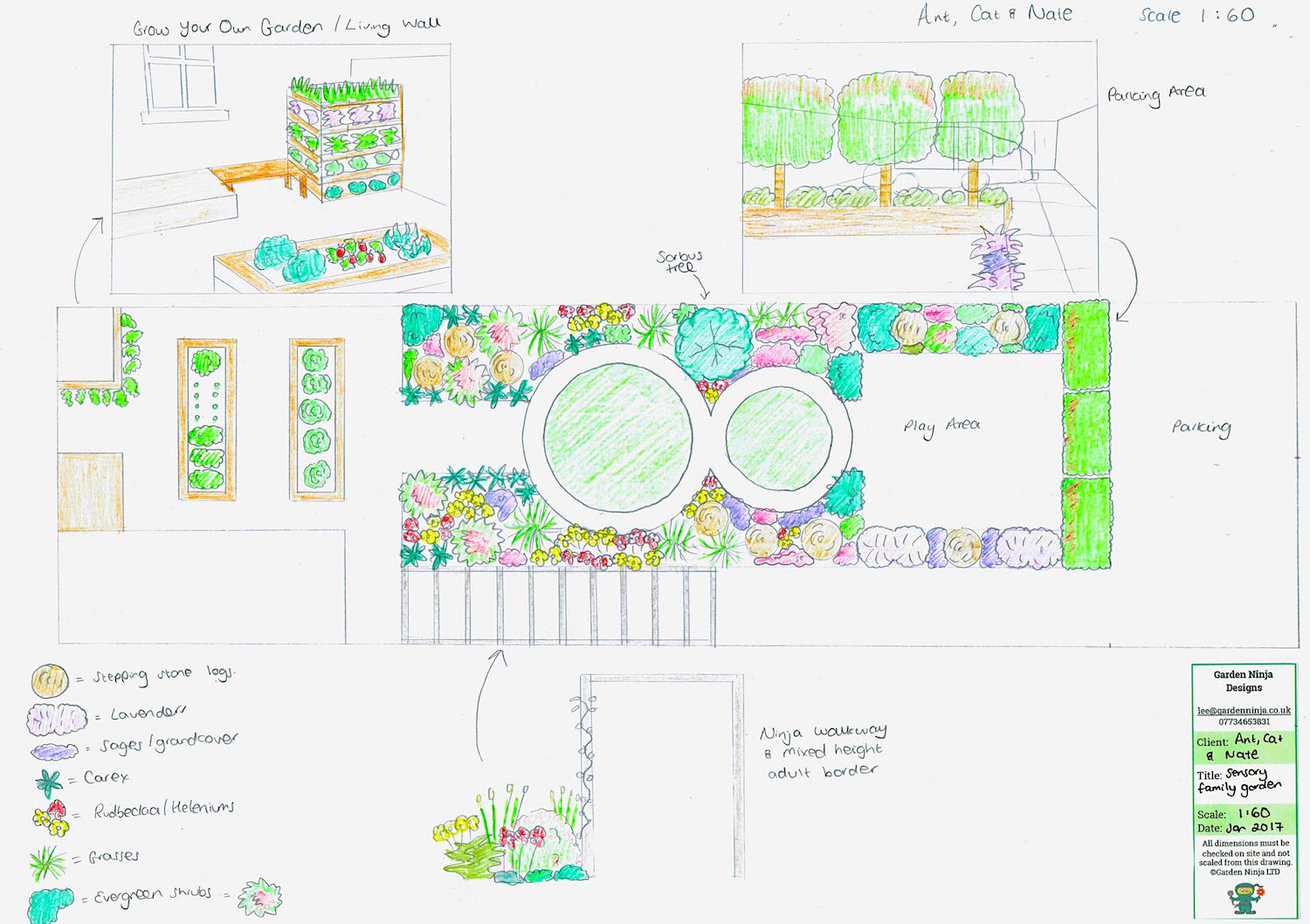 Rather than having a huge swing set why not hang a rope from an existing tree with a tyre on it. Then its a swing, a seat and a secret spy window all in one! Instead of a Sandpit why not have a grow your own box where children can plant vegetables and nurture their own plants?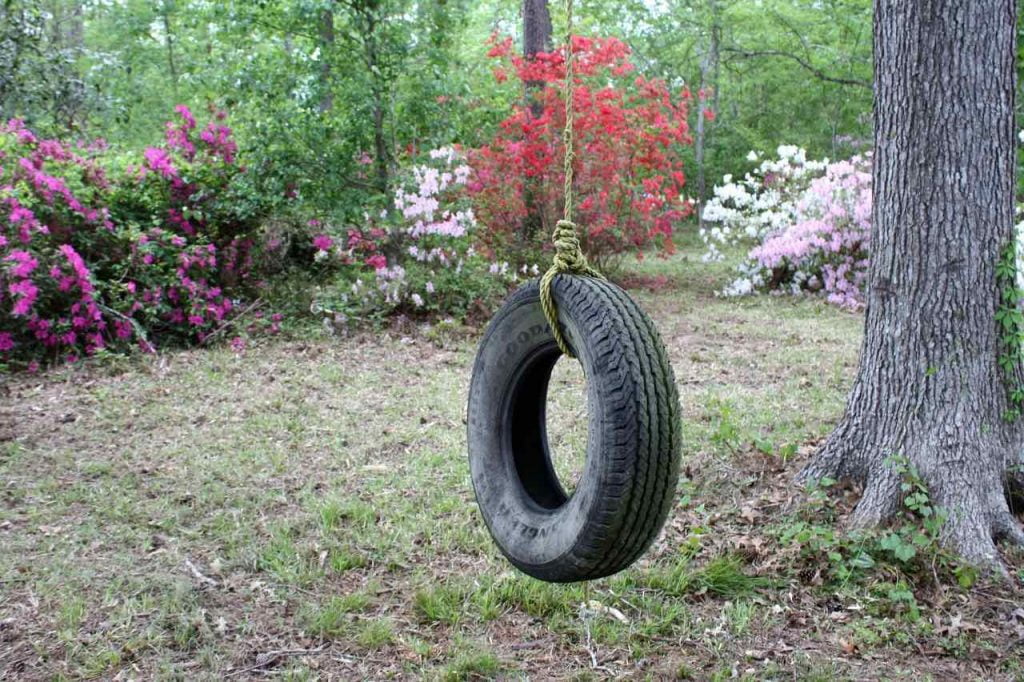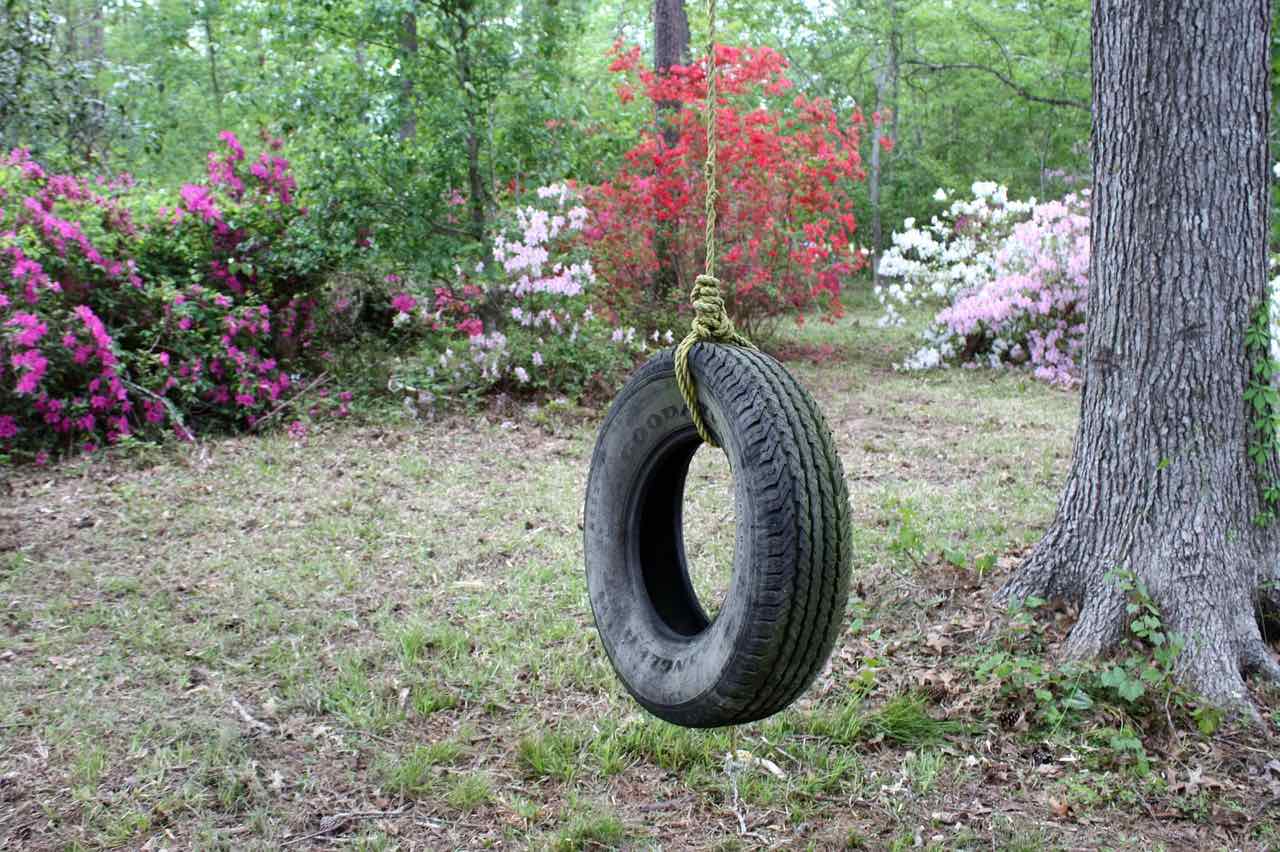 Child-Friendly Planting Ideas
Now, this really is a bone of contention in the gardening world. Some people argue that you should never have any toxic plants in your garden. Which makes sense at first. However, when you realise that most plants have some form of toxin or side effect if eaten or ingested it makes you think again about plant selection. Unless you're going to fill your garden with lettuce then you need to take a more balanced view to plant selection.
Now it goes without saying that super-toxic plants like Monks Hood, Lilly of the Valley and Euphorbia (the saps highly irritant on the skin) should probably be avoided if children are around. However, even Hydrangeas (granny's garden favourites) contain cyanide and if enough is eaten are highly toxic. The same with Foxgloves and other seemingly safe plants. Even Daffodil bulbs can be toxic if eaten. It's about being sensible and measured teaching children about plants, not to eat them unless you know they are edible and treat them with respect.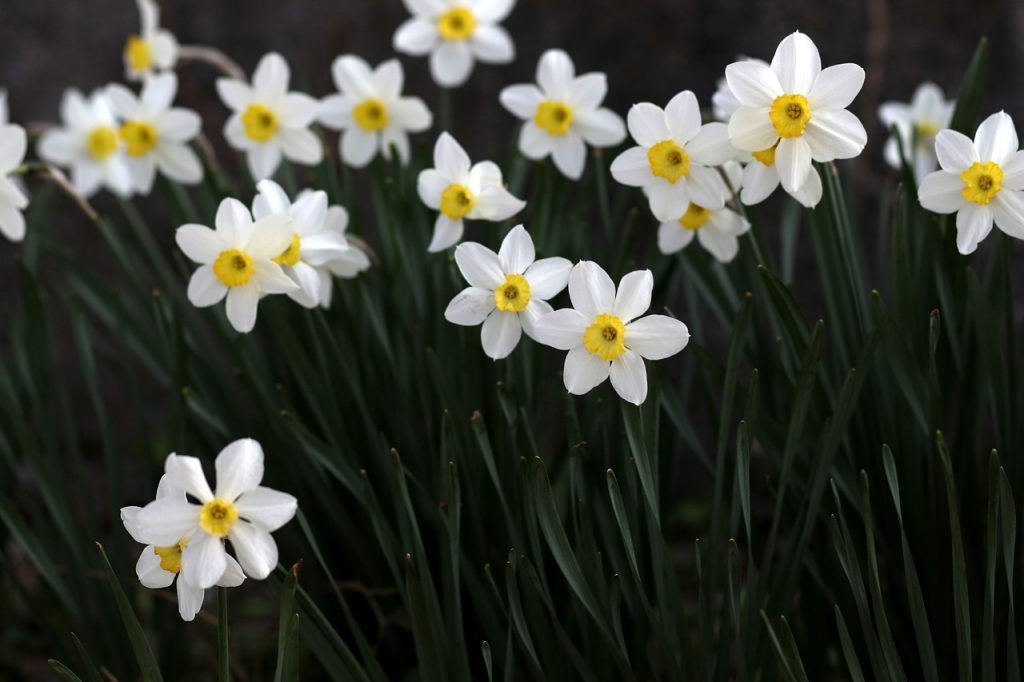 My argument here for child-friendly garden design is simple. If your children are likely to eat plants or be left unsupervised in the garden then, of course, you need to consider what plants you're putting in. In my experience most of the time you are supervising your children. Besides children are more interested in climbing, hiding or collecting leaves than eating plants. If you provide enough interest in the garden with play areas and activities it should stop your children resorting to eating plants and bulbs.
List of Plants Toxic to Children if eaten
Here's a list of plants that if concerned you want to avoid in the garden. In particular Monks hood is the real nasty of the group. Also whilst out in the woods make sure that you teach your children to avoid Giant Hogweed, often found in woods. It is huge at least 7ft if not taller. It's sap strips melatonin from the skin causing blistering and years of skin damage as the skin then can't protect itself from the sun. If you see if report it to your council for removal.
Aconitum
Amaryllis bulbs
Asparagus fern
Azalea
Begonias
Bergenia (elephants ears)
Cyclamen
Daffodil bulbs
Delphiniums
Digitalis (Foxgloves)
Hemerocallis (Day Lilies)
Hemlock
Hyacinth
Hydrangea
Ivy
Laburnum
Lily of the valley
Lupins
Morning glory
Monks Hood
Nightshade
Oleander
Rhododendron
Rhubarb leaves (Toxic to everyone if eaten)
Tulip bulbs
Umbrella plant
Wisteria
Yew
Child-Friendly Design Example
I have written extensively about the issues with new build gardens. Whether it be random grids, oddly shaped boundaries, wasted pockets of space or the fact you can't dig down further than an inch before hitting rubble. This garden was no exception. It was not a child-friendly garden at all.
A young working couple asked me to design them their dream garden that was both child-friendly and sophisticated enough to entertain their friends and family outside. This article details the design and planting choices that Garden Ninja put forward.
The couple wanted to create a child-friendly garden that was also suitable for entertaining adults in. Space where children would be safe, but adults could feel relaxed with some privacy from neighbours. The gardens soil quality was terrible, they were overlooked and they wanted a separate area to produce their own vegetables away from the main garden. I also had a challenge with a horribly damp corner which I promised I would make into a feature for the children. Me and my big mouth!
Solution
The first part of the design was to take the long garden and divide it into zones. Starting at the back of the garden, where the sun hit first was perfect for the adult good life zone of the garden. The couple wanted a greenhouse so I incorporated this into the plans in the adult zone.
Adult Zone
Starting at the back of the garden, where the sun hit first was perfect for the adult good life zone of the garden. The couple wanted a greenhouse so I incorporated this into the space, Using raised beds meant we could avoid mass excavation of the awful soil and bring in far better organic matter for the beds. The raised beds also help to screen off the zone from the rest of the garden. Clever use of pleached trees gives a contemporary screen to the back fence and some much-needed height to the child-friendly garden. They also wanted somewhere to sit in the garden.
Children's Zone
The majority of the main garden was designed with child-friendly and edible plants. The raised beds gave a clear line between the borders so they could play safely. I kept this part relatively simple so children could kick a ball about or put a slide there if they wished. When designing it's important not to over stylise a garden when children will be using it, as you risk making it too exclusive for adults. The planting scheme I chose was full of tough and colourful child-friendly plants and could take the odd flying dinosaur or barbie doll strop!
Entertaining Raised Terrace
This area extended the current terrace lifting it up a step which could then be home to an outdoor dining space. Mirroring the width of the patio doors helped connect this area to the house and keep it scaled. I connected this to the adult zone via some stylised paving slabs that gave a contemporary stepping stone look to the garden.
Dino-zone
In the bottom right was a shady border that was quite damp, the design extended the path around the house to remove the now dead turf. I also added another raised bed filled with ferns and shade-loving plants. It featured a giant flat rock that can be used as a children's play area to play with their toys on. Given the couple's young child loved Dinosaurs I themed this as the Dino-zone! Even as the children grow up this area will look good in its own right, with lush shade-loving plants full of texture and interest, but makes for a really fun play feature too.
Summary
This design was a pleasure to work on, it was a real challenge given limited space, the poor soil quality and the requirements of the family so it worked for adults and children. By using straight lines, zones and splitting the garden sensitively I think the design really works for the couple. Even as the children grows up the garden is 'adult' enough to morph into the next stage of their life.
By using zones and carefully thinking about the purpose of each area of your garden you really can have a garden suitable for children and adults. By careful consideration, you can create a child-friendly garden that has space for playtime and relaxing without compromising.