Caroline Mann is a Buyer with garden supply specialist Wyevale Garden Centres. She explains to Garden Ninja viewers how you can keep your garden furniture in optimal condition for longer, by showing you how to care for your wooden, metal and rattan sets.
Our garden furniture can be our pride and joy, with many of us shelling out for our dream sets. So, once you've decked your garden out with some sleek furniture, it's important to care for it properly. Not only will this make it last a lot longer, but who doesn't love their home to still look brand new? Preserving your furniture is a straightforward process, so make sure you put aside some time for it at the beginning and end of each season. To learn more, just read on to find out my top tips for keeping yours looking spick and span for years to come.
Wood
We can all find ourselves guilty of bundling our garden furniture away in the shed, uncovered and uncared for. However, as a natural product with oil-producing properties, wooden furniture can become shabby and weathered if not stored and maintained properly. So, dig out those neglected tables and chairs and start the summer season off on the right foot. Wooden furniture doesn't have to cost you an arm and a leg to take care of, and it's often as simple as using hot soapy water to wipe it down. But, be aware that most garden furniture is made from two types of wood — hardwood and softwood — which means slightly differing care procedures.
Hardwood
Hardwood, like teak or eucalyptus, is generally very strong and durable, making it less likely to be affected by weathering and general wear and tear. And, because of this hardiness, it has a simple and cost-effective solution to keeping it in tip-top condition. Treating your hardwood with a quality teak oil as soon as you've bought it will lock in protection from the get-go. That said, it's still important to still give it a thorough clean at the start of each season with either hot soapy water or a specialist hardwood cleaner. A lick of paint with a wood stain or oil will rejuvenate it and bring it back to life — and with so many shades to choose from, you're guaranteed to achieve your desired look.
Top tip: If your hardwood set is particularly dirty from storage, sanding it down can get rid of stubborn dirt and grime, and renew your furniture's aesthetic.
Softwood
Softwood is the least durable of the two, so is usually the cheaper option. But, budget-friendly furniture doesn't have to look low-cost, given the necessary time and effort put into maintaining it. Just like hardwood, softwood requires yearly wash downs with specialist wood cleaning products, which should then be topped with preservative wood stains or paints — just be sure to apply these in dry weather and pay special attention to areas that often get wet or damp, like the feet of the furniture which may become rotten or damaged. If your softwood is kept in shaded areas, it'll also need treating with a fungicide solution to beat the rotting process.
Top tip: Using products with UV filters will create a strong barrier against discolouration and cracking, so your furniture can be at its best for longer.
Rattan furniture
Rattan can be an expensive investment, so make sure you're getting a return on it by prolonging its longevity.
Firstly, take the time to consider whether your furniture is synthetic or natural rattan, as these will differ on their water-resistance and subsequently, the care that is required. Synthetic rattan Usually the cheaper option of the two, synthetic rattan only needs to have a thorough clean once or twice a year to keep it in great condition. If your furniture has become a victim to caked-on mud or moss, use a stiff brush to loosen these from the strands of the rattan — just be careful not to put too much elbow grease into it, you might ruin the material!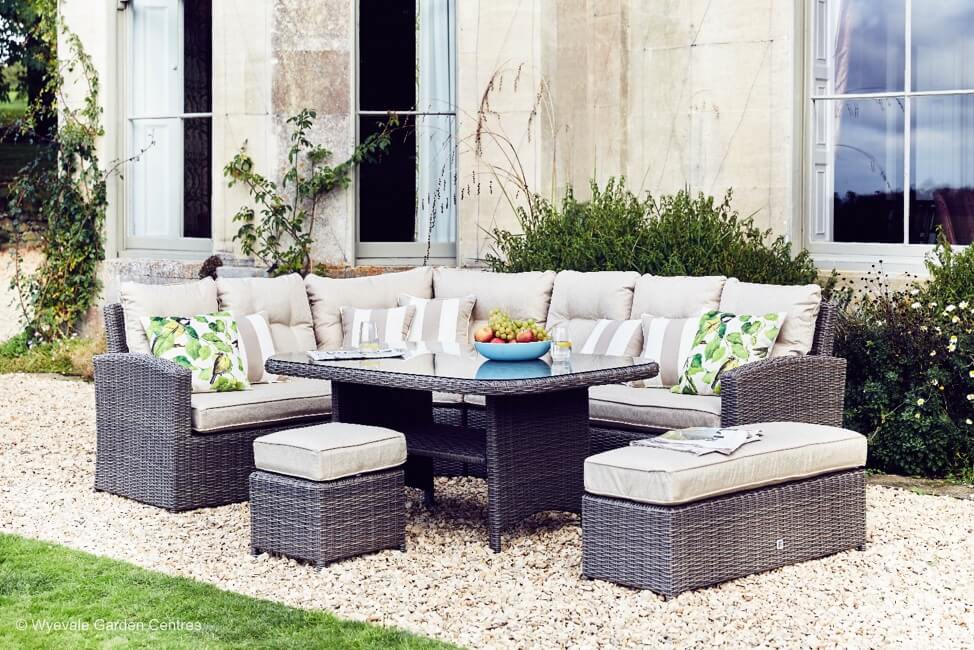 Once this has been loosened, use a soft brush hoover attachment to suck up the dirt. To clean off any remaining marks, spills or stains, create a solution of washing up liquid and water, and use the soapy water to wipe the furniture's surface down. This type of material can be hosed down once you've finished, but just avoid any sort of pressure washer as this can damage the finish. You can leave synthetic rattan to dry naturally in the sun. But, if the sun is being a tad shy, turning them upside down will encourage them to dry quicker.
Natural rattan
If you've got natural rattan, it's important to know that these should be avoiding water wherever possible. This means it's particularly important to store them away in a dry place when they're not being used, to shield them from rain, snow or any other weather issues. With that in mind, don't be tempted to use a pressure washer like you would on synthetic rattan — a hoover and a toothbrush will be the dream team in restoring your natural rattan furniture. Gently wiping any dirt away with the toothbrush will help to rejuvenate your set.
However, if there are any stains, making a hot soapy water solution and wiping it lightly over the furniture — with a thoroughly wrung out cloth — won't cause any damage. Repeat this with clean water on the cloth and finally go over it with a dry cloth to finish the job off.
Exposing metal to the elements can cause it to rust, giving an old feel to your garden set. Prevent this from happening by regularly inspecting your metal furniture for any scratches in the finish or paintwork, which will need to be quickly treated to deter rust build-up. To stop exposed metal from oxidising with the air, use steel wool to remove any existing rust and then re-paint the area. Just like any other furniture type, it'll need to be regularly cleaned.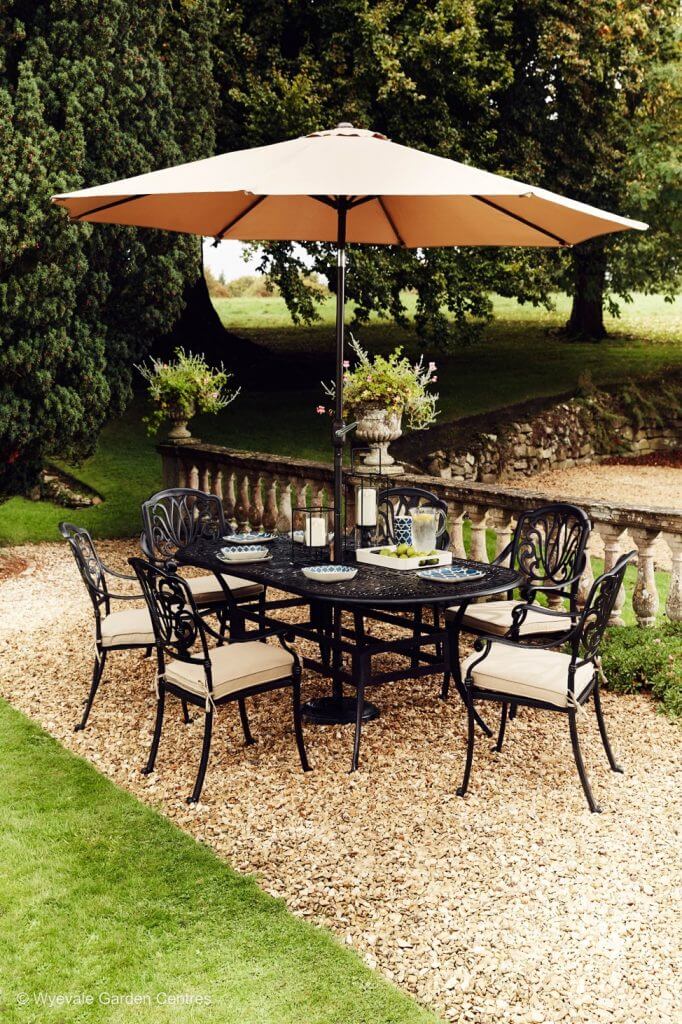 Due to its durability, this can either be done with hot soapy water and a no-scratch sponge or even with a pressure washer — but on a low setting! Patio furniture is prone to fading due to the combination of sunlight and air that reacts with the materials over time, so be sure you're storing your metal set away in a well-shaded place — particularly if the summer sun is going to be sticking around!
A great set of garden furniture can be the perfect finishing touch to your patio. Whether you prefer, rattan, wood or metal, my simple guide will help you to preserve yours, so it will look stunning for even longer. Got any questions? Why not ask the Garden Ninja or check out my Youtube channel for more hints and tips on garden design?