As a beginner gardener bare root planting can be a bit confusing. Usually, we tend to buy plants that are container grown and in full leaf (not with their roots exposed looking all sorry for themselves like bare root rose below).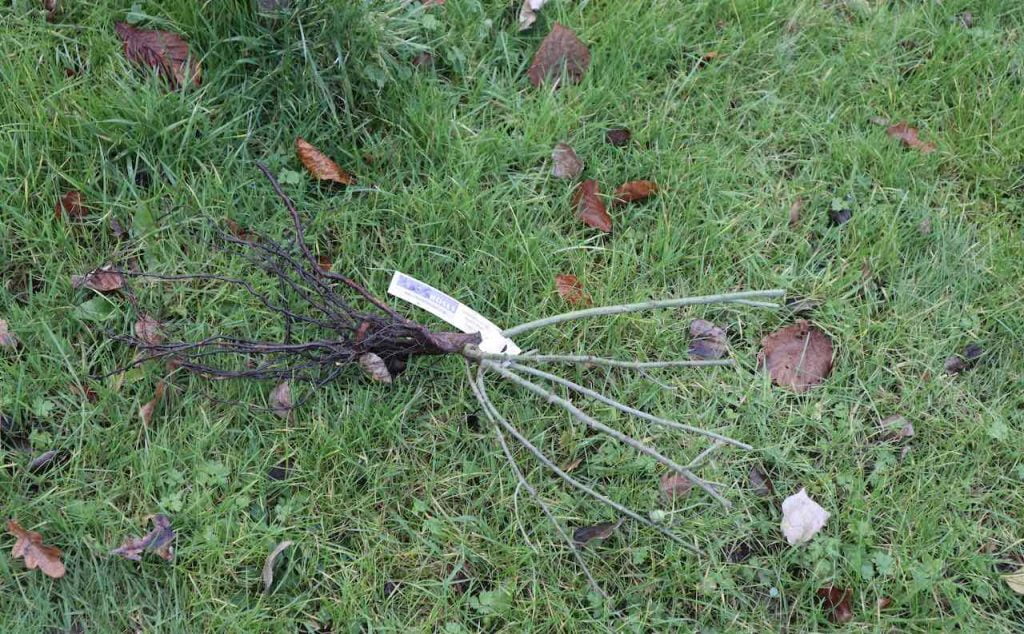 However, there's a gardening secret that enables you to buy plants cheaply, with less watering and allows you to pick from a near-endless plant list instead. This is the world of bare root planting!
Bare Root Planting Guide
What are bare-root plants?
Bare root plants are lifted when they are dormant meaning the plant arrives with a bare root in late winter. This type of plant needs to be soaked and then planted quickly compared to container-grown plants or seedlings.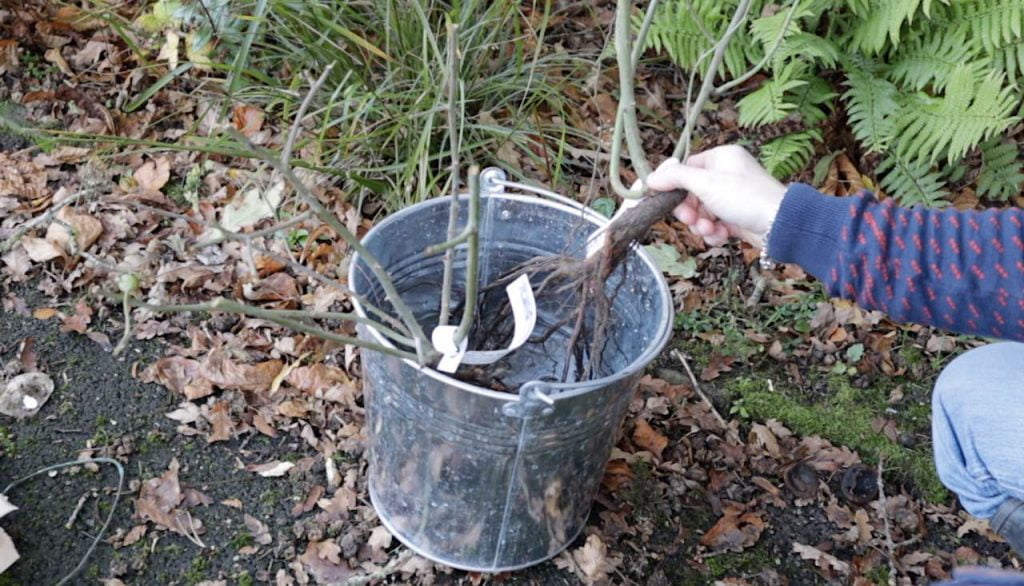 Planting bare-root shrubs and trees is a preparation method often used to package and transport deciduous and sometimes evergreen plants. Trees and shrubs are lifted when dormant and the soil is then removed from the roots and they are wrapped ready to be replanted. So why do nurseries lift and sell bare-root trees?
Why are do nurseries sell bare root plants?
The first reason for selling bare root plants is it is a quick and easy way to transport plants fitting more into a van compared to container grown plants. Making it very cost-effective. It also means less damage compared to larger container grown plants.
You can plant bare roots out at either the very end or beginning of the gardening season. Bare root planting is for the patient gardener, and whilst you may need to wait a year or two to see your plant start to blossom fully, it can be a very cost-effective way of planting.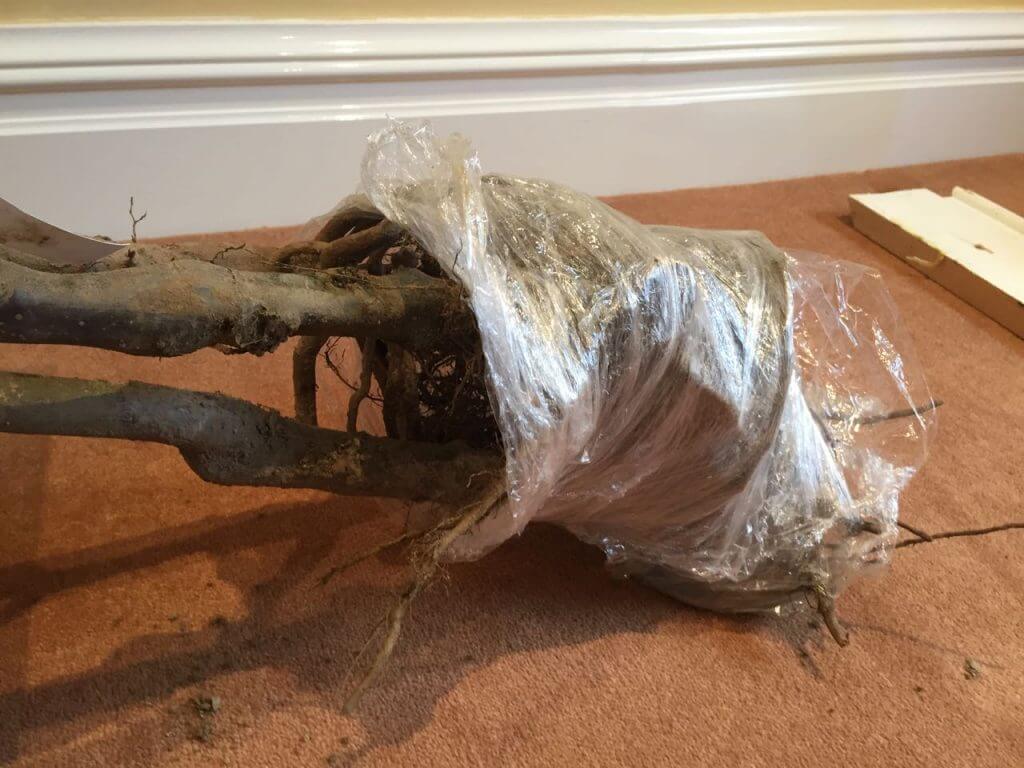 Bare root is often commonly used in plant mail-order catalogues and plants bought from online garden stockists. It's when a dormant plant or tree is packaged up with its roots bare and then sent out. Hence, the name 'bare root'. You can find a huge variety of cultivars in bare-root that otherwise wouldn't be available at garden centres and nurseries.
If you're expecting full-size plant specimens, always double-check with the seller and also the month in which the plants will be ready. Many an eager gardener has fallen foul of ordering plants that are not in season for a good few months and having to wait for them!
When are bare root plants available?
Bare root season starts late Autumn when the trees are dormant and you can plant all the way through to early spring. The sale of bare root plants usually starts in October through to the beginning of March in the UK.
Why choose bare root over fully grown plants?
There are a number of benefits of bare root plants which make them a popular choice for gardeners. One of the biggest is the reduced risk when planting them along with a much wider variety of plant specimens.
Benefits of Bare Root Plants
They are usually much cheaper than fully grown specimens
Easier to transport without damage
Greater variety of plant choice
Ideal to buy dormant plants out of season before you are ready to plant them
Greater chance of establishing quickly
Reduced watering required as planted dormant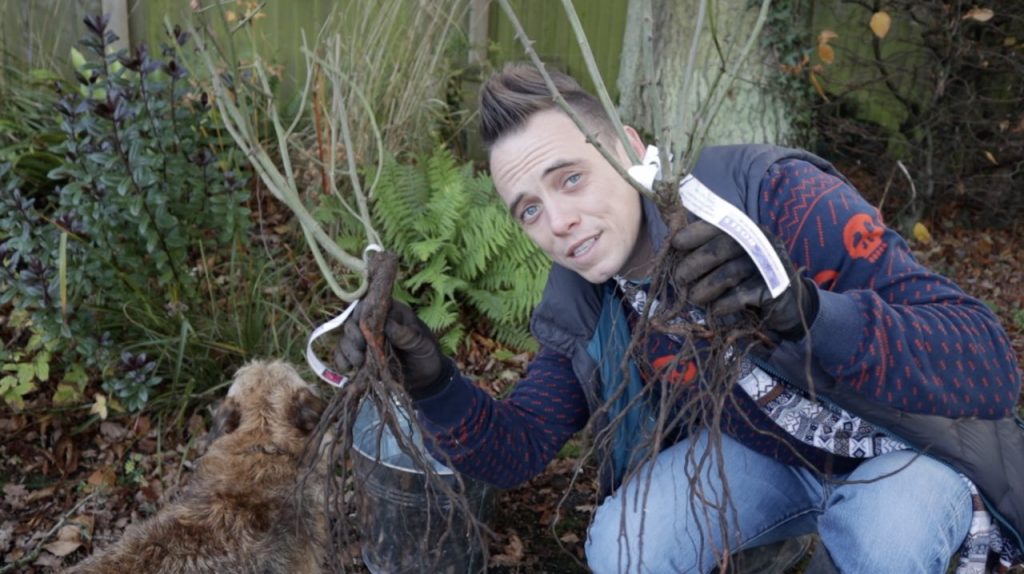 How to plant bare root shrubs
Bare root shrubs are easy to handle due to their size and are relatively straightforward to plant in the garden.
As with most gardening preparation is key and failure to properly prime the bare-roots may impact their chance of survival. Bare roots require soaking before planting as they are dormant. This is an essential step when planting them and shouldn't be overlooked.
Step 1: Firstly unwrap your bare root plants and inspect for signs of disease, fungus or damage.
If found then get back in touch with your stockist and discard as not to infect other plants. If they look ok then you're good to go!
Step 2: Fill a bucket with water to soak the bare roots
Bare root plants are dormant this means that their respiration has slowed down. It doesn't mean they are dead but that they have reduced their need for water and oxygen to minimal levels. It is, therefore, essential that you allow them to imbibe, drink, take on the water to start the process of reawakening the plant.
Step 3: Leave the bare-roots in a bucket of rainwater for 30-60 minutes before planting.
Soaking the bare roots is essential to make sure they are well hydrated before planting. Failure to do so will harm the chances of the plant's success. Don't forget as they have been lifted and wrapped they will be in a state of both shock and dehydration.
Soak your bare rooted planted for between 30-60 mins before planting.
Step 4: Choose a suitable planting position
Ensure your planting position allows enough space for the shrub or tree to grow, considering plants around it and how you will be able to prune and attend to the plant. Always check the ultimate height and growth of any bare root plant to make sure you're planting it in the correct position.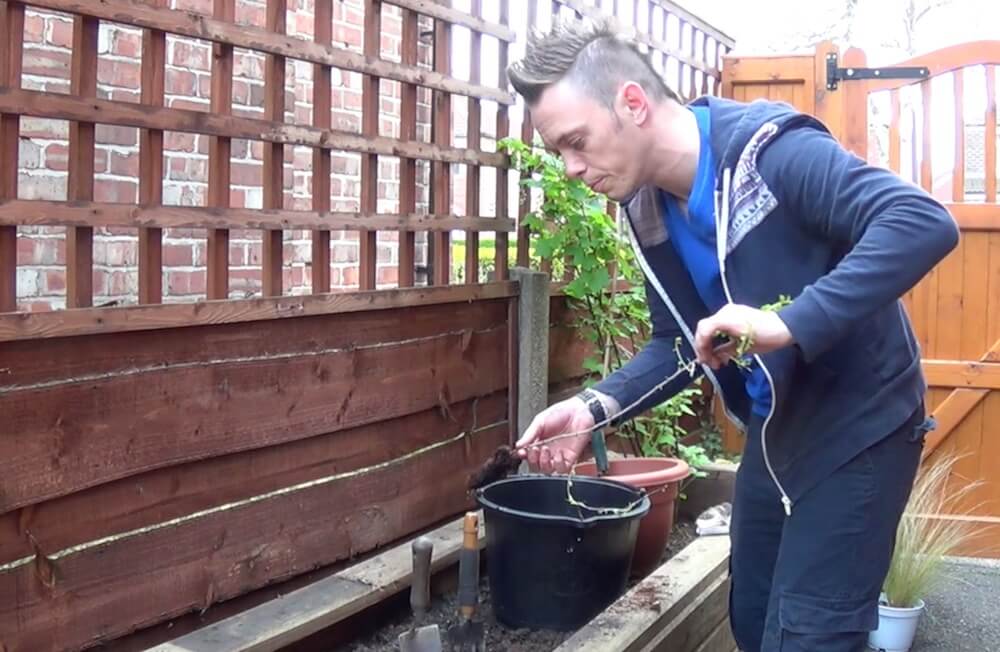 You don't want to have to lift it again to reposition it once it starts to grow!
Step 5: Prepare the planting hole for the bare root
Using a trowel dig a hole that's wide and deep enough to take the bare root up to the part where the stem and roots join. You don't want to over bury the stem or graft (the point where the roots meet the main plant) as it may cause it to rot. If you have poor soil you may want to add some organic matter such as compost to provide slow-release nutrients and retain moisture.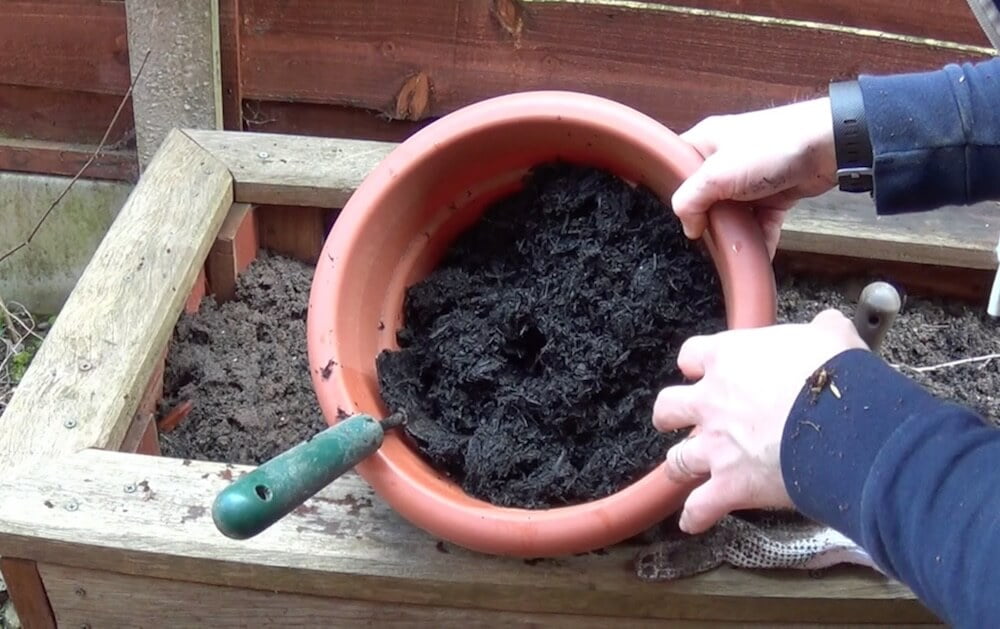 There is no need for other fertilizers or plant feeds at this stage and they may inhibit the growth of the roots. Always wait until plants are established before deciding whether to fertilize with a suitable plant feed like comfrey tea or not.
Step 6: Plant up your bare root
Place your bare root in and then backfill with organic matter and topsoil, ensuring you firm in the bare root and stake/support it if necessary.
Step 7: Water your bare root thoroughly
Even if it's been raining or the soil is wet you still need to water generously to give your bare root the best start. If you've soaked your bare root in a bucket then use this recycled water to give the bare root a drink. Ensure the bare root doesn't dry out by weekly watering in dryer spells.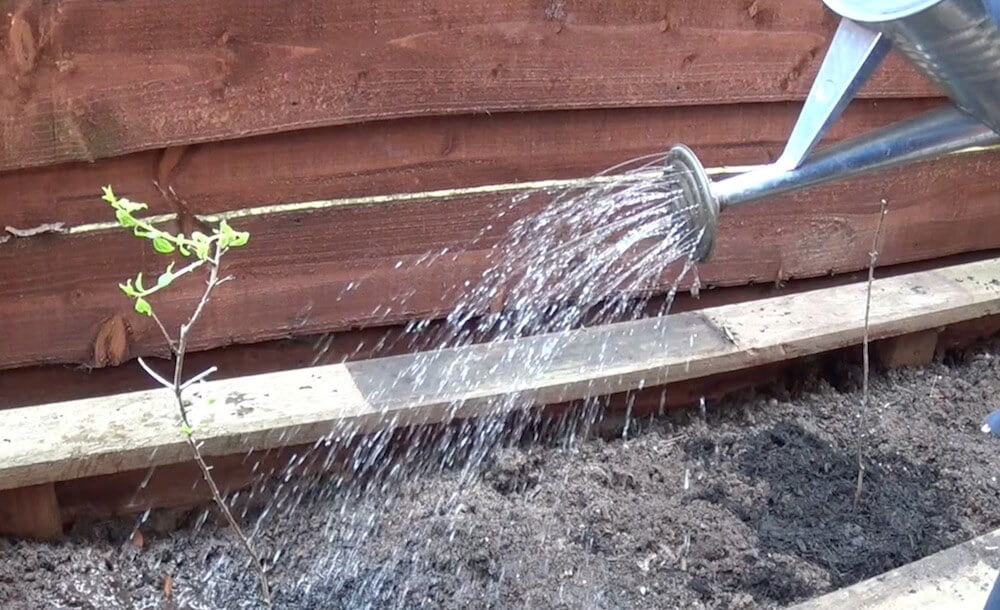 There you have just planted a bare root! Take a look at the bare root guide to planting roses below to recap on how to plant them.
How long can I leave bare roots before planting?
Bare roots are dormant and as soon as they are lifted they have no access to moisture. So the biggest risk to bare root plants is allowing them to dry out and then die.
If you can't plant your bare root immediately then they will survive in a bucket of water for between 2-5 days. You also want to lift the root out each day to allow some air to get to them.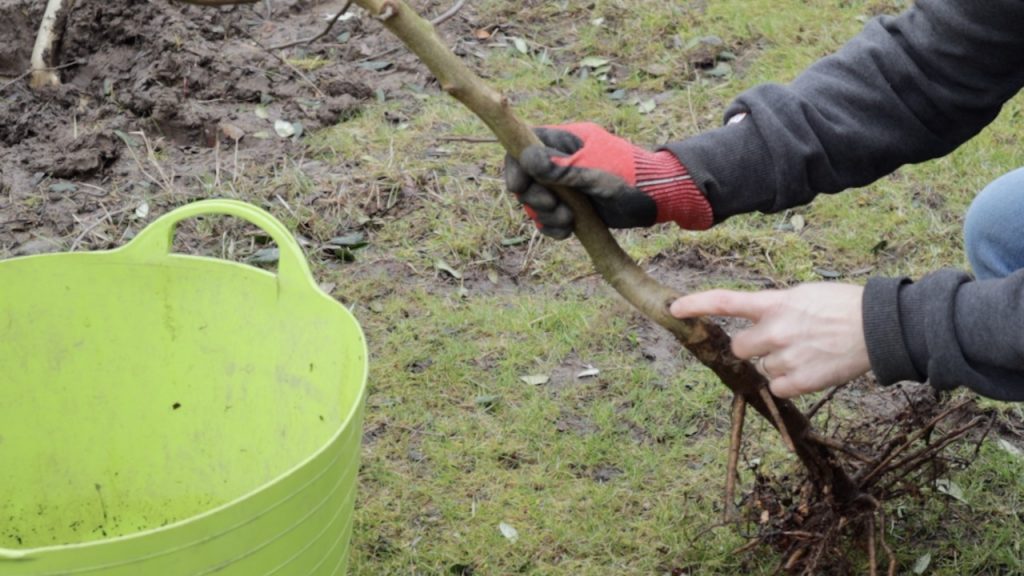 I also recommend not keeping them in the house as the central heating can trick them into thinking spring has sprung. Meaning they will start to exert even more energy to grow. Put your bare roots in a cool dark garage or shed soaking until you are ready to plant them.

Using bare root shrubs in garden design?
Sadly a lot of designers won't use bare root in their garden design installations as they do take more time to grow and establish. It can mean that the finished result of your design would be somewhat elongated as you waited for them to grow. Which is s shame as they really are a fantastic cost and carbon-conscious way to plant up a garden.
However, if your budget is restricted then bare root can help keep costs down. It's also a great way to help plant up a garden with a much smaller carbon footprint.
Hostas and growing hedgerows and bushes can be highly effective using bare root. Given that Hostas die back in the winter, planting bare roots in spring after the frost can ensure summer growth. Hedgerow from bare root allows you to hard prune the bushes early on to ensure more vigorous lateral growth than a full-size bush and at a fraction of the cost.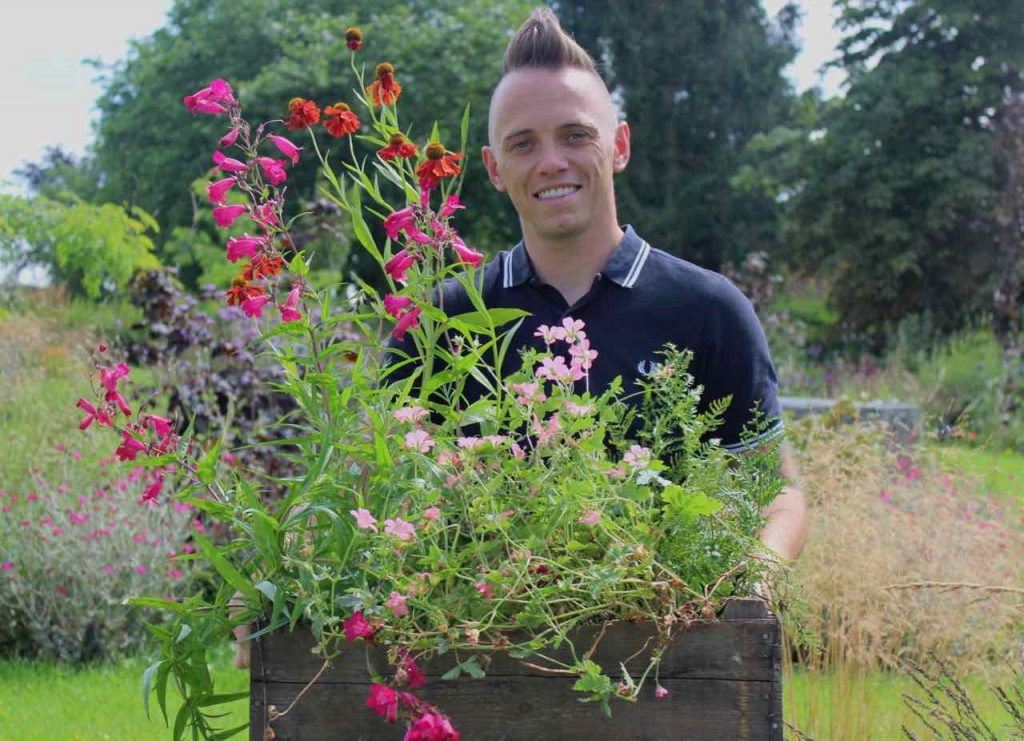 Bare root plants are best saved for fruit bushes, such as Prunus spinosa above or deciduous perennials like Hostas. Then you can tweak and prune them as they grow. In Hostas cases divide them when they get larger for more free plants!
Otherwise, pot bought specimens are preferable when implementing a garden design that needs to look 'finished' in year one.
How to
Plant Bare Root Trees
Planting bare root fruit trees is easy and relatively quick to do. By choosing bare root you are saving yourself considerable time and also opening up your cultivar choices to a much bigger selection of fruit types. Planting bare root trees follow the same principles as for shrubs but with one noticeable difference. The amount of time you soak the roots for.
Before you get started you will also need some key pieces of equipment which are shown below.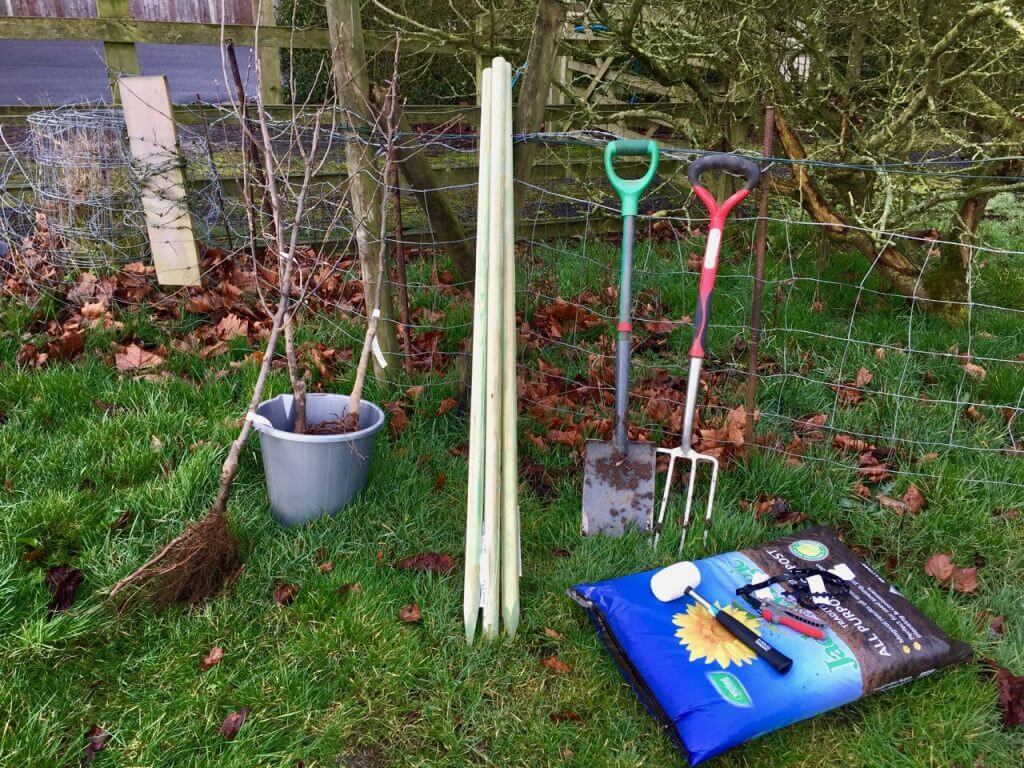 Equipment for planting bare root trees:
Compost or organic matter to help feed the tree and retain moisture as it takes on its growth spurt
Garden Spade
Garden Fork
Tree Stakes
Rubber tree ties (these are better than rope or wire which can bite into the bark damaging the tree)
Step 1. Soak the roots overnight
I always soak bare root trees overnight given their size. You have to imagine it will take a lot of effort and energy to wake up a small tree compared to a shrub. So an overnight soak will ensure you the best chance of success!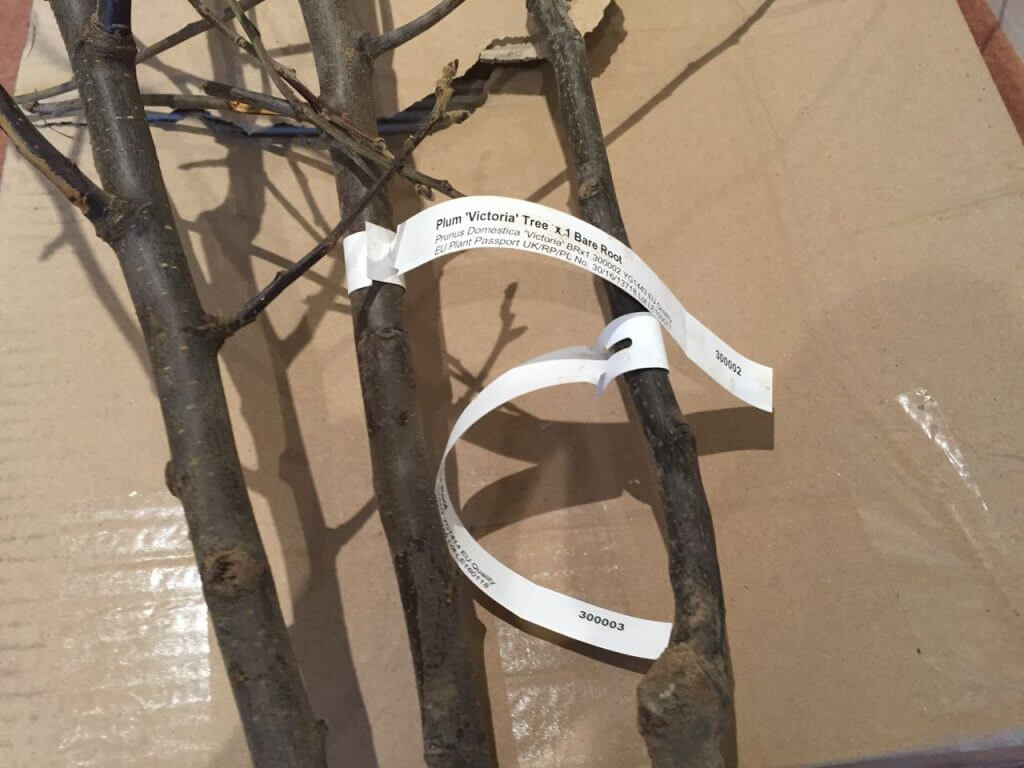 Step 2: Dig a hole at least twice as big as the root ball
Digging a hole bigger than the root ball is vital. I add organic matter in the form of compost. By making the hole generous it allows new roots to form and work their way through the soil quicker than compacted soil. I always fork the bottom of the hole before adding organic matter to help break up any compaction.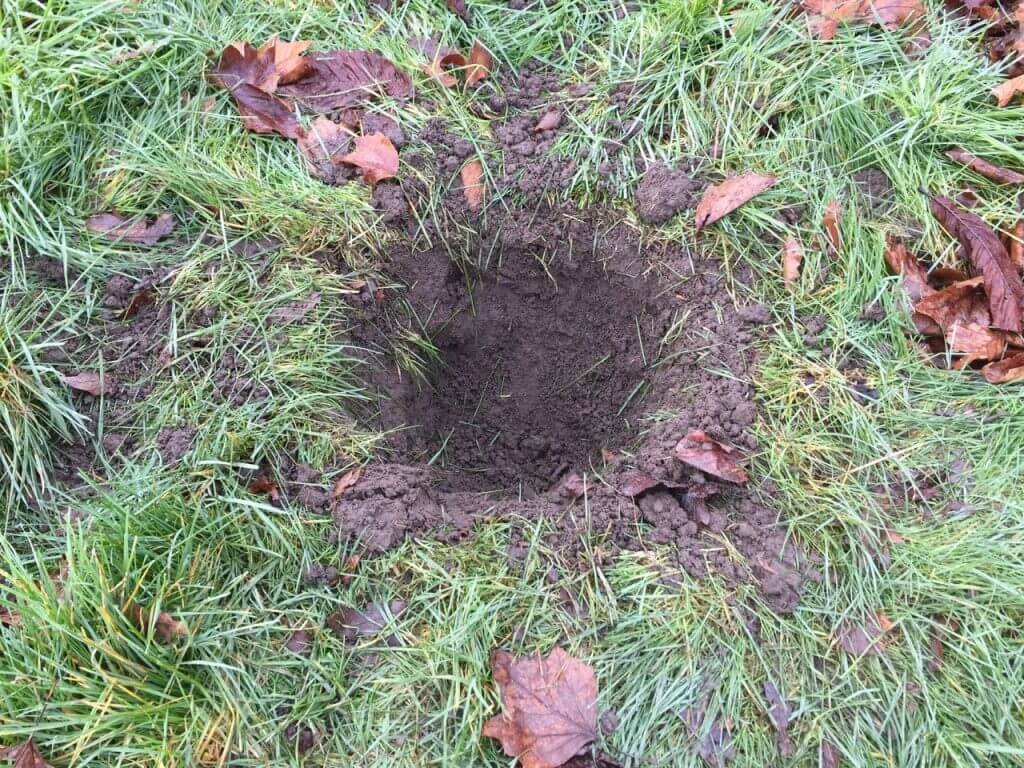 Step 3: Consider careful placement of the Tree
Ensure that the tree has enough space to grow to its mature height and spread. The RHS plant finder on their site is a great resource to check the ultimate growth of the bare root tree cultivars you have.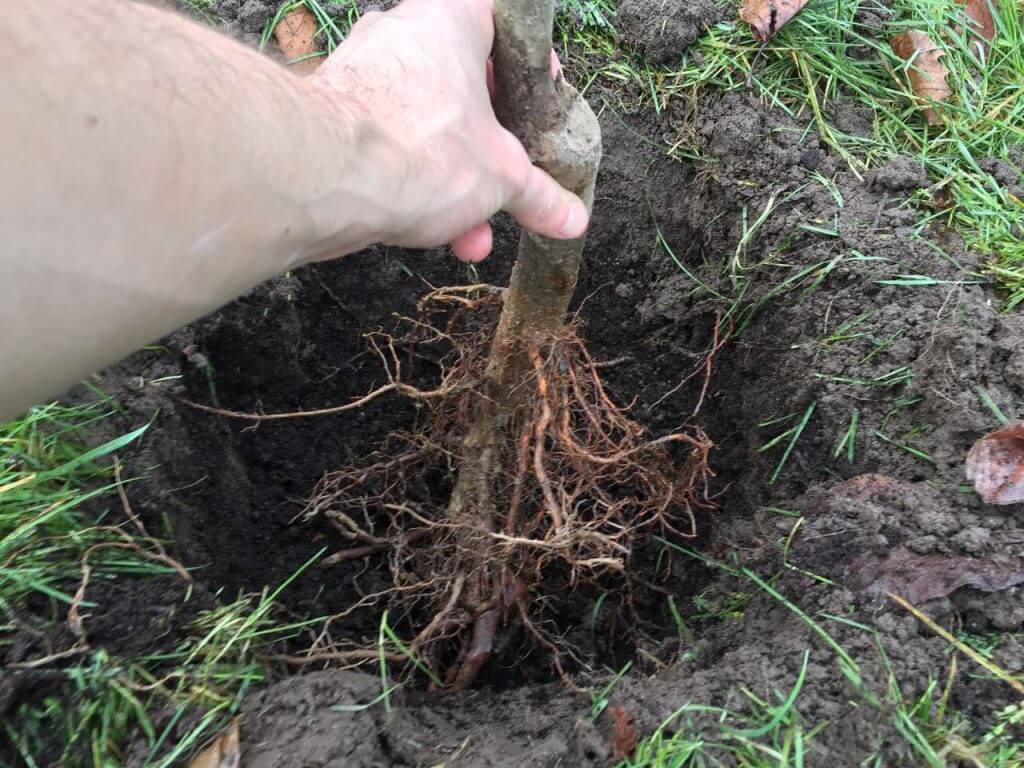 Step 4: Backfill the bareroot
Once the hole is dug and ready to plant waste no time in taking your soaked bare root out of the bucket and placing it in the hole.
Ensure that the graft, the knobbly chunk near the base is at least 4cm above the ground level when backfilled. This prevents rotting and ensures the best chances of survival for the tree. Compact the soil with your heel:
Step 5: Stake and tie the tree
Hammer a stake in at an angle next to the tree. This will ensure that the tree has adequate support against prevailing winds. By angling the stake it prevents strong winds from blowing it over. Use a rubber tree tie to carefully tie the bare root tree to the stake ensuring a snug fit. The rubber ties should be loosened as the tree ages.
After a year or two, the stake can be removed once the tree is well-rooted.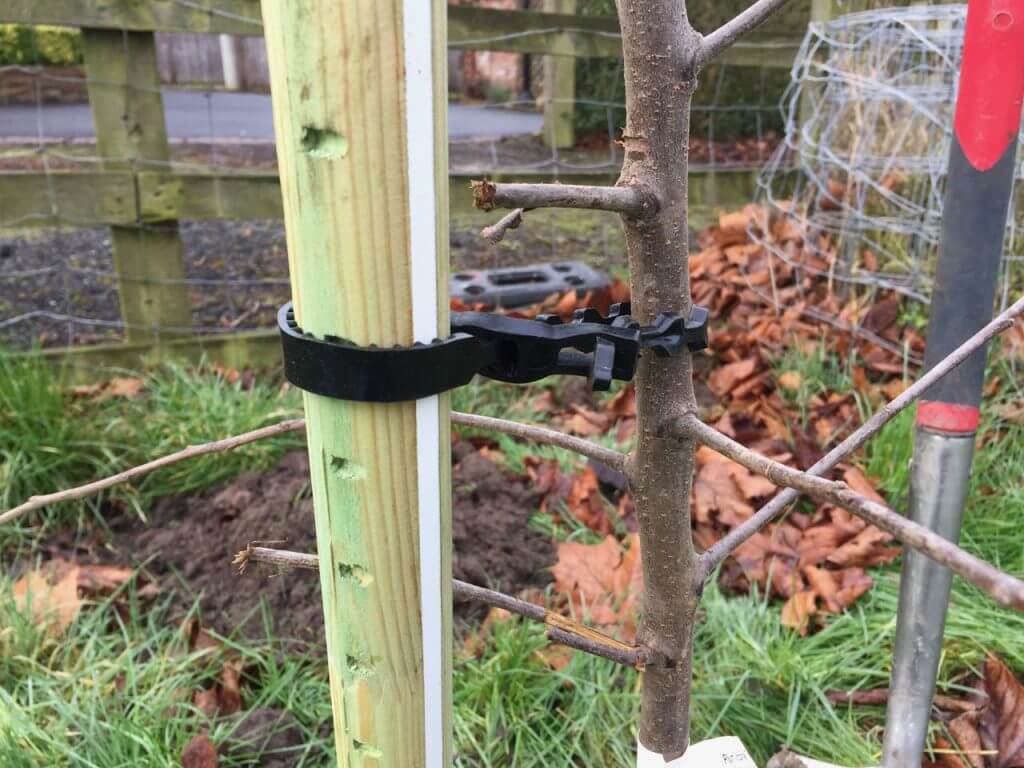 Step 6: Water your bareroot thoroughly
Watering is the key to success. You need to water as soon as you plant and then roughly every 5 days until it starts to bud or send our fresh growth. Be careful that it's not sitting in water or too wet. Best to water slightly less than too much. Forking the planting hole helps provide drainage which is essential.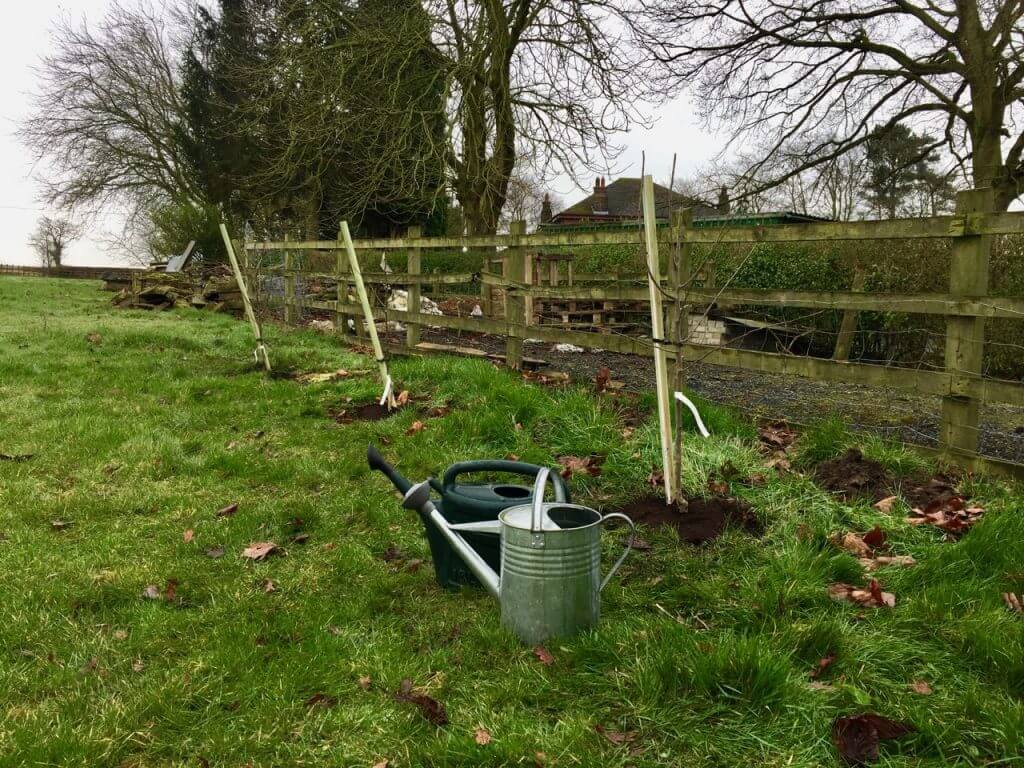 There you have it, successful bare root tree planting! Grab yourself a brew and pat yourself on the back. Once your bare roots start to root and grow you'll be on your way to your own mini orchard!

How to divide plants
Now that you know how to plant bare roots it's worth mentioning that you can then divide some of them in years to come!
Dividing plants is an excellent way to increase your plant specimens, fill gaps in borders and save money. Dividing plants, especially hostas is an excellent way to keep them in great shape. It's best done towards the end of August or September in the UK when they are actively growing.
There's a handy guide below on how to divide hostas.
As always, if you have any questions on bare root planting or division of plants why not get in touch below and leave a comment. Check back soon for more hints and tips or visit my youtube channel here.
Are you a bare root fan? If so why not Tweet, Facebook or Instagram me with your pictures! You can also follow me on Youtube where I've got plenty of garden guide vlogs.