Plastic-free gardening is a hot topic at the moment. I've been detailing this journey on my gardening blog and my Youtube channel. So if you want to see where it started then have a look at this playlist to get up to speed. The idea of being plastic-free in the garden can sometimes be easier said than done when it comes to the reality of using biodegradable pots.
That's why I've undertaken this challenge to see what hurdles and quick wins you the gardener's face. I've been trialling the following biodegradable pots to bring you the low down on the winner and ones to avoid. If you're looking for plastic free plant pots then this guide will help you see what's out there. So without further ado let's see which ones have thrived!
Plastic Free Plant Pots Review
Wooden Seed Trays
The wooden seed trays have been a clear out and out winner when compared to plastic plant pots. They warm up really quickly meaning seedlings germinate super quickly based on my trial. They also promote really strong root growth and I think this is in part to the breathability and airflow in these containers. Making them a great plastic plant pot alternative.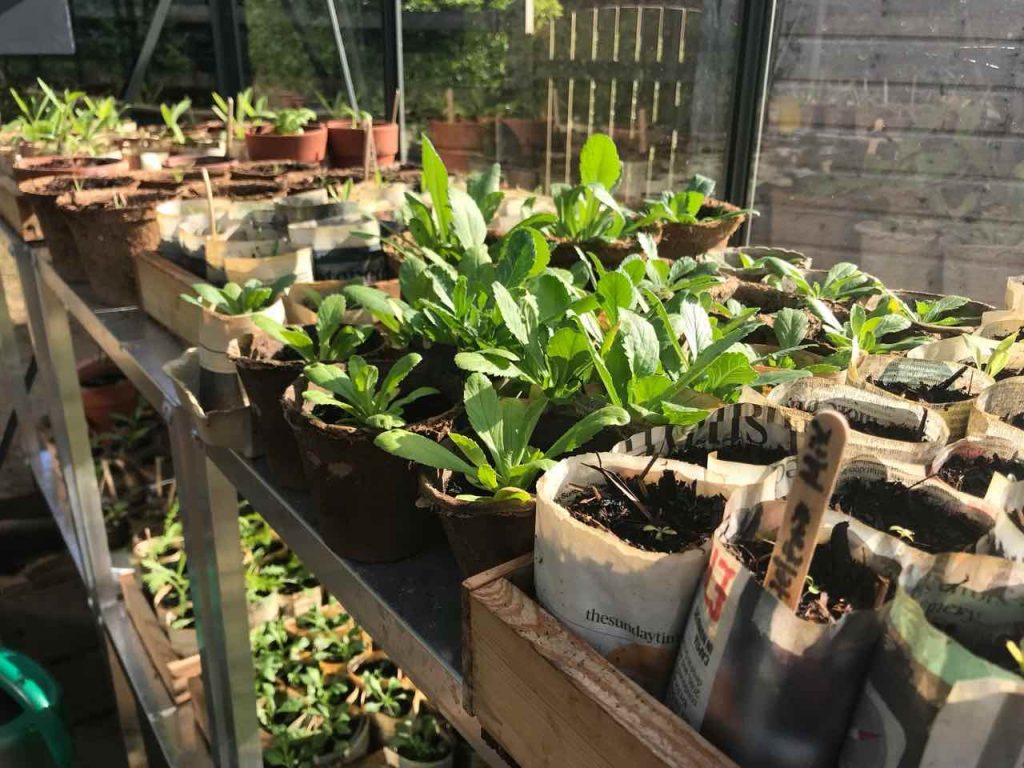 I've used two pieces of glass to act as propagation lids to help increase humidity for certain seedlings. These can be used again and again and are far more robust than plastic. This is one of the main benefits of the wooden seed tray as they are really tough and can be cleaned simply with a brush once emptied.
The other major benefit is that the wooden seed trays then double up as trays to house other biodegradable pots. In my experiment, they have worked brilliantly with newspaper pots. They hold roughly 24 of these and make moving them around super easy!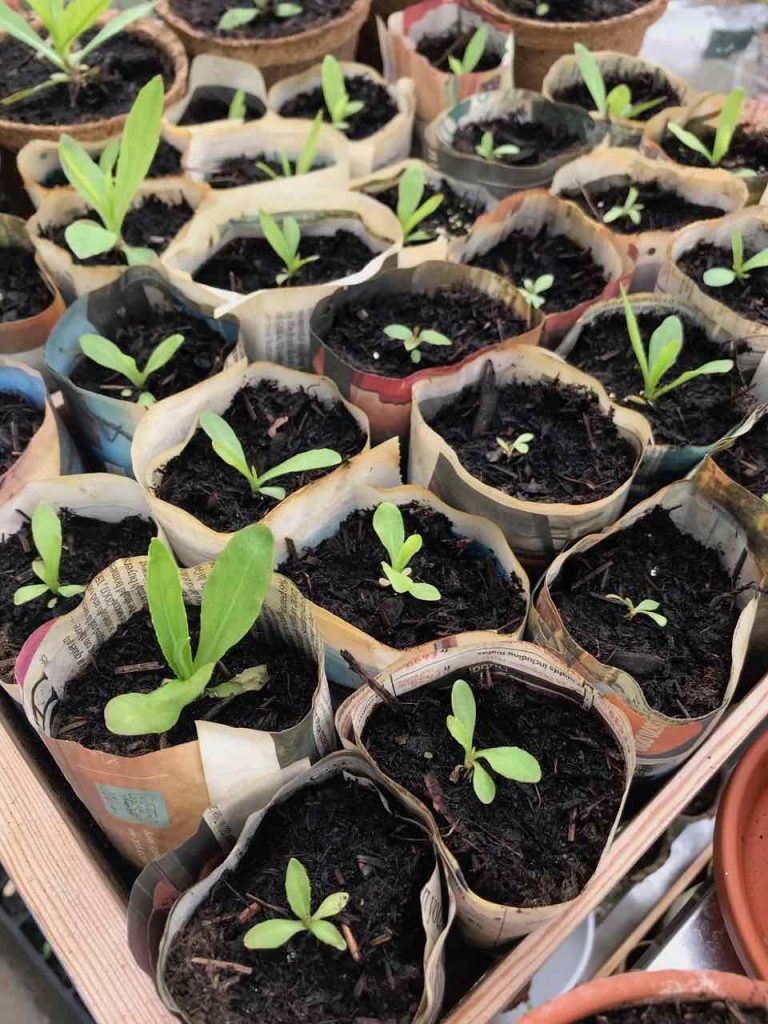 Benefits of Wooden Seed Trays
Warm up quickly
Root growth has been amazing
Notable lack of damping off and other diseases
Easy to clean
Can we used to hold other pots such as newspaper pots
Look lovely and far more aesthetic than plastic
Drawbacks of Wooden Seed Trays
Need watering more frequently
More expensive initially than plastic
Coir Plant Pots
The coir plant pots are interesting, especially to the tough as they are slightly hairy! They have worked reasonably well and the root growth on plants has been impressive. Again this is probably down to the movement of air from the pots into the soil which stimulates root growth.
The drawback is they transpire really quickly meaning you're having to water them an awful lot. Secondly, when planted out I'm told they take an absolute age to break down. Based on that feedback I'm going to decant them before planting them out and reuse them next year. So not all bad.
I would say the carbon footprint and issue with biodegrading means I probably wouldn't buy them again. I think they are interesting but a bit of a faff given the above issues.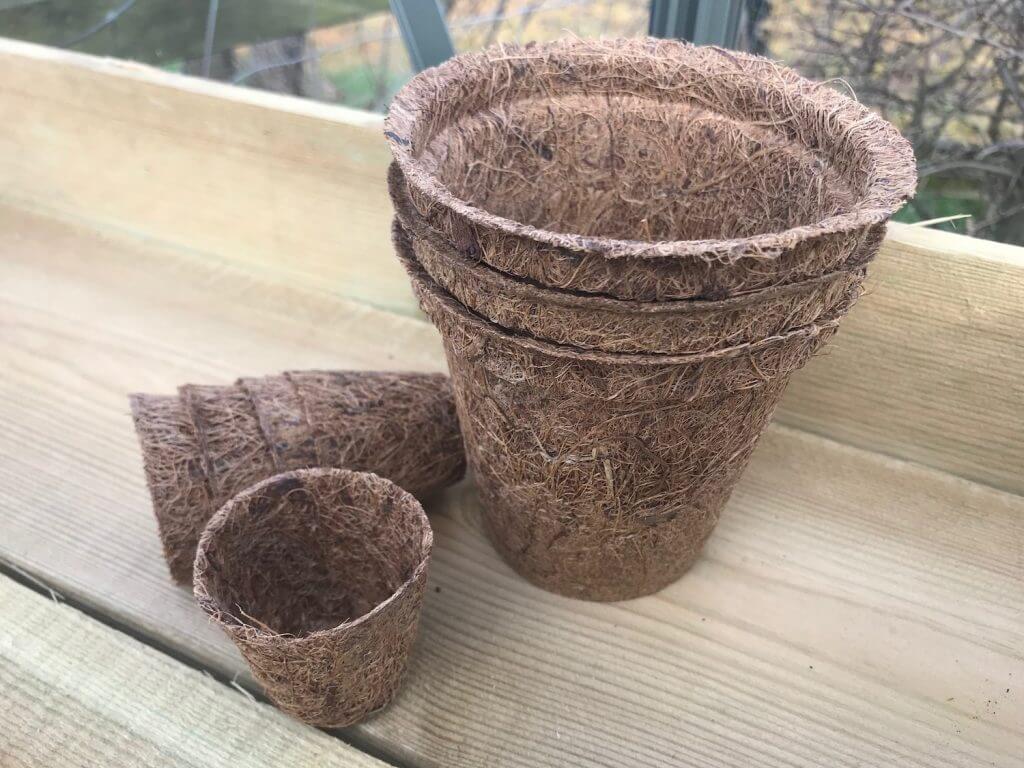 Benefits of Coir Plant Pots
Great root growth
Can be reused
Drawback of Coir Plant Pots
Takes years to biodegrade in the soil
Expensive
Needs an awful lot of water
Carbon footprint is high
Egg Box Plant Pots
The egg boxes have been rather fun reusing of kitchen waste saving more from ending up in landfill. They have been great for annuals and large vegetable seeds such as Pumpkins to start them off. However, they literally suck the moisture out of the plant and again need huge amounts of watering. They do break down quickly when in the ground but are really not suitable for taproot seedlings or anything that doesn't like root disturbance. ie Borage. So if you're a beginner gardener maybe window sill gardening then egg boxes are a great way to start.
However, in the long term, they are pretty troublesome with the watering requirements. Then there is the need to pot on once the seeds have germinated as the egg boxes are not deep enough to hold them for long. Meaning there's a lot more time required if using egg boxes to grow plants. I'm not sure these are a real plastic-free alternative to pots.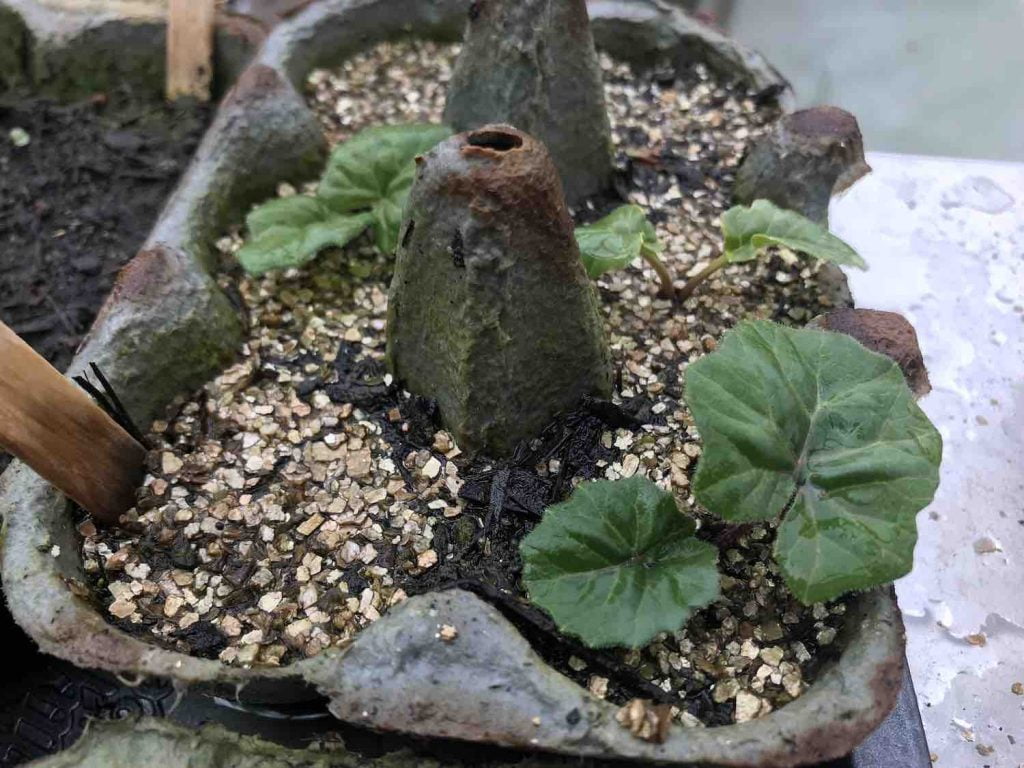 Benefits of egg box planters
Cheap and cheerful use of kitchen waste
Great for a beginner gardener
Break down quickly
Drawbacks of egg box planters
Not deep enough for potting on
Need watering two or three times a day
Break down too quickly
Cardboard Plant Pots
I'm a bit on the fence with cardboard plant pots I must be honest. I managed to buy a number of them relatively cheaply at the start of the season from a discount shop on the high street. However, I've seen them nearly 3 times that price in garden centres recently. Secondly to that again they suck the water out of the compost making watering a bit of a nightmare.
They do however transplant well and the seedlings in them have seemed happy enough. The roots haven't developed as quickly as the newspaper pots though. Maybe because they don't let as much air in. They also become slimy if they get too damp. I don't think I'd use them again if I'm honest.
Benefits of Cardboard Pots
Recycled from waste material
Time efficient as they are already made
Breakdown quickly in the ground
Drawbacks of Cardboard Pots
They can be expensive depending on the time of year you buy them
They need a huge amount of water
They become slimy if left damp
Newspaper Home Made Pots
To my surprise, this was the pot I was most dubious of. The homemade newspaper pot made by rolling thin strips of newspaper around a jig. There's no tape, staples or glue to hold them together and I thought they would have disintegrated within a week. How wrong I was!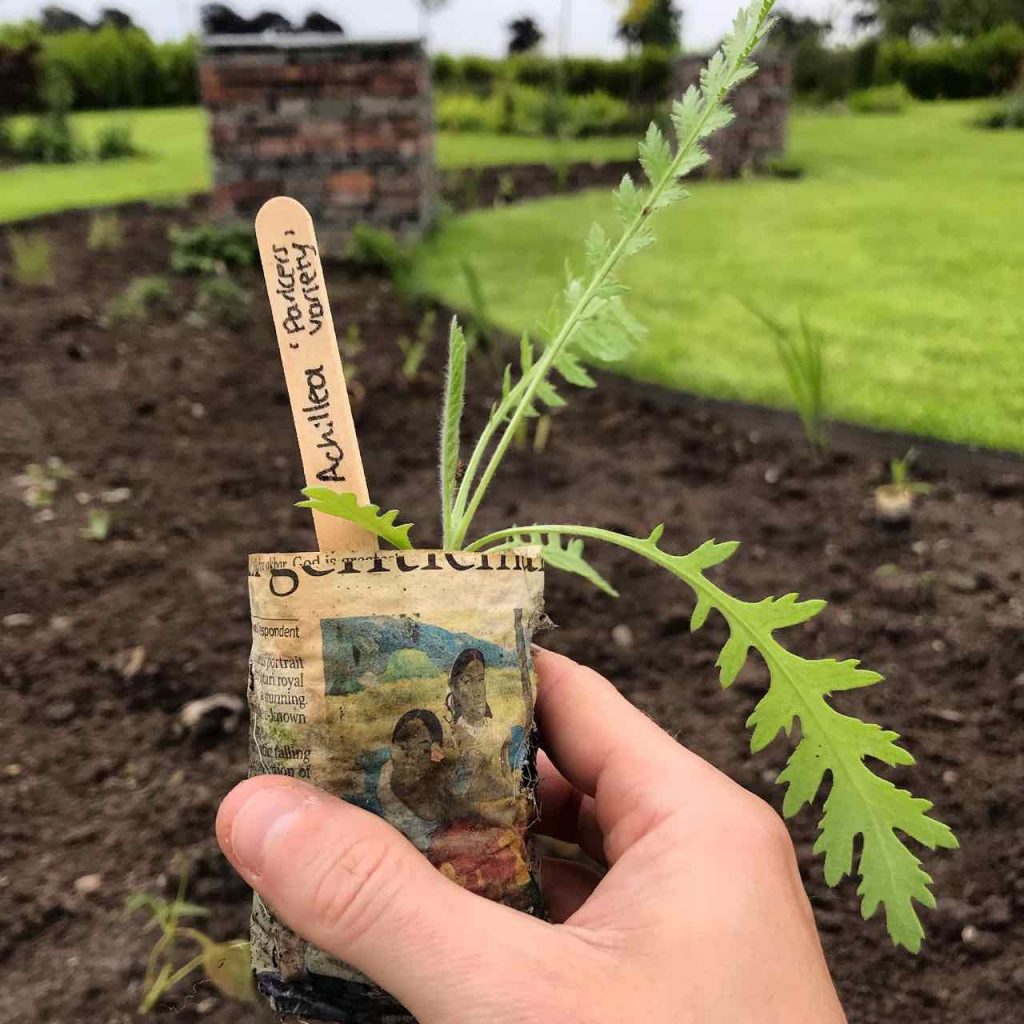 The newspaper pots have been amazing for pricking out and potting on seedlings. Roots have developed quickly and they don't need a huge amount of water as there's not a thick layer wicking it away from the plant like the other pots. I've also found using the wooden seed trays with the newspaper pots a really efficient way to prick on and move the seedlings around.
Yes, they will breakdown if handled too much but with the seed tray method I've found them fine for 2 months before they start to break down. You can also plant these straight out into the garden. A real winner for new and pro gardeners alike!
Benefits of Newspaper Pots
Cheap if not free
Easy to make, especially when watching TV
Don't take up much space
Biodegrade quickly
Root development was great
Don't require too much water
Drawbacks of Newspaper Pots
Not suitable for long term seedlings
Will fall apart if over handled
Takes time to make them
Cow Poo Pots
These have caused the greatest stir with people recoiling in horror about my poo pots. So let me set the record straight. They don't smell and there's no sweet corn in there. These pots have been so-so if I'm honest. The plants seem happy enough in them nothing amazing or awful. However, they do breakdown really quickly and go wobbly. In a matter of a week or so. I've had to bunch them together and put them on oven trays to stop them from falling apart. The benefit is that they are meant to fertilise the plant as well as contain them but I've not seen any real benefit of this with like for like planting against the cardboard pots.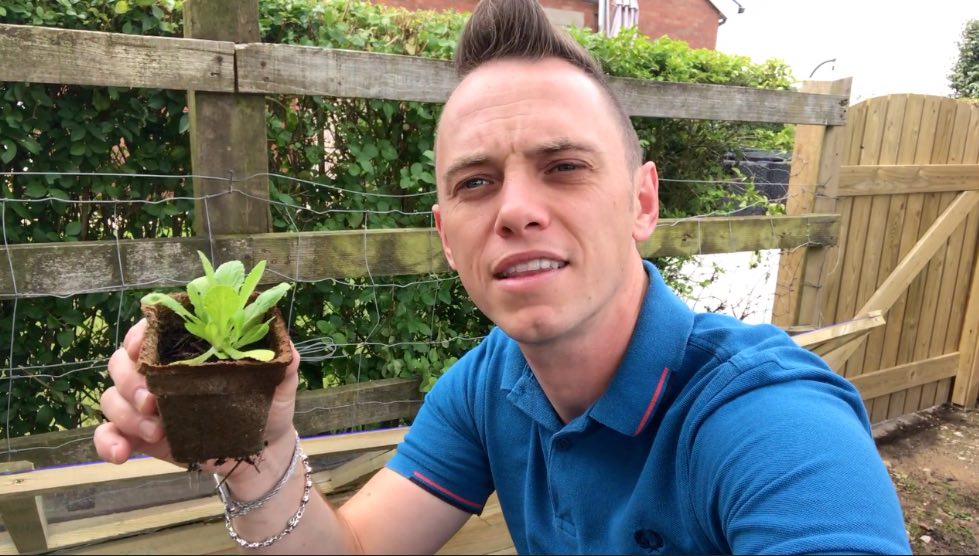 They are quirky and a good use of waste material. The air miles means I won't be using them again and would choose alternatives.
Benefits of Cow Poo Pots
Good use of cow poo recycling
Drawbacks of Cow Poo Pots
Expensive
Long air miles to the UK
Literally, melt when wet
Needs to be used on a tray
Attracted slugs in the cold frame
So what's next in the Plastic Free Garden?
The next final phase is to plant out my seedlings once they have been fully hardened off. I will then report back on how quickly they have biodegraded in the soil and any additional plant health benefits.
I think the clear two winners out of the experiment have been the wooden seed trays and newspaper pots. These are both hands down winners in terms of plant development, health, cost and biodegradability. Showing that there really are plastic free plant pots out there for gardeners.
Are you gardening without plastic? If so why not Tweet, Facebook or Instagram me with your garden updates. You can also check out the other guides and vlogs on my Youtube channel.
Happy Gardening!