Sowing seed is probably one of the most exciting parts of gardening. Ask any gardener or allotmenteer and seed selection then sowing is high on the list of favourite gardening activities. I've recently written a handy guide on how to sow seeds, so if you're new to the seed sowing party maybe read that first to help you get started.
The issue with seed sowing is that once you start you inevitably end up with hundreds of plants all which need a temporary home, ie pot and space in your greenhouse or windowsill. Having highlighted the worrying issues around plastic use in the garden and lack of recycling this year I'm growing all my own without plastic. Sowing seed without plastic is a great step that the conscientious gardener can take to reduce their carbon footprint in the garden.
It's been a really thought-provoking process so far and much harder than you may anticipate to easily plant without resorting to plastic. Undeterred, this article is going to show you the variety of herbaceous perennials and edibles I'm growing in an array of alternative plant pot solutions!
Sowing in wooden trays
I've always used wooden seed trays as I just prefer the feel and weight of them. Have you ever snagged a plastic seed tray on your coat and quickly whipped it off onto the ground? Well, I find the wooden trays much heavier and you can prevent these sorts of accidents. I line my wooden seed trays with newspaper to help retain some more moisture. They are far more breathable than plastic which is both a blessing for root development and a curse for transpiration of water. You will definitely need to water these more.
I usually cover my seed trays with a sheet of cling film or a clear plastic bag. However, given the nature of this experiment, I'm not going to do this. The drawback is again more watering as the bags usually help provide humidity and retain moisture during germination. I don't mind though, any gardener will tell you that you're going to be checking your seeds ritually throughout the week. So a splash more water won't be too much of a time burn. You will need to monitor the humidity. By means of a greenhouse heater or starting your seeds off indoors if early in the season.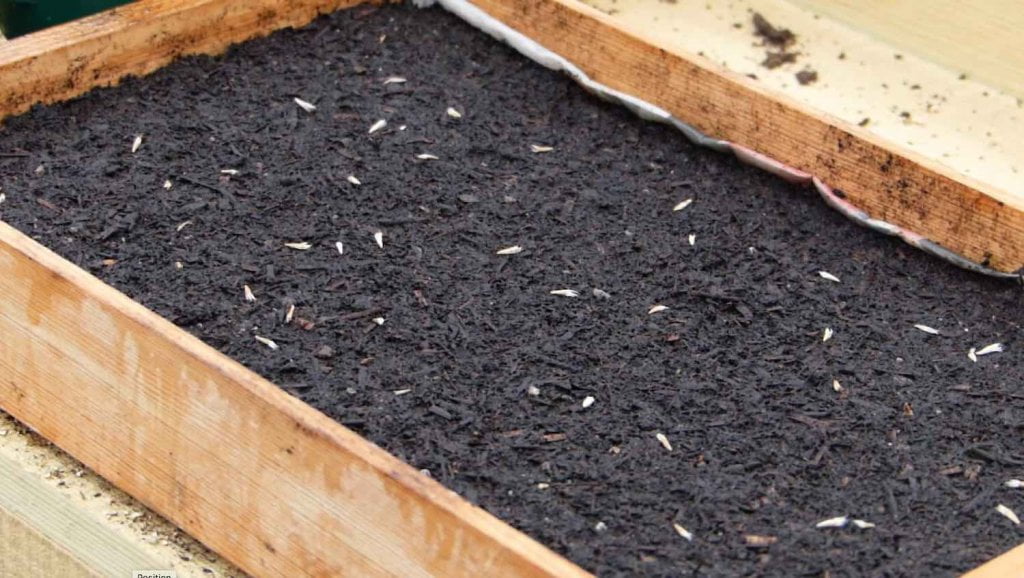 Egg Box Seed Tray Planting
I must admit I find egg boxes brilliant as mini seed trays. Especially as they double up as modules on the other side for pricking out seeds. These are definitely a space-saving and almost zero cost propagation tool. I've planted them up with some Millium and Achillea. Placing them on an oven tray means you can bottom water and move upto 4 egg box seed trays around at a time. I'd highly recommend it especially as when damp they can feel a bit unstable.
The drawback with the egg box seed tray again is watering. The cardboard absorbs the water at a rapid rate meaning it is lost to evaporation quickly without plastic wrapping. However, I've noticed that there's usually quicker germination, maybe because of the airflow to the soil through the egg box sidewall and also warmer temperature. I'll double-check that in the next progress blogs.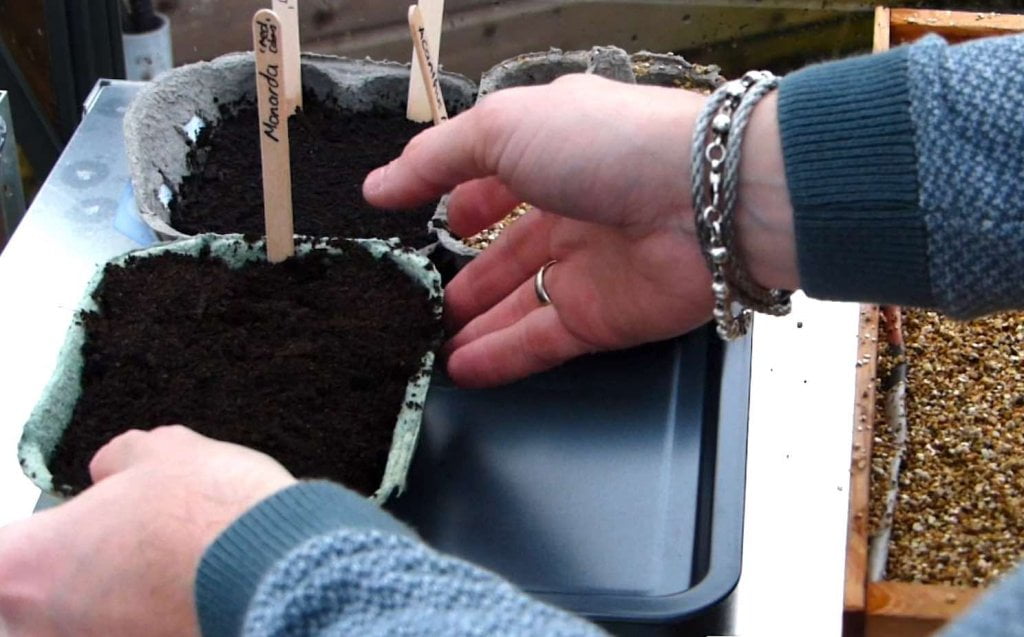 Cardboard recycled fibre pots & loo rolls
Recycled cardboard pots are available at most homeware, DIY and bargain stores during spring. They are made of recycled paper and pulp. Whilst they are more expensive than plastic as you can't reuse them. They do offer a more considered purchase for new gardeners. They also remove the need to store plastic pots over the winter. So it's worthwhile considering the trade-off. One freebie is to reuse empty loo rolls. So I'm testing both of these together. I show you how to turn loo rolls into plant pots in the previous guide so check that out.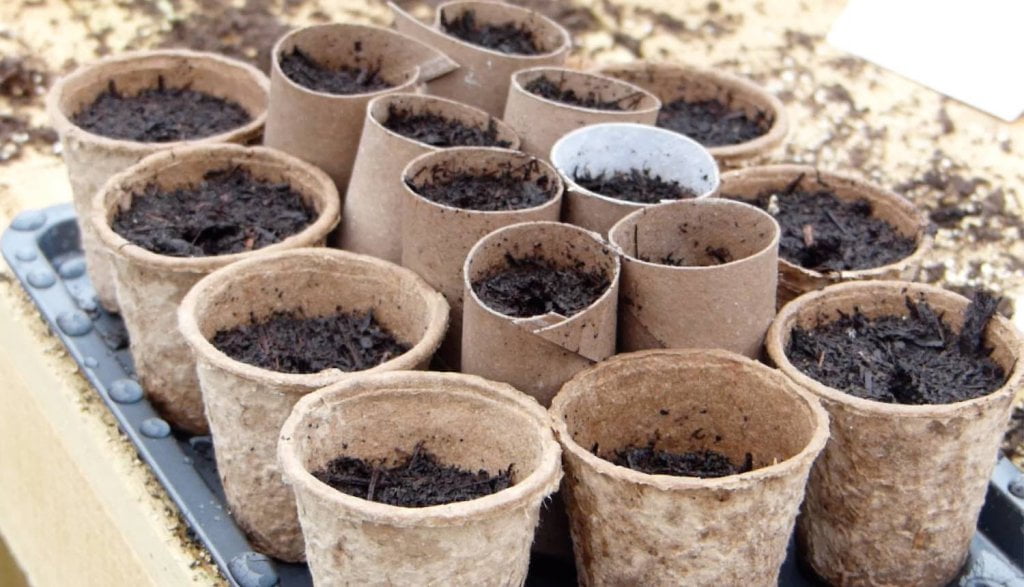 Again they do require more water, especially if not covered. They are great for larger seeds that can be sown individually such as Borage and Sunflower seeds. I've also planted Silene in individual card pots and am awaiting their germination.
I'm also trailing a tissue box which I've cut in half as another DIY cheap way to sow seeds. It's holding up so far but its on an oven tray so avoid touching and damaging the thin cardboard.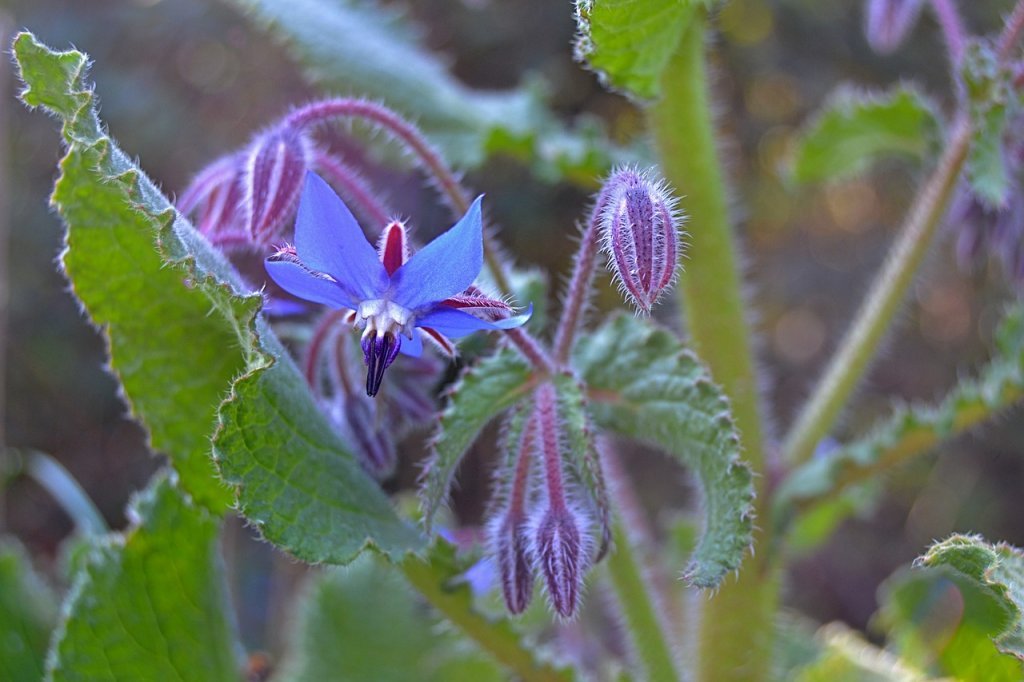 Coir Plant Pots
So far the coir pots look and feel substantial in comparison to the cardboard offerings. I'm excited to see if the airflow on the pot side wall benefits the root development in direct comparison to the cardboard fibre pots. I have heard on the grapevine they are a bit of a nightmare to breakdown in the soil outside. So I've made a note when it comes to planting out, that I do a trial on those still in pots and decanting those outside of the pots. Maybe I'll be able to reuse these pots next year if they don't degrade?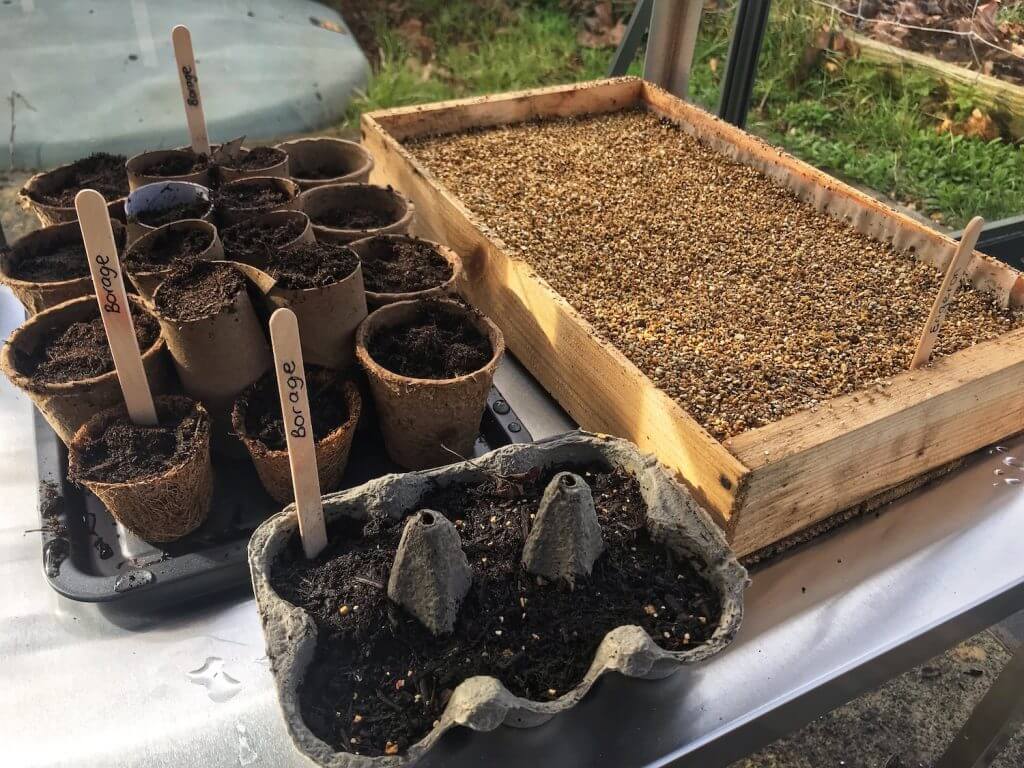 Considerations on sowing seeds without plastic
The biggest niggle I've faced so far is how to keep the seedlings humid. Humidity is a vital requirement for efficient and robust germination. Usually, this requires a plastic bag tied around the top of a plant pot or cling film. I'm not using plastic so the option I have chosen is to use sheets of glass. For other pots, I'm simply leaving them open and ensuring I keep them damp and preventing them from drying out. As I said above, given most gardeners will be checking their seedlings frequently I don't think this is a huge deal-breaker for the average gardener. Commercially however this need to water more frequently maybe preventative from growing without plastic.
I am propagating these in a heated greenhouse and have a thermometer which shows the min and max temperature. This alongside the watering helps keep the humidity up. Whilst the seeds probably won't germinate as quickly as if they were in plastic-covered trays, I'm willing to sacrifice speed for a higher plastic-free quality set of plants!
What seeds are you sowing?
So what exactly am I sowing this year in my #plasticfree gardening challenge. Well if you have seen the Exploding Atom Garden you will know that I still have the final 'hot border' to plant up. So I'm growing all my own herbaceous perennials and some easy to grow veg in this trial. You can see the plant list below.
I've made a note of the sowing date and will be updated in future vlogs which seedlings germinate first, those that maybe struggle and other results. I've got a mix of easy annuals in there as a test case against the trickier herbaceous seedlings. I've potted them in a mix of the above seed pot options to show if there's a noticeable difference between the success rates.
What's next in Gardening Without Plastic?
The next episode will be on the exciting developments of germination. As the seedlings make a break from their dormant shells I'll be updating my Youtube channel and this blog on the progress. Are you gardening without plastic or using alternatives to plastic pots? If so I would love to hear from you.
In the meantime check back soon for more updates or follow me on social media where I'm happy to help. You can also check out my Twitter, Facebook or Instagram for more garden guides and tips.