Herbaceous perennials don't require the care and attention of annuals or bedding plants as the majority of them are fully hardy (there are exceptions as with anything). Meaning they will happily survive underground during the harsh winter frosts. Arising again in the spring to dazzle us with their offerings.

However, most people struggle to know when or how to prune this plant group. With annuals it is easy, at the end of the summer you lift them and compost them but with herbaceous perennials, there can be that awkward moment in Autumn when you're not sure what to do. This guide gives you all my top tips for pruning herbaceous perennials.
When to prune herbaceous perennials
Most gardeners have a habit of pruning herbaceous perennials at the end of Autumn. This occurs during the great garden tidy up at the end of the season when gardeners are frantically trying to tidy up it seems. I'm not sure what it is with us Brits but we do tend to love a good clear up and tidy.

What I find is that you may remove the dried up stems of herbaceous plants to make the borders look tidier but you're left with bare earth and spaces in your garden.
I advocate a different approach of pruning or tidying back herbaceous plants, like those in the #explodingatomgarden, after winter around late February here in the UK.
The reason for this is that herbaceous plants such as Salvia, Miscanthus, Geums and Foxgloves act as a really good food source for wildlife during the barren winter months.

Seed heads provide easy snacks and other insects that take refuge around these plants help keep our wildlife alive during winter when food sources are scarce.
Secondly, the dried up stature of these plants can look incredibly beautiful during the winter. Grasses with their light brown stems frozen in time and seed heads of taller herbaceous plants like Acanthus can extend interest in the garden.

Who wants to look at bare soil when you could be looking at arrangements of ghostly sepia-toned herbaceous plants.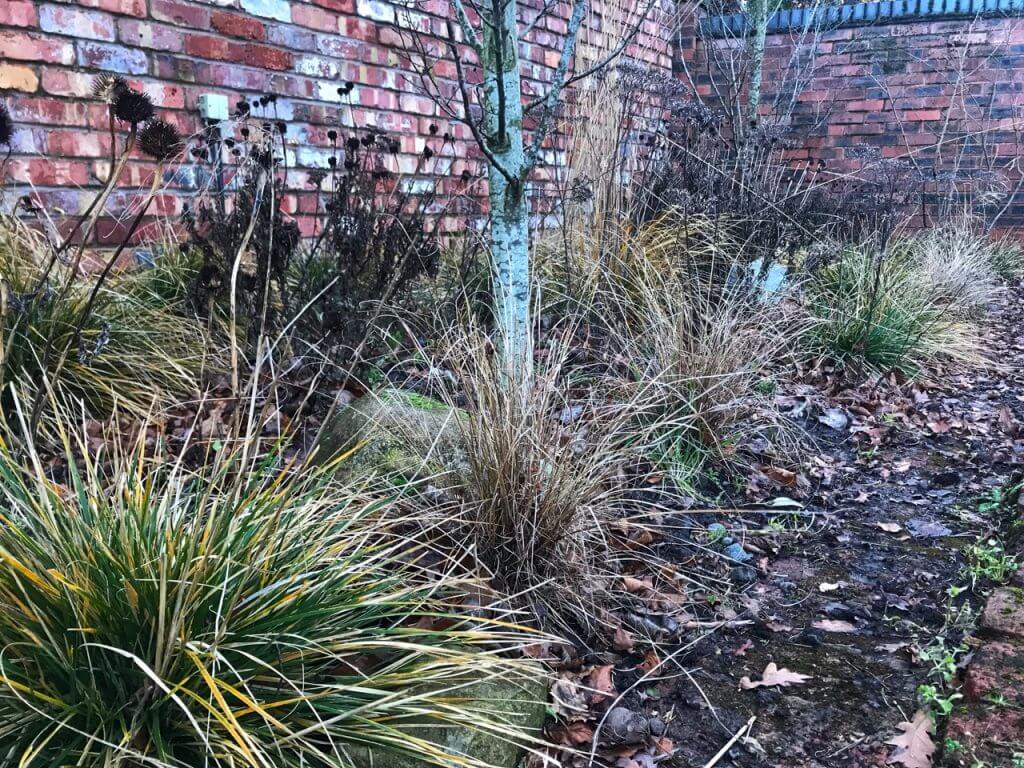 How to prune herbaceous perennials
I split herbaceous perennials int three main groups to help gardeners in knowing what and when to do. Even if you don't know the exact name of the plant you're dealing with this guide should help you to identify the pruning method required. You're going to need sharp clean secateurs, gloves and a bucket.
Group 1: Ground Cover Herbaceous Perennials that die back
Ground cover plants are relatively easy when it comes to maintenance. They tend not to look too messy as they are closer to the ground so as they die back they are pretty low maintenance.
The issue you may find with ground cover plants is if theres a hard frost the leaves can turn mushy and sometimes grow fungus. This is not good for plant health so if this is the case remove them in early winter. If not I always leave them and then tidy them up at the end of winter just before spring.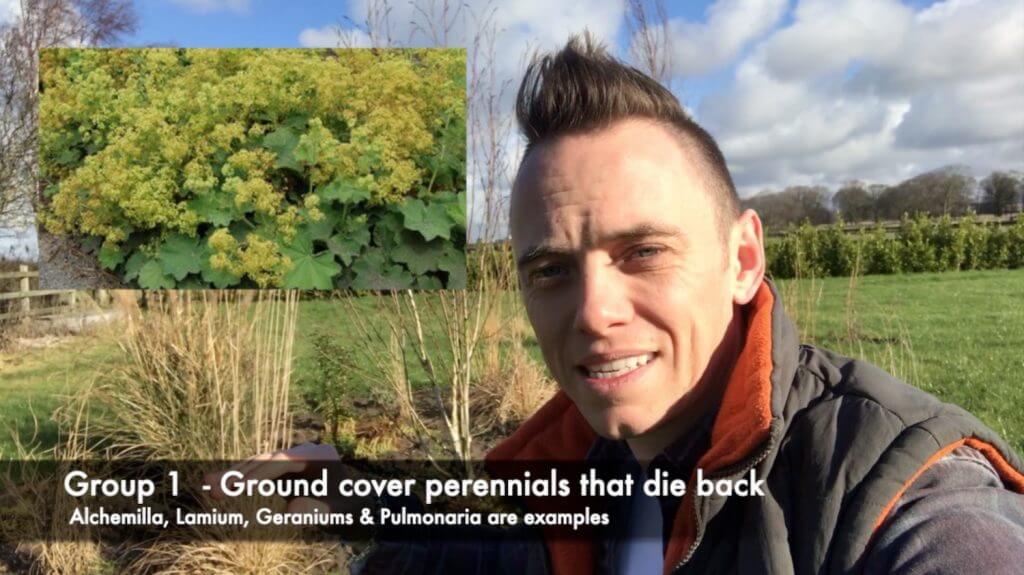 Even plants that have seemingly survived the winter need to be cut back to the ground. This is because the old growth will be weak and you want the plant to send out vigorous new growth. So don't be tempted to try and salvage this group; be brutal and you will be rewarded!

Group 2: The Taller 'Brown & Crispy' Perennial Crew
Group 2 is probably the most interesting in my humble opinion, especially in winter. This group will keep the drama alive in your garden even during those dark miserable winter days. They are also more likely to have seed heads that provide sustenance for wildlife.

This is the group that most people seem eager to cut down at the end of Autumn. I call this group affectionately the 'Brown and Crispy Crew'.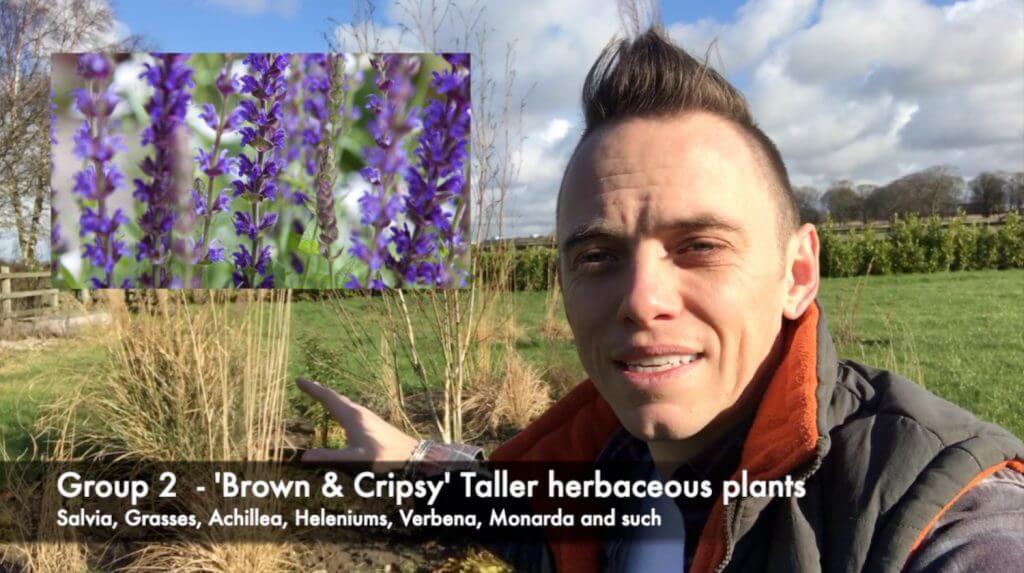 However, I really do advocate that you leave the Brown & Crispies and see just how effective they are at keeping interest in your borders through the winter. You may even see small birds using them as perches or some insects working away on them throughout the winter.
Pruning this group is super easy and I tend to prune these towards the end of February to ensure that any new early growth has a free run. With a clean sharp pair of secateurs you're going to cut down the brown and crispies to just above ground level.
Some plants like Penstemons have delicate crowns so you may want to leave these another month or so. In the majority of the cases though a late February chop is fine. Plants are tougher than you think and it also allows you to plan the border for that year by seeing it without distraction and identify any potential issues before the spring starts.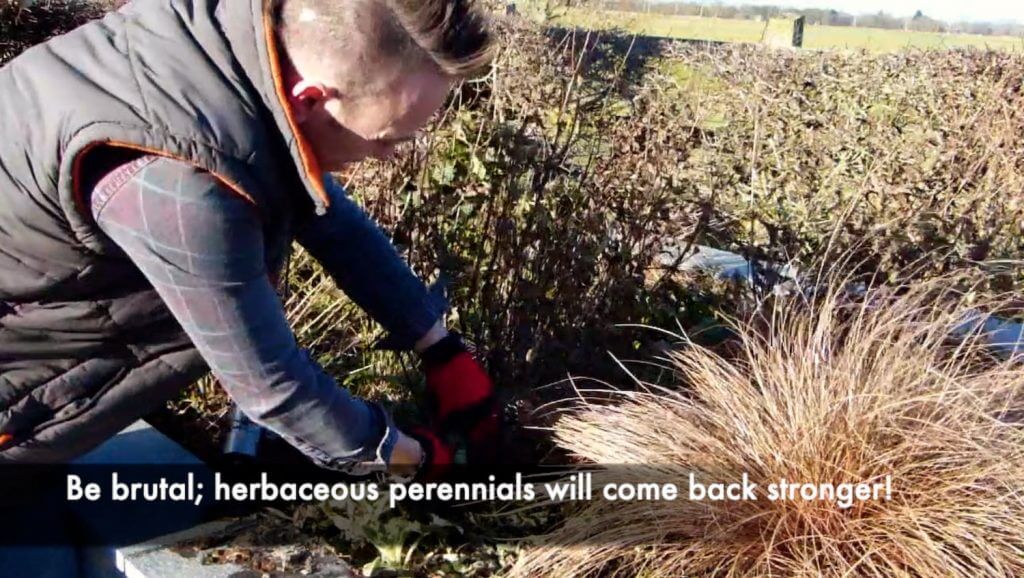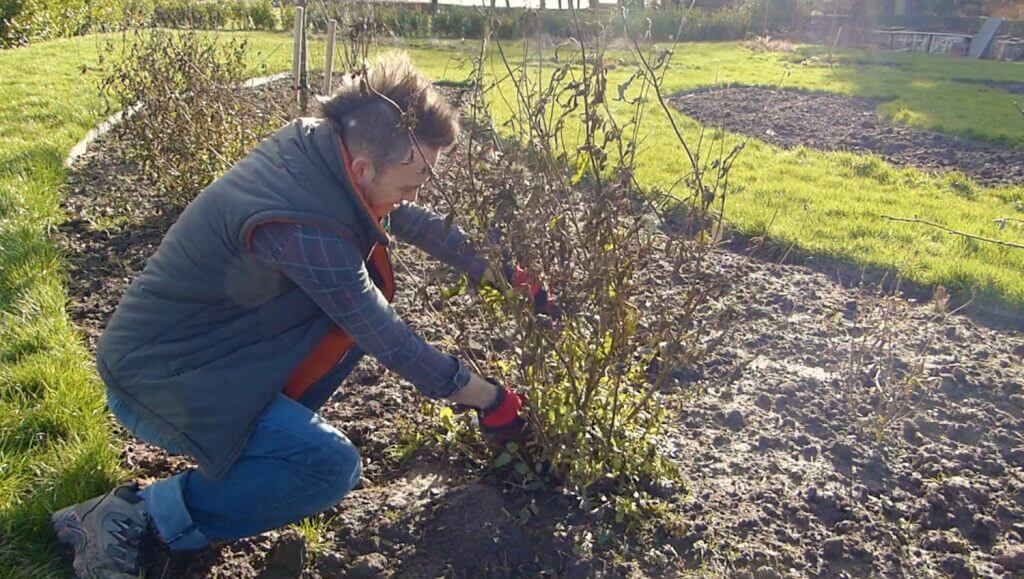 Group 3: Evergreen Herbaceous
This group is probably the easiest to deal with as all you're doing is a light tidy up of any dead or damaged matter. The majority of this category fall under ground cover, so any carpet like plants that keep their colour through the winter or a large portion of the Ferns family fall into this group.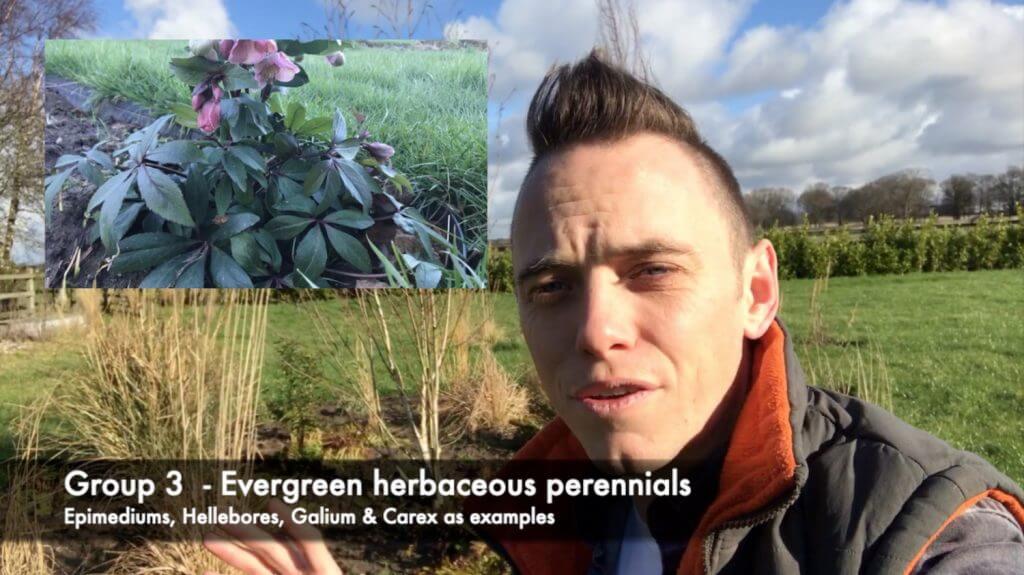 All you need to do is selectively remove any leaves or fronds in the case if ferns. With evergreen grasses you can simply run your fingers through the grass and pull out any dead matter.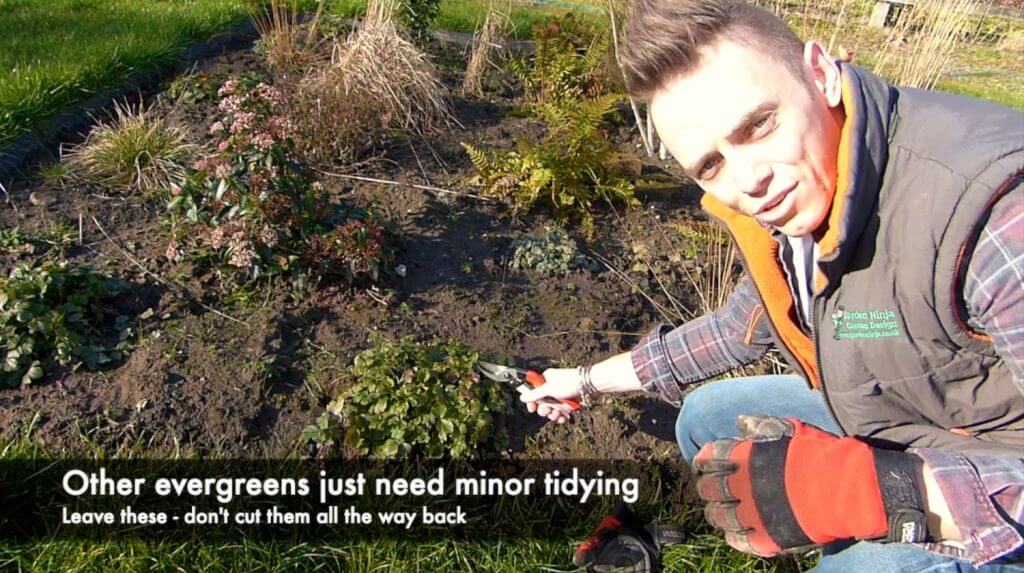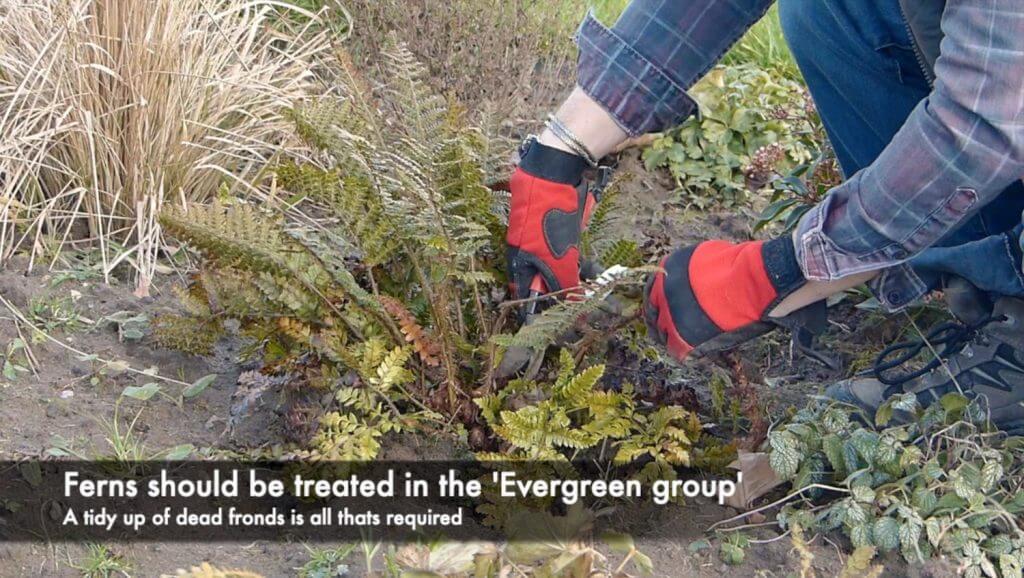 If you're a bit late in pruning your herbaceous plants then my advice would be to still prune out all the dead material however don't go so far to the ground.

You want to avoid severing any new growth if you're pruning later in say March or April. However, late pruning is always better than no pruning in my experience with herbaceous plants.
Have you got your own preferred pruning time or method for pruning herbaceous perennials? If so I'd love to hear from you. Also, why not send in some pictures of your pruning so we can spread the word to other new gardeners on Twitter?

You can Tweet, Facebook or Instagram me with your garden questions, pictures or comments. If you're looking for more garden design tips, tricks and hacks why not subscribe to my Youtube channel where I'm happy to help!

Happy Gardening!