Henchman is a British company more widely known for its incredible wobble proof ladders, especially for people who don't always feel stable standing 12 rungs up a ladder cutting trees and such. If you want to read more on their tripod ladders here's my guide – they are brilliant. However, it's not just ladders they manufacture but also heavy duty large wheelbarrows or gardening carts for the American audience. They sent me their 350-litre version for me to undertake a wheelbarrow review.
Benefits of a large heavy duty wheelbarrow
Easier to move and carry larger heavy objects
Balanced pressure due to the two wheels vs one of the smaller wheelbarrows
You can save time and effort when working in your garden as less trips are required
Essential for the larger garden if composting, leaf clearing or grass clipping disposal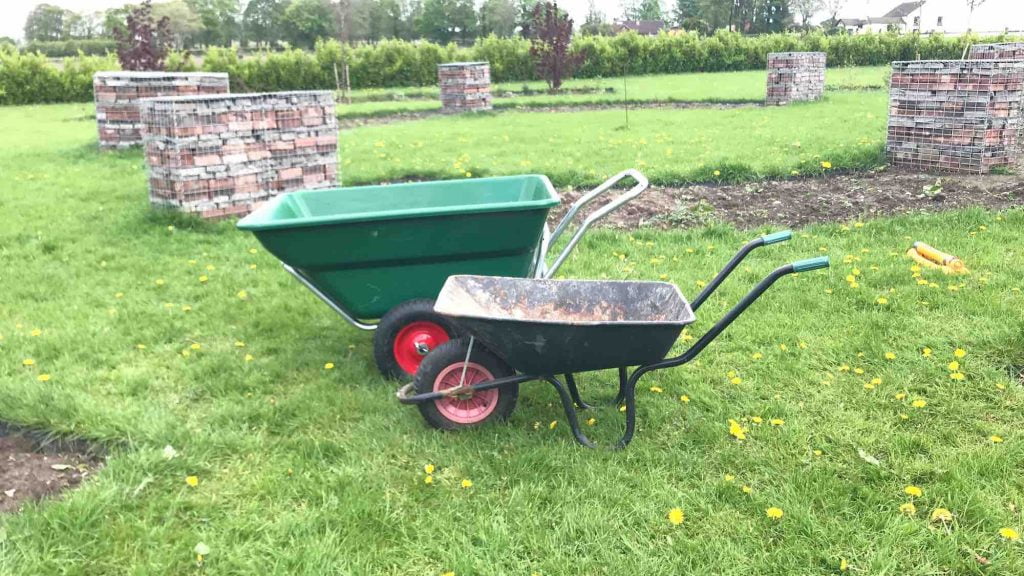 Henchman 350 Wheelbarrow Review, Instructions & Assembly
The Henchman wheelbarrow arrives as a set of parts, probably due to its size. This thing is huge, almost big enough to double as a plunge pool in the hotter summer months. I have no idea if I'd ever really fill it but what will hold a lot will hold a little. It arrived with instructions and everything was neatly packaged together. You'll need a socket set to join some of the parts and it took me about 30 minutes to construct.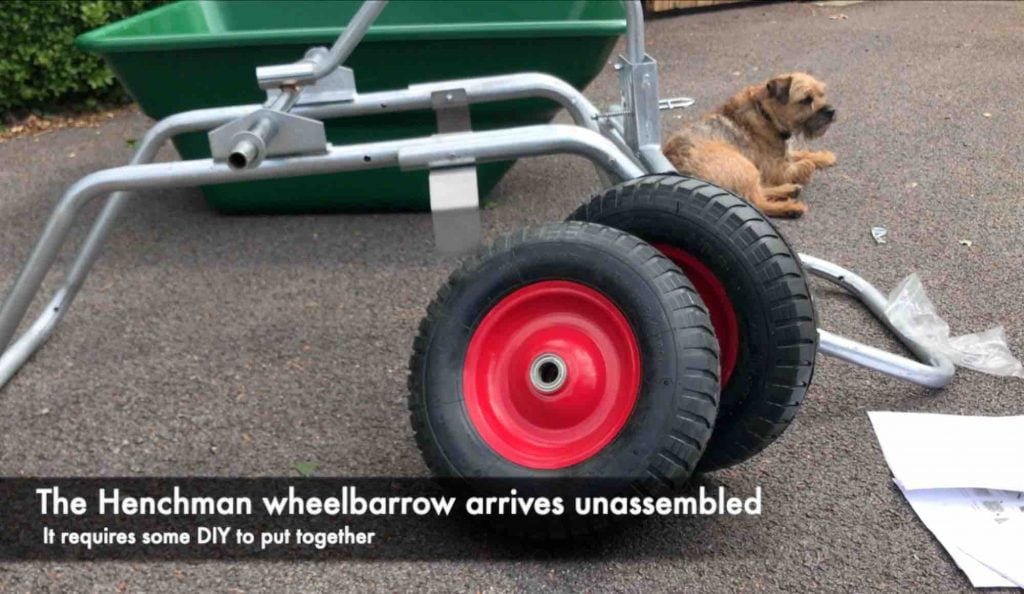 It wasn't difficult per se but I did find some of the steps missing vital detail or identifying the parts a bit tricky. My guidance to Henchman would be to maybe add some more detail to the instructions and maybe some labels to the parts. This would have sped up the process especially for non DIYers out there.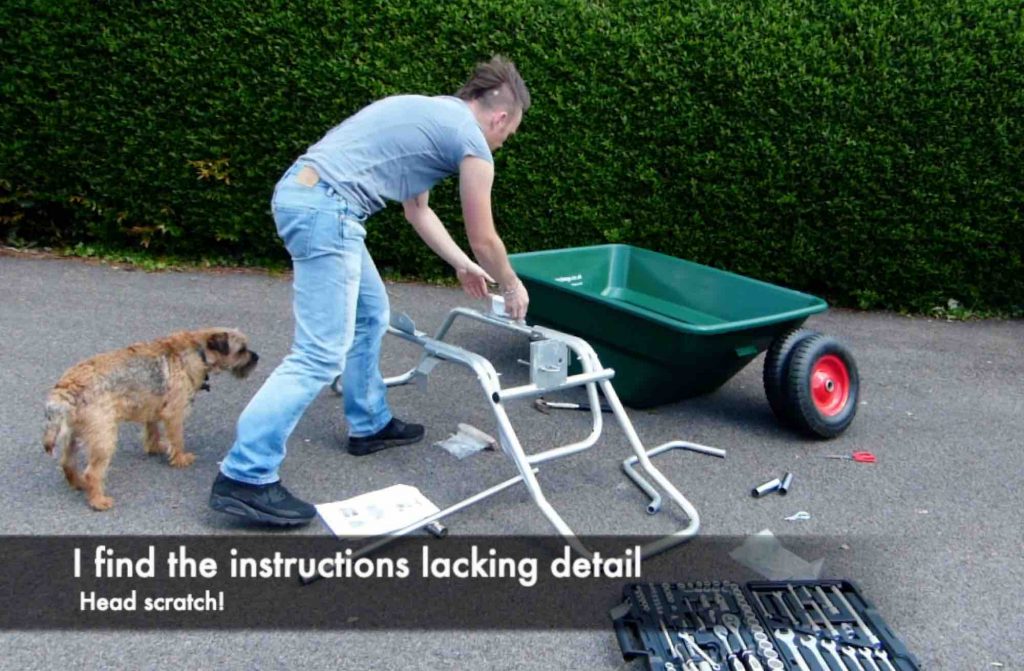 Wheelbarrow wheels
The Wheels are really impressive of the Henchman barrow. There's two of them with a nice deep tread and an inner tube. No solid one-piece wheels here. The inner tube means you can repair the wheels if they get punctured, you can reduce or increase the pressure depending on the terrain or load volume. They're really sturdy with a galvanised metal centre providing a real robust feel to the wheelbarrow.
Having two wheels on a wheelbarrow of this size is essential. It helps spread the load and means moving and steering the wheelbarrow is much better than one wheeled versions where the bucket can inadvertently tip over if overfilled. This version makes it almost impossible t tip the barrow on its side, and believe me I tried!
They are connected to the axle of the wheelbarrow frame by spring loaded pins. Now you may think so what. However, if you've ever seen the metal pins on a motorbike wheel, that are often used on larger barrows you will know why this is a brilliant idea. The traditional metal pins are bent by force to secure the pin and wheel. Over time they rust or you have to then unbend them to get them out. It's a right banana drama.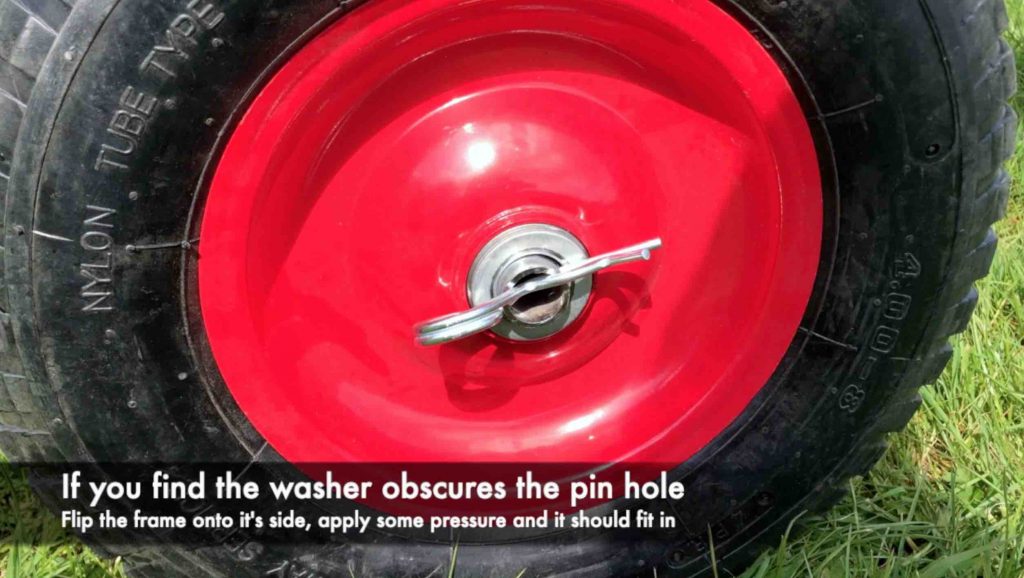 Henchman's pins push in quickly and can be removed quickly. No pliers or bending of metal. I would say it's actually one of the defining features of this barrow and shouldn't be overlooked when comparing which wheelbarrow to buy!
The Wheelbarrow frame
It's not surprising that the frame is super heavy duty, just like their ladders, but also lightweight. The perfect combination in my mind. The last thing you want is a frame buckling under a barrow full of wet compost!
It also allows for connection to a ride on mower or quad. I didn't test these functions out though. The tub or barrow bucket clips into the frame making it secure. When it comes to emptying the barrow the tub can be pivoted within the frame which is a nice to have. It saves doing that awkward shake dance gardeners will be used to when trying to get the last bits out of a barrow. You can lift and refit the bucket in seconds which is another great feature.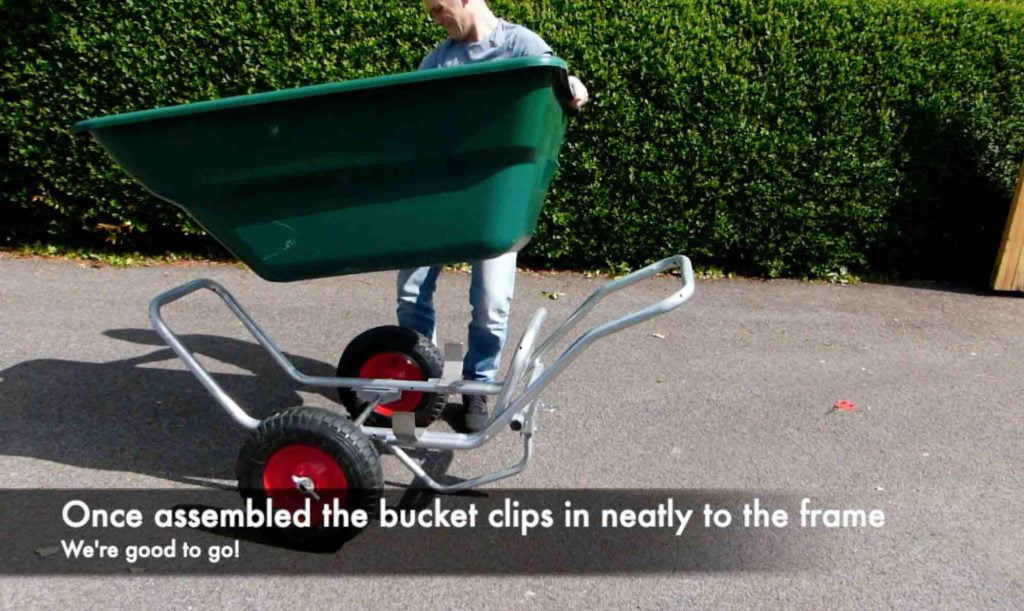 In my opinion, though the handle is lacking a touch of finesse. It could really do with a rubber grip to save slippery hands and aid handling. It's a small detail but would make those winter months a bit less brutal!
The Wheelbarrow Supporting Leg
The Henchman rests on a leg at the bottom of the frame. So that it can stand upright. However, my feedback is that its too high meaning that clearance was an issue in my trial. I ended up having to tip the wheelbarrow far further forward than other barrows to avoid it dragging on the ground. It does have a spring clip so it can be lifted up permanently. Mainly for when it is attached to a mower or quad. However, as a busy moving gardener, I move my barrow around here there and everywhere so I found the clip a bit frustrating especially in the Exploding atom garden which is on an incline. I'm sure this can be tweaked by Henchman and is worthwhile to consider.
Summary
I like the component parts of the Henchman 350 wheelbarrow which are really well made and for a larger garden or industrious gardener the size is fantastic. The two wheels spread the load and are built to last. The spring loaded pins make any wheel changing super easy. However, the clearance issue and metal handle could be improved for ease of use. I also found the instructions lacking and maybe they need a bit of a rework.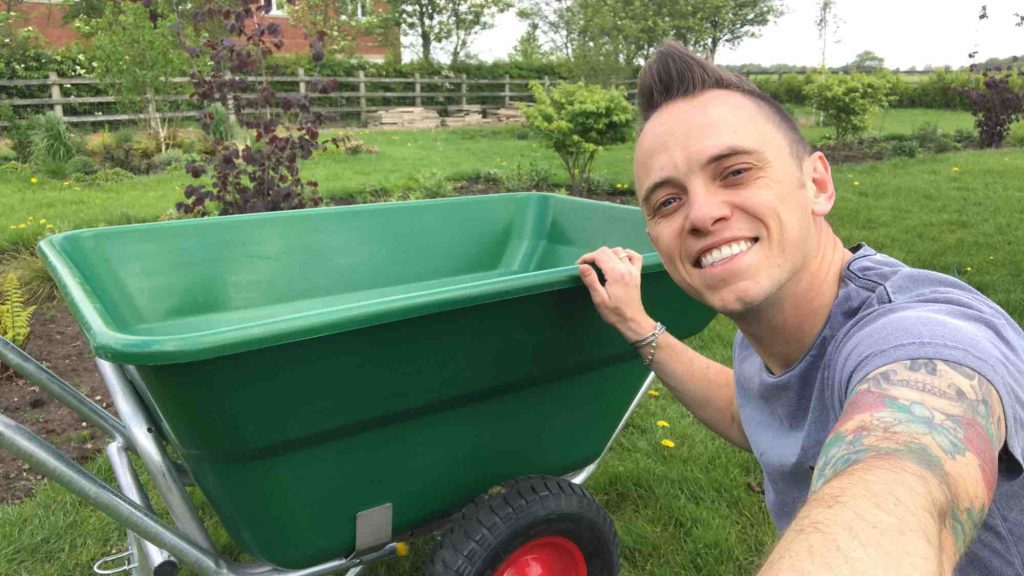 However, if you have a large garden then the barrow will be a godsend to reduce tips back and forth. Also with the tub being removable and sizable, a heat wave would enable you to use it as a welcome plunge pool on a hot summer's day!
Are you a fan of big barrows? Or are you more of a normal sized wheelbarrow fan? WHats your experience with them? You can Tweet, Facebook or Instagram me. You can also check out the other guides and vlogs on my Youtube channel.
Happy Gardening!