Garden Planting plans are a relatively low-cost way of giving your garden a makeover without any need to have builders or contractors round.  If you're happy to plant the scheme yourself it can be a good way to keep costs down and get hands on with your garden.  
If you already have a garden structure that you're happy with but need some assistance in what to plant where then a Garden Ninja Planting Plan could be the ideal solution for you.
How does a planting plan work?
The Garden Planting Plan takes the measurements of your borders and provides a planting scheme based on the style of garden you like or planting theme. It removes the need to research and know exactly what plants would look well together which can sometimes be the downfall of many a gardener!
Garden Ninja can take all the guess work out of your planting scheme for you.
What's included in the planting plan?
Planting plan based on the theme of garden planting you require eg- Mediterranean, cottage garden, Japanese style
Side aspect Drawing of your planted area with planting scheme
Planting Plan list of plants and quantities
Planting Schedule which includes the months of flower, pruning times and maintenance
An electronic copy of the above documents.
Example Planting Plans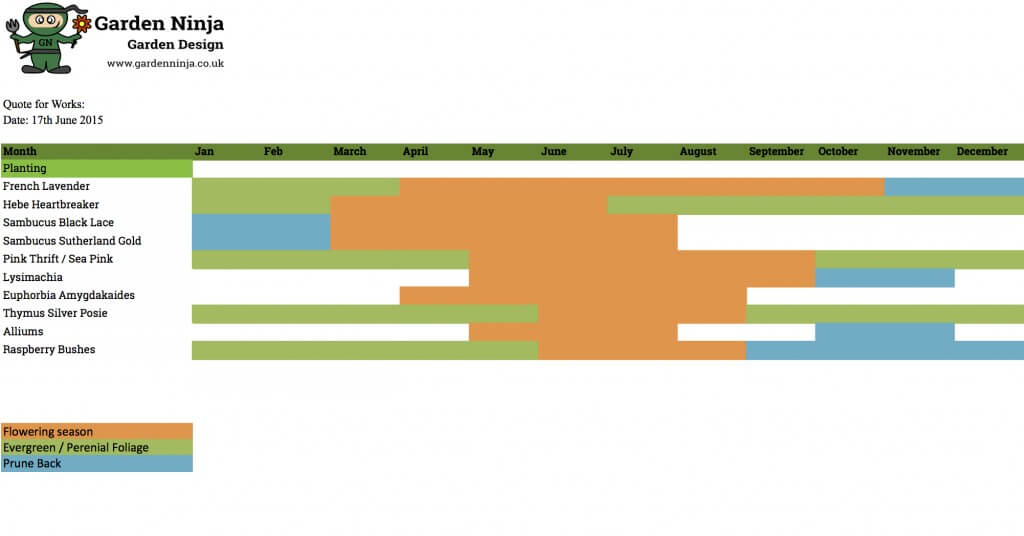 Garden advice and report writing service
Garden Ninja can also be instructed to help solve garden problems with my report writing service. If you're struggling with your garden but don't know where to start or simply want to fix a problem area, then the report writing advice service can be a great place to start. Garden Ninja can visit your site, undertake a walk around with you going through the issues and problems. After a conversation about what your objectives are and what you want to achieve in your garden, I then write a detailed report with suggestions. These recommendations can help you to fix and prioritise your garden planting or redesign.
Reports are priced at £50-£150 depending on complexity and size of the plot.
If you need any assistance please get in touch.  Garden Ninja is happy to help or provide bespoke planting schemes and plans.