The Hayter Osprey 46 is a rotary lawn mower designed for residential use. Hayter has been hand making mowers for the last 70 years and are renowned for their craftsmanship when making lawn mowers. They have a Royal Warrant which kind of says it all. They recently got in touch to see if I wanted to test drive one of their new models, the Hayter Osprey 46. I thought I'd see what all the fuss is about. So I let my grass grow a little longer than usual whilst I anticipated its arrival.
Technical Spec & features
The Hayter Osprey 46 is one of their petrol powered mowers aimed at the residential market. It's been designed for the average sized lawn and someone who I imagine wants to take care of their lawn regularly. It is not the kind of mower you can pop down to B&Q for. This model attracts those who have done their homework and are willing to spend on a quality machine. It's a really nice piece of kit for any gardener.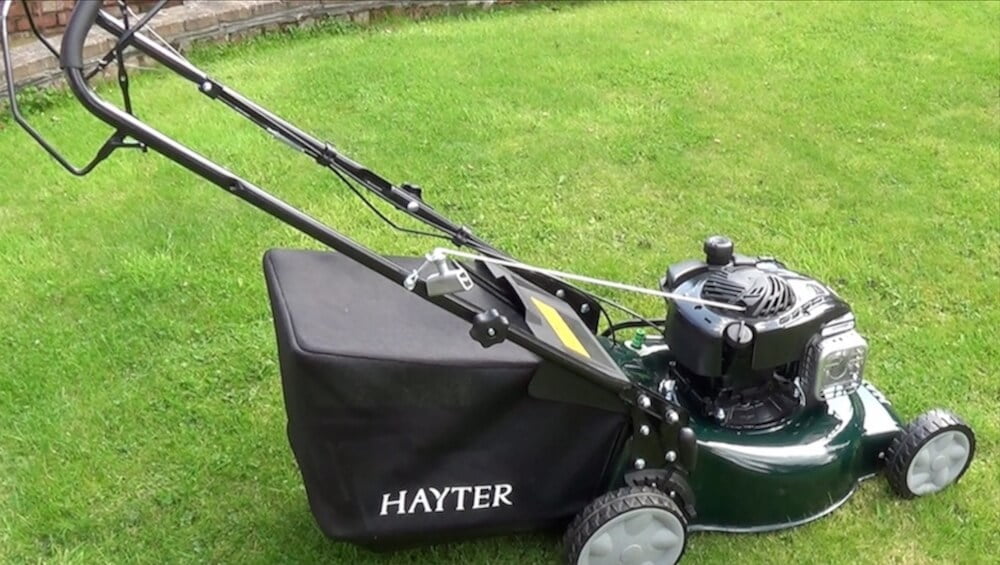 Hayter builds quality mowers and this is evident when you look at the Osprey. The build quality is high with only a few plastic parts, like those wheels. We will come to the wheels later! The Osprey boasts the following:
Briggs & Stratton® 4 stroke engine provide guaranteed power and performance
Autodrive mower
3-in-1 capability cut and collect, mulch or discharge
Easy-Wash makes cleaning after use a breeze, ensuring optimum mowing performance is maintained
Large capacity 55 Litre grass bag can be removed/attached to the handle-bar
Single lever height-of-cut adjustment for quick and easy cutting height selection
Ease of use & Handling
The Hayter Osprey starts like a dream and is really simple to operate. Don't be put off electric mower owners by the fact its petrol, it couldn't be simpler. Once you have added the correct levels of oil and petrol you simply push the primer bulb 3-5 times, then hold back the blade control bar and a swift tug on the starter cord is all that's needed. It's surprisingly quiet for a petrol mower too!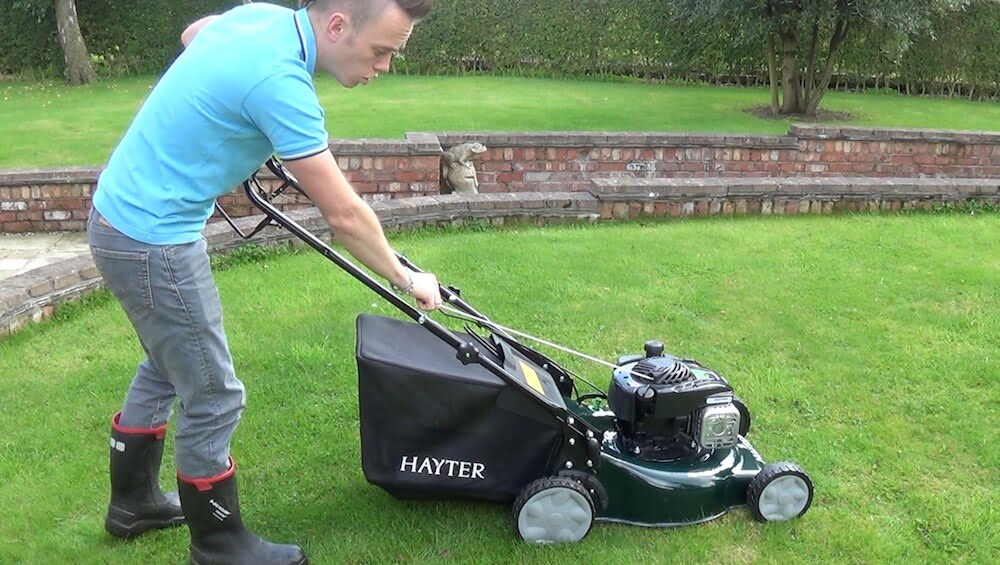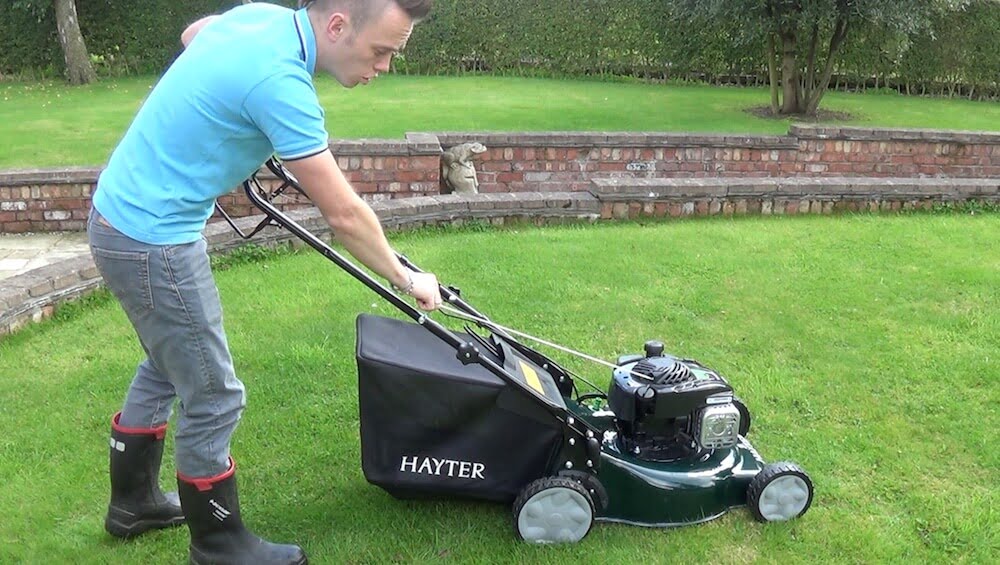 It is despatched with the back box and handles bars folded forward. A simple bolt on each side releases or tightness the handle once in place. The clippings box clips easily onto the back of the mower once the mulch plug is removed via the red button.
The mower itself is quite heavy and this is the only real drawback I could find during my demonstration of the lawnmower. Most petrol mowers are heavy when compared to electrics so it wasn't a huge surprise. However, I did struggle a bit in manoeuvring around trees and grids with this mower. I think part of this niggle is that the build quality is so high it adds to the weight of the machine.
The autodrive is great and keeps the machine moving at 2mph. I would recommend the autodrive over the manual version as it could become quite tiring pushing it around by yourself.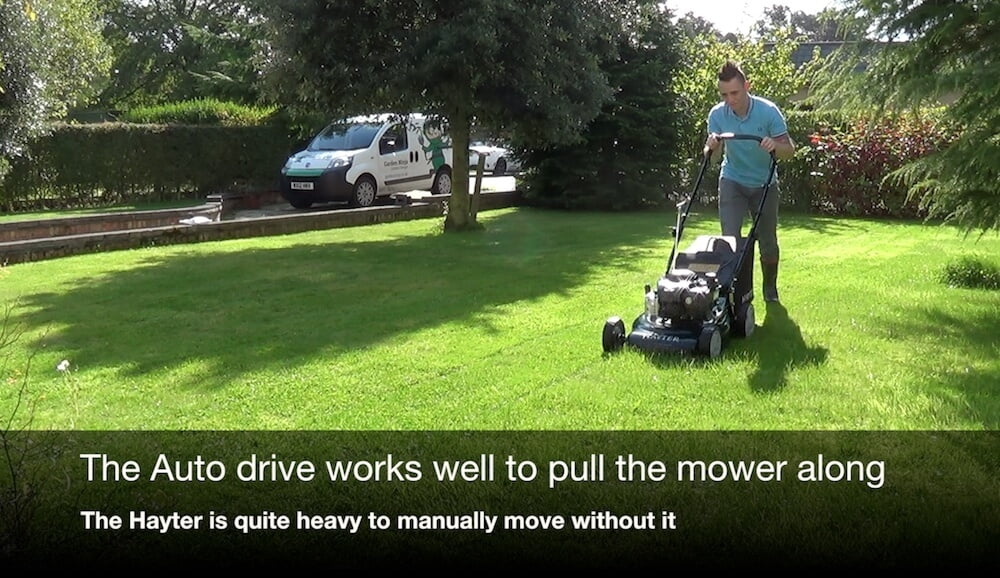 Operating the Hayter Osprey 46 lawn mower
There is only 1 lever for the height adjustment which is smooth and easy to use. Unlike some other mowers where you seem to have to yank the mower up, the handle does all the work for you. I would say that you may need to have it on a lower cut setting as I found it quite generous when in the middle setting compared to other mowers.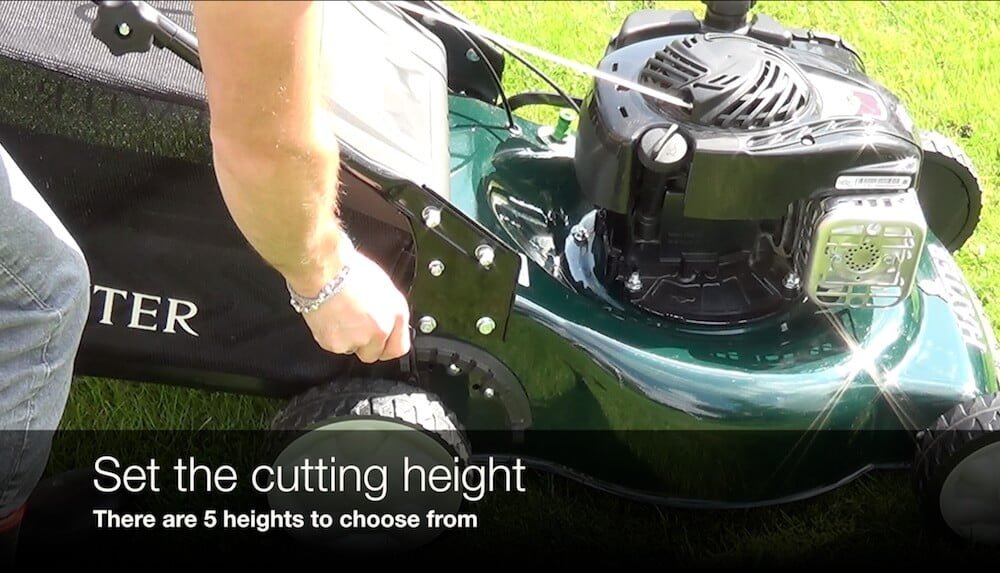 Once started the throttle bar moves the mower forward and when you want to stop you just release it. Super simple and the mower doesn't carry on creeping forward like some other mowers I've used. Naming no names!
The large 55-litre clippings bag securely hooks onto the back of the machine. No difficult clips or tabs to slot in like other machines. It also has a really sturdy tray on the bottom meaning it doesn't sag when you lift it off. Which I think it a really nice design feature. It also stands up when you put it down and doesn't collapse, again a great feature. This can then be emptied into a green bin or a compost heap.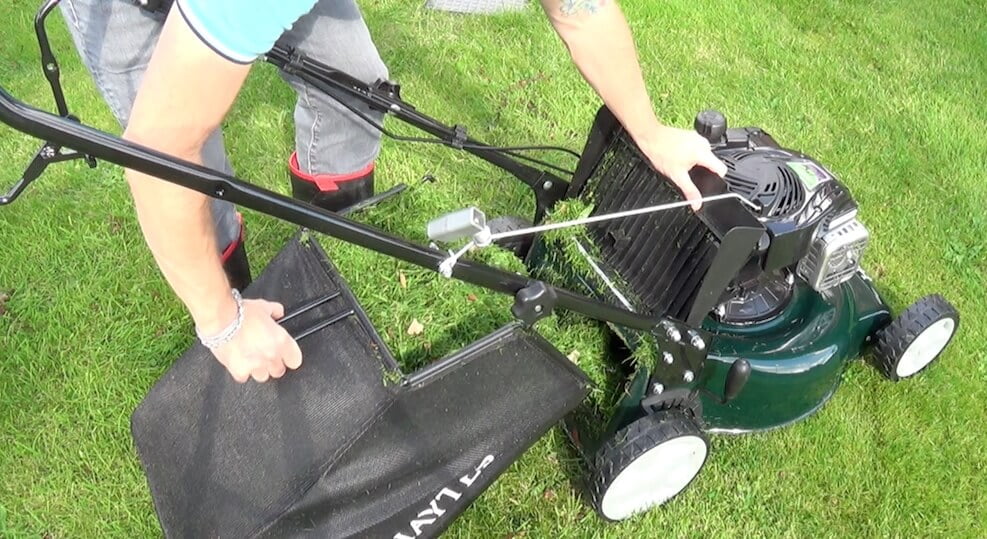 Easy Wash System
This feature is a real godsend for anyone who hates having to scrape off crusty grass clippings from their lawn mower or watch grass fall haphazardly in clumps all over your drive. The Easy Wash system us a hose connector that allows you to attach a hose, turn it on and then allow the lawn mower to self-clean.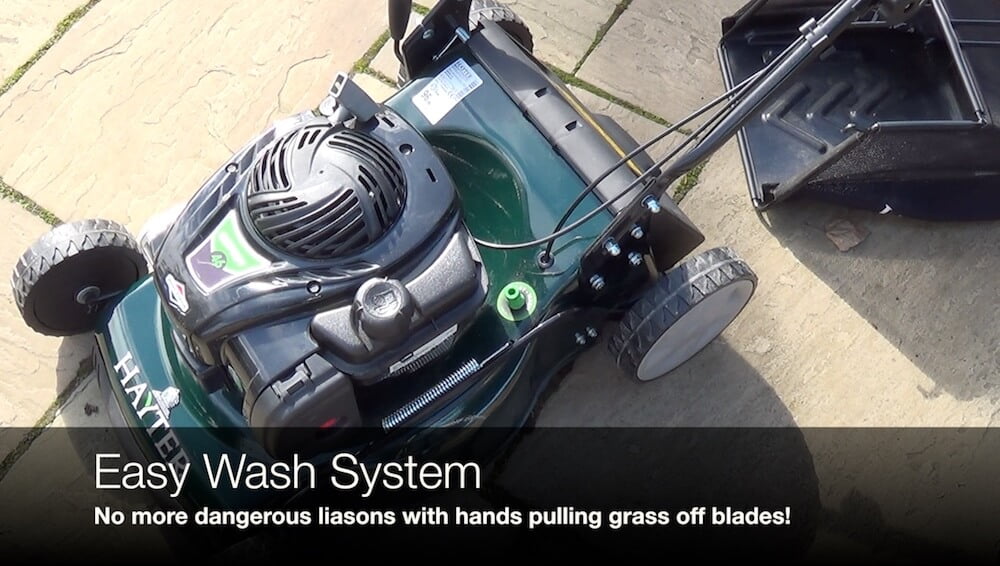 It's a brilliant feature. You simply start the machine once the water is flowing and the rotating blade does all the hard work. How have I lived without this feature so far?!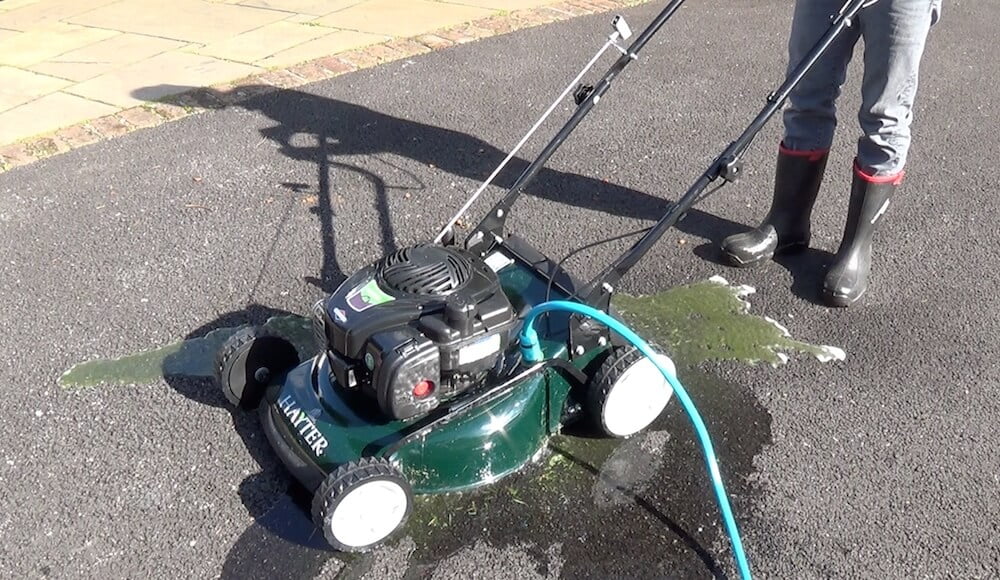 Drawbacks
The biggest niggle I have with the Hayter Osprey 46 is the wheels. I know it might sound picky, but for such a regal machine with the racing green enamelled body work I wish the wheels were a higher quality. They are made of a shiny plastic and feel quite cheap. They look like the wheels of an entry level lawn mower which this one certainly isn't! I think Hayter could do with upgrading them and adding a metal wheel cap instead to match the rest of the quality.
Overall Result
I would give the Hayter Osprey 46 a rating of 8 out of 10. The ease of setup is a dream and the cut result is sharp and crisp. No jagged grass or uneven cuts with this machine. The height change is easily accessible and doesn't require any brute force. Whilst the machine is not the most nibble of gymnasts when tackling lawn obstacles, the autodrive does remove some of the issues around the weight. The easy wash system is a genius function and I just thought it was fantastic. For those looking for a sharp lawn which is the talk of your street I think you couldn't go far wrong with the Hayter Osprey 46.