Lawn edging and strimming is one of my least favourite tasks. If you've followed the Exploding Atom Garden you will know just how much of last year was spent installing lawn edging. However, a tatty edged lawn can look pretty ugly especially if you're going to the trouble of mowing it. There's no point having a beautfully designed garden with neat lawn to then ignore the edges. Electric lawn edgers, compared to the manual versions can make light work of this task. Here's my STIHL strimmer review to help you decide if a battery-powered cordless strimmer is for you!
STIHL Cordless Grass Trimmer Battery
The model that STIHL have sent me is a rechargeable electric cordless model the STIHL FSA 45. So no more lugging a cord and extension lead around your garden. It's charged by an internal battery using a simple adapter and will give up to 20 mins running time per full charge. My first niggle is that I prefer replaceable batteries where you can have a few on charge or swap them between tools. Larger gardens would struggle constantly going back and forth to charge this model. However, I believe its made for the small garden given its light weight and super easy to use. Larger gardeners would probably need something more heavy weight which balances the argument for an internal battery.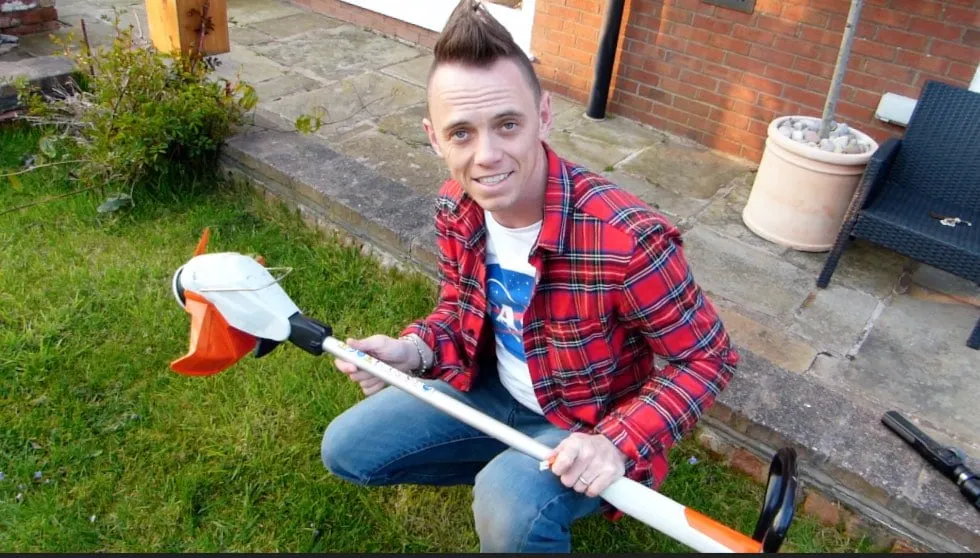 The machine has an 'Ignition' key or 'circuit breaker' as I like to think of it. This slots into the side of the strimmer. Without it, the circuit won't start so it's a safety measure to make you actively put this in. I quite like the concept, though, in reality, most gardeners will just leave this in. Worst case if you lost it you would be stuck with a machine that wouldn't start. Maybe if it came with a small chord this would reduce this issue.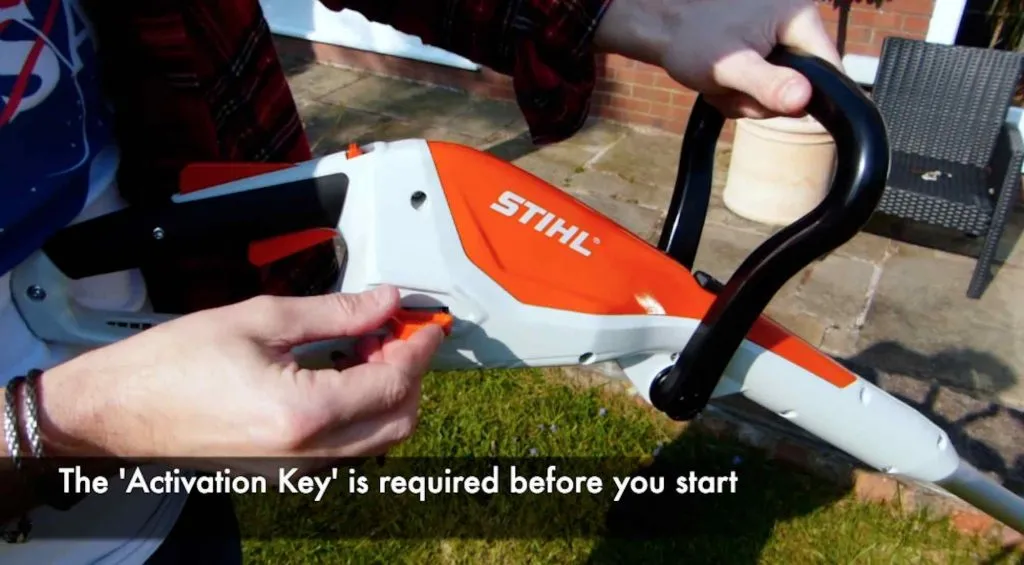 Adjustable handles, angles and balance
What I really like about the STIHL compared to my other Black and Decker strimmer is the number of configurable angles and lengths. Not everyone is going to have the same stance or height preference so these tweaks make the model really adaptable. The grab handle pivots, the length can be extended or retracted and also the handle can pivot to a 90-degree angle. Clever stuff!
The handles have a non-stick rubbery feel which again helps keep your hands firmly fixed to the handle and not sliding around. The 3 start buttons can be a bit fiddly but are a great safety measure. Once you get the hang of starting it, it is really easy.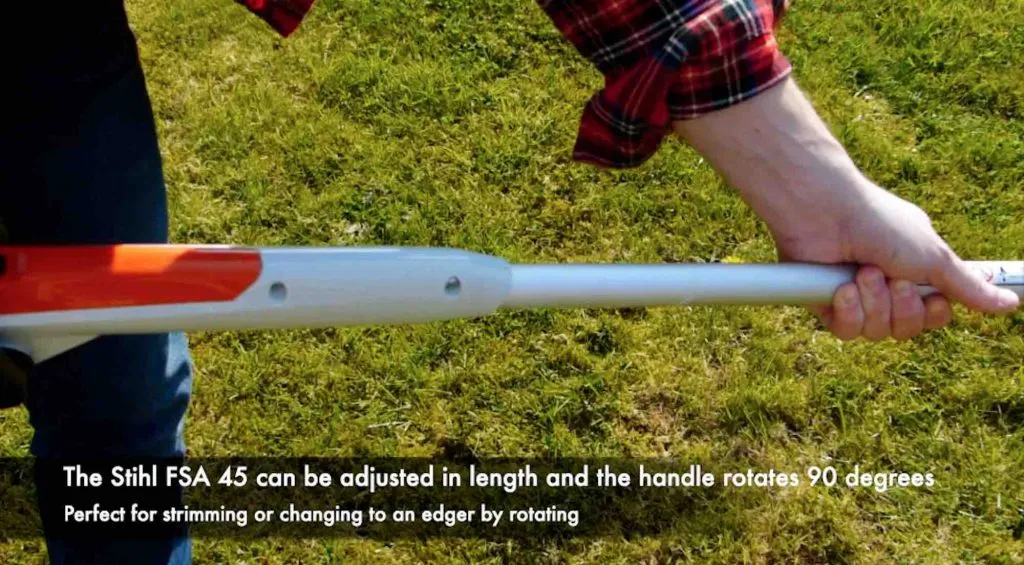 The strimmer is really stable and equally balanced which is a nice design feature. Some other models I've used as weighted usually to the battery end meaning it can be a battle of wills when using for long periods of time. You can end up with one really fatigued popeye style arm!
Strimmer Cutting Blade Options
The STIHL comes with two plastic removable blades as standard but also the functionality to fit strimmer line or twine to the propellor instead. It's entirely personal preference. What I would say with blades is that they are slightly more resilient and the fact you can change them quickly without the need for scissors is a bonus. Everyone is different but I'm a blade fan. There's a neat storage unit under the handle and the blades pop on and off with ease.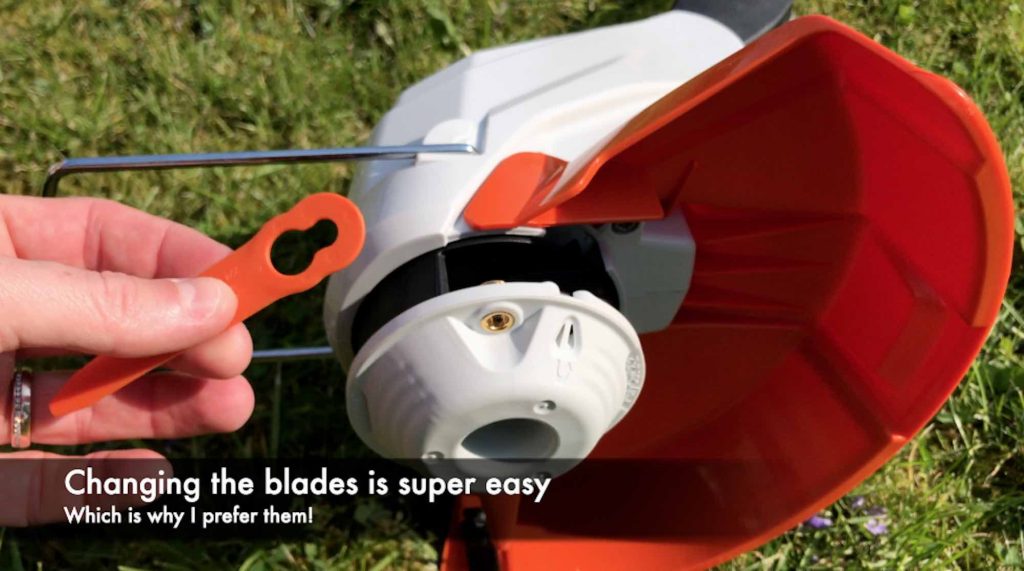 If anyone has ever used the strim line method you will know how fiddly it can be. I'm a lazy gardener in the main so the blades suit my preference.
Strimming the lawn
I've found the STIHL to be really quiet compared to other strimmers which is a nice bonus. I demonstrated it on a lawn with a brick edge, usually the hardest to strim without smashing the blades to pieces or line. The bump guard helps on this model so you don't get too close. I do find that you need to give it a few passes to fully clear the edge. I also trialled it vertically as an edger. You do this by flipping the end by 90degrees and the same with the handle. It was really efficient and gave me a super sharp edge. I'd actually say its more geared to this with the blades that actually strimming the edge! The battery lasted the 20 mins as expected and my hands weren't burning with fatigue either which was nice.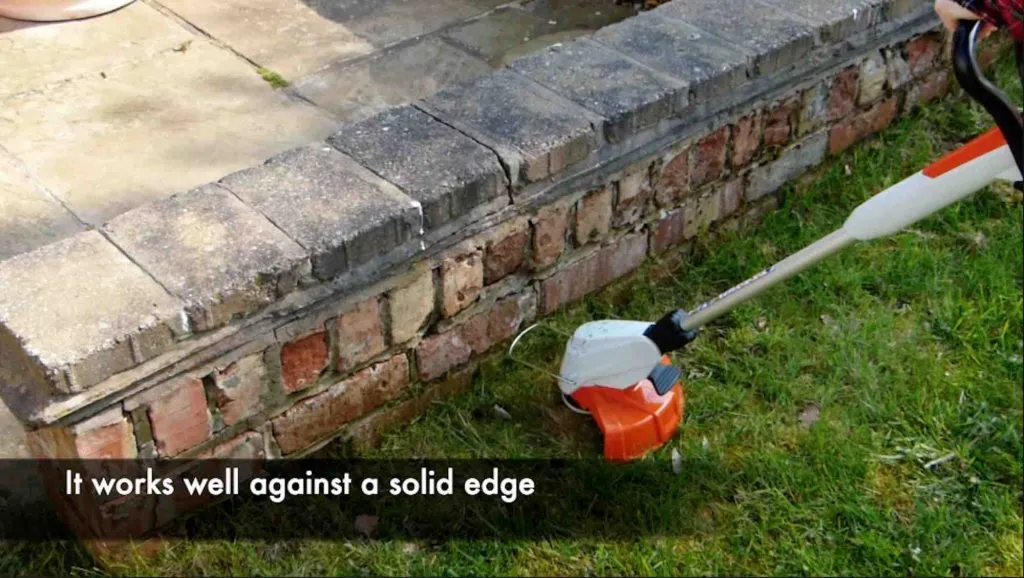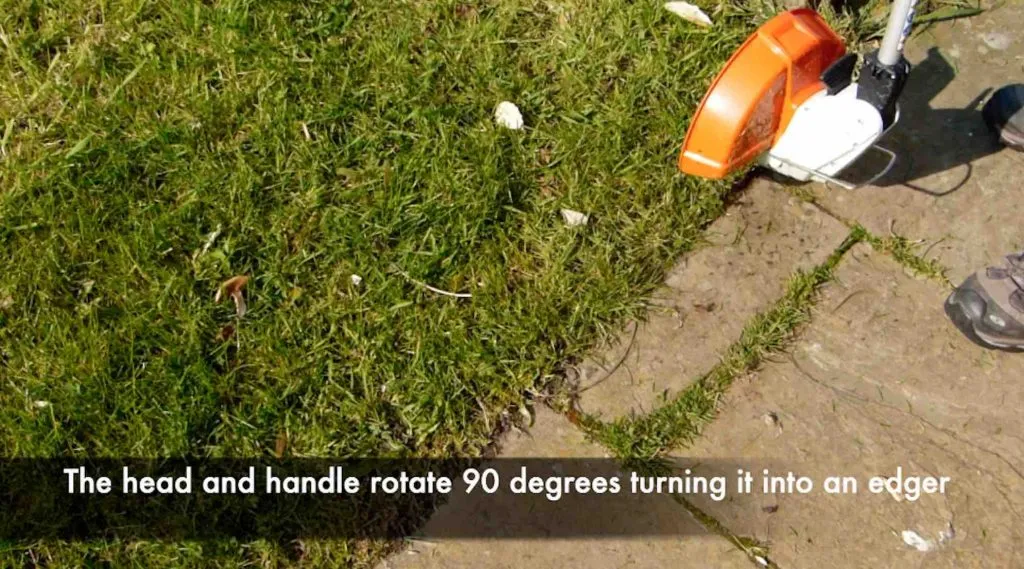 I think for a small garden or lightweight gardening then the STIHL FSA 45 Cordless Brushcutter with integrated battery is a great bit of kit. It's lightweight and quiet but if you're looking for a run time of longer than 20 minutes you probably need a different model with a replaceable/exchangeable battery compartment.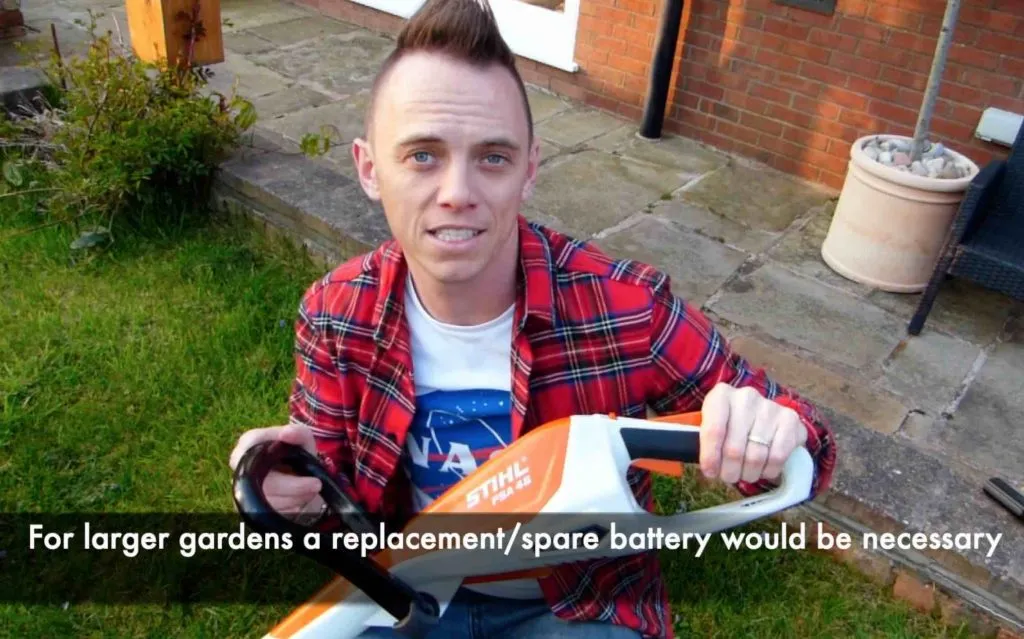 I wasn't paid by STIHL for this review. They gifted me the item to give an honest product review which I've endeavoured to give based on my experience as a garden designer.
If you want to watch more Garden Design videos then why not check out my Youtube channel for more garden design hints and tips? You can also follow me on social media where I'm happy to help with your garden drama. You can also check out my Twitter, Facebook or Instagram for more garden guides and tips