Outdoor living is becoming more and more popular with people wanting to not only enjoy their garden but use it as another room to the house. I'm a huge advocate of spending time outdoors and the garden as a room is a perfect way to encourage people to garden more. If that means there needs to be an ice-cold wine bucket, BBQ and hot tub as rewards then even better! Using one of my design examples I show you how I've created unique outdoor living gardens.
Outdoor living gardens should not be confused with imagery of huge block paved patios, gas burners and hard landscaping galore! There is a big difference between a standard flagged pub beer garden with wooden benches and that of a carefully designed outdoor living garden at home. It is not to say one is wrong and the other right. However, your home doesn't need to manage hundreds of patrons, spilt drinks and dirty shoes every summers day. You have the ability to have something far more refined and horticulturally interesting. When designing a garden to become an extension of a house or outside room you need some careful consideration on it's design. I thought it may be helpful to provide a guide as to how to achieve this, leading by example of course!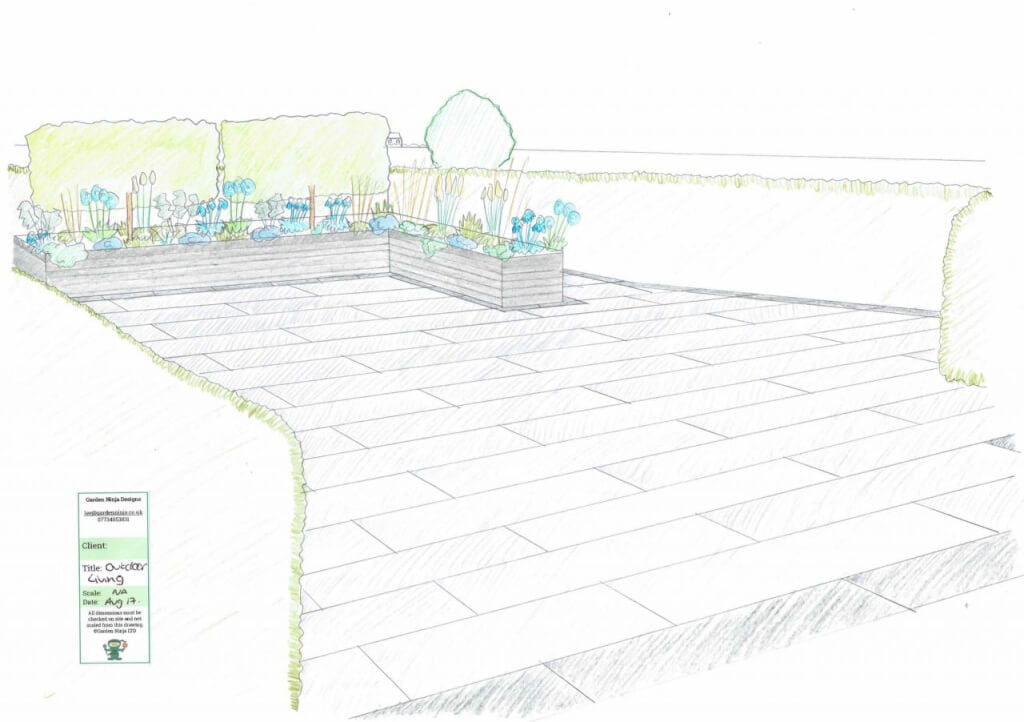 Work out the gardens function
I always start with the functional parts of an outdoor living space such as the seating size, cooking or recreational areas. I ask 'how many people will use it frequently?' rather than 'what is the maximum number of seats you need'. It is better to have a perfectly proportioned garden 95% of the time for everyday use, than a disproportionate garden that has wasted space just so it allows you to have every single relative and friend seated for one evening a year!
If you're going to use it primarily for sitting and relaxing it is a good idea to check the aspect of the site. This means that you don't end up with a seating area that predominantly in the shade or conversely staring straight at the sun. By planning seating positions in advance you can avoid mistakes. I like to also consider views and if the space is overlooked, find a location for seating that offers some privacy. The design below used standard trees to help break up neighbouring views when relaxing in the garden. It's also a good idea to create a scale cut out of your seating which you can then move around your design to see which position works best.
When cooking outdoors it is worthwhile considering whether the BBQ or stove will be left out all year. If not, what is the access like to the nearest shed or garage? If its a fixed BBQ is it close enough to the kitchen to prevent using it becoming a chore? Can you get around it to clean it or is it wedged up against a fence or hedge? This is where having a solid garden design will pay dividends.
Planting Choices for Year-Round Interest
With outdoor living areas, it's wise to choose a planting scheme that is robust and offers year-round interest. That doesn't just mean lots of slow-growing evergreen shrubs. Creating a planting plan that has seasonality and interest means that the beautiful area you're creating will be just as appealing in summer as it is for a chilly New Years Eve bash wrapped up warm with a fire going and champagne on ice!
By factoring in the site aspect, shade, soil conditions you can create a planting scheme that will thrive in your area. One thing people tend to miss out is varied heights of plants. You want some taller plants, maybe topiary trees like pleached or standards, taller herbaceous plants, grasses and then ground cover plants, Geraniums are always a winner. That way you have something of beauty no matter where your eye line is!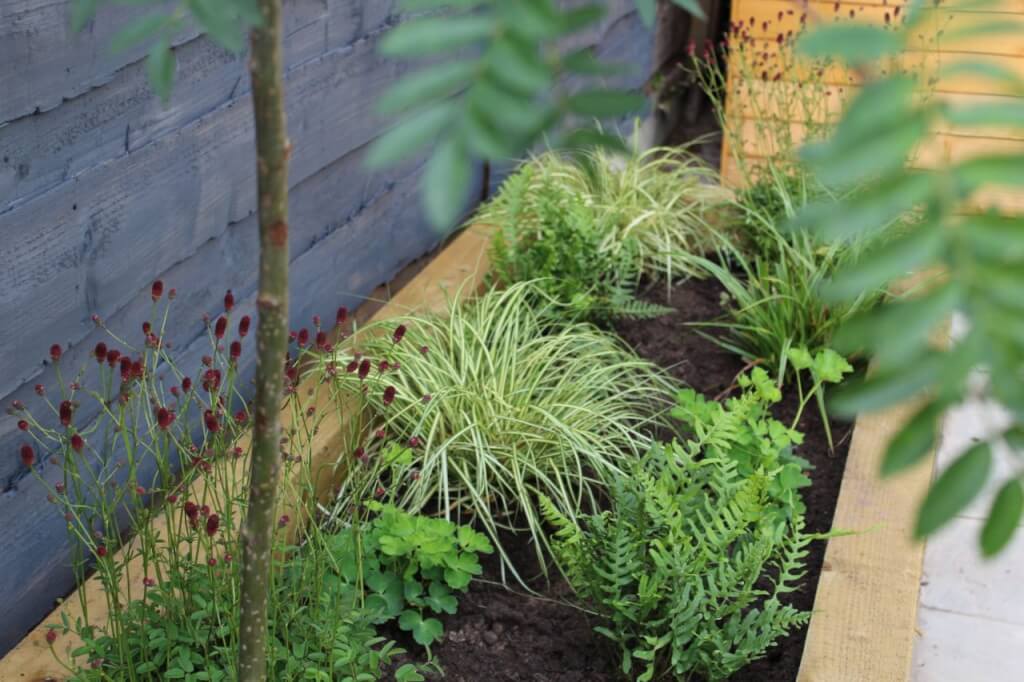 The location of the outdoor living design example means its very exposed, which is why a raised bed and planting area at one end was one way to give some protection and refuge from the wind. The concept of 'refuge' is really important in garden design, especially in spaces that feel too open or vast. By designing with a refuge in mind it helps remove that uncomfortable feeling that can arise when you feel exposed in a larger space.
I designed a planting scheme that has a coastal theme. Choosing plants that are hardy enough to withstand colder winter winds and also full sun in summer. This coupled with some evergreen pleached trees, Elaeagnus-x-ebbingeifull (Oleaster), would give me the height I needed for shelter on the longer edge of the raised bed. Coppery tones from Carex 'Conan's Bronze' and bright blues such as Eryngium planum 'Blue Hobbit' mix really well together for that beachy feel.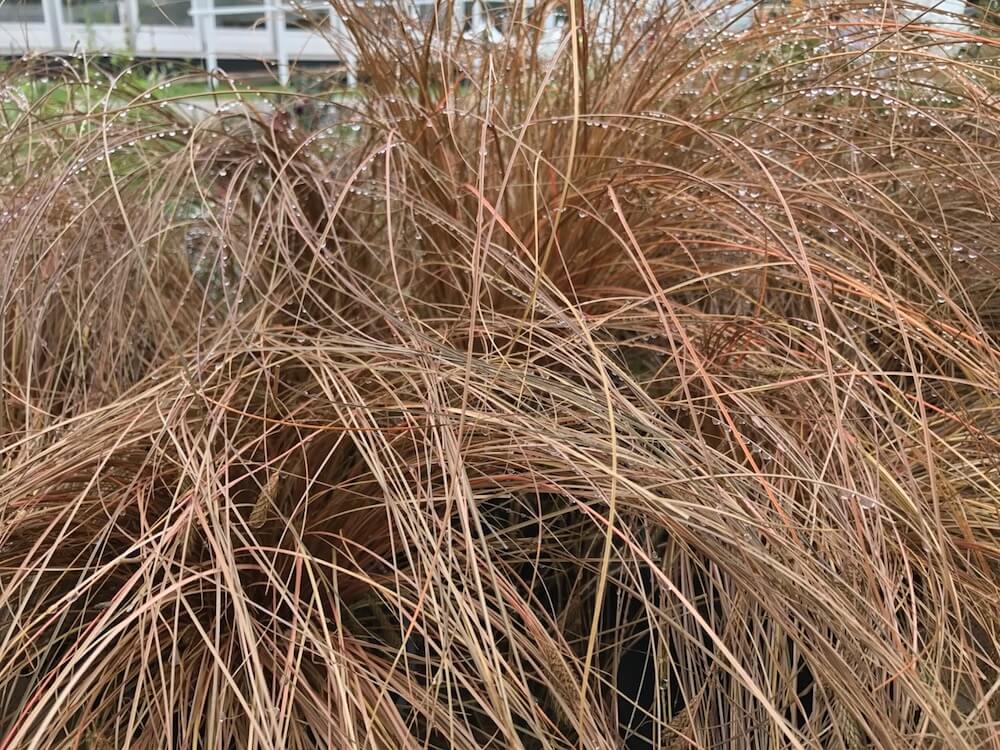 Contemporary Outdoor Living Design Example
I have recently designed and been working on an outdoor living room for a very demanding client, me! It's quite a unique site in that it backs onto fields and has unbroken views of Lancashire. It's an absolutely beautiful spot, but for somewhere to sit relax and socialise the views can actually be quite distracting. What on earth you may say! Well, having such a broad vista gives the feeling of being exposed which doesn't lend itself to a safe relaxing space. Too much of a good thing, which I never thought I'd say.
The design I created had to accommodate a seating area, hot tub, cooking space and a gardening space. It was adjacent to the house and kitchen so needed generous access in and outside alongside a movable BBQ. I also wanted to incorporate lighting so that the space worked day or night. A real multifunctional all year round space.
My concept idea was to create something really modern, given the natural surroundings, to almost emphasise both the beautiful landscapes informality against the formal contemporary structure. A complete contrast; using one to exaggerate the other. I also wanted to use a natural paving stone and chose grey granite for its hardwearing and sometimes brutal appearance. This would ensure that it was incredibly hardwearing and could cope with an influx of guests and maybe after hours dancing! It would also be fine in colder weather if sitting outside with a firepit for warmth or even if it was slightly damp outside as its non slip. By using a really contemporary thin granite paver it gave the space the illusion of making it feel much wider than it is and draws the eye to the raised bed.
Outdoor Living Design Tips
Once you have the function, layout and planting arrangements worked out for your outdoor living area you're nearly there. Before you jump straight in there are also a few other garden design tips to ensure success. These tips can give your garden a real wow factor.  Even if you have an existing design these handy design tips can help elevate a design. Below are my top tips for making the most out of your outdoor living area at all times of the day, any day of the year!
Lighting
By adding a lighting plan to your outdoor garden room you ensure that you can use it day or night. Lighting is a really underappreciated feature in professional garden design. Carefully placed uplighters, down lighters and bollards, can really bring a garden to life after dusk. I always recommend putting together a lighting plan such as the one below. It helps you really think through what effect you want and enables easier quotes from electricians.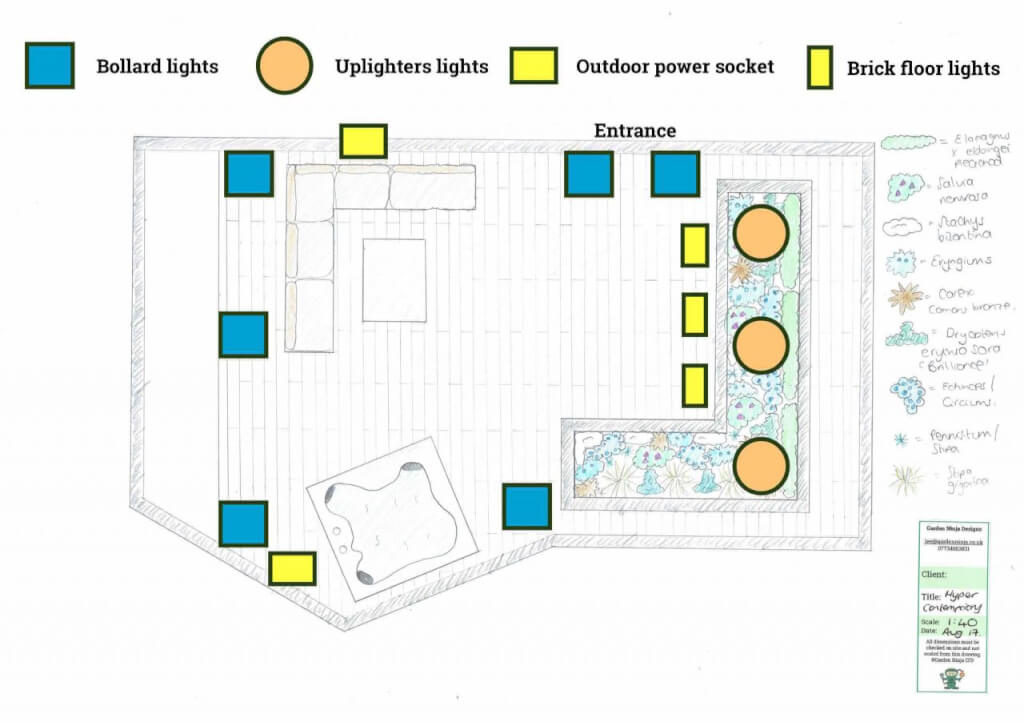 Modular and Inbuilt seating
Inbuilt seating is an excellent option in small gardens as it removes the need for storage of seats and chairs. It can also be used as a beautiful design feature, such as inbuilt benches. Modular furniture is a good idea for larger spaces. This means it can be reconfigures depending on how many guests you have and even split into two if you're going for a real party theme. This stops everyone cramming around one table and can relax the atmosphere more.
Robust clean surfaces
It is worthwhile considering your material choices for hard landscaping. Whilst gravel maybe a cheaper alternative to real stone paving, debris, high heels and spilt drinks can become a problem. Not to mention you may need to brush and or weed it more frequently than you anticipated! You want to have a surface that's able to take a bit of abuse, such a the odd greasy burger falling on it or knocked over glass of fizz!
Summary
With outdoor living becoming more popular its really important that you plan ahead for your space. By using this design guide and following simple rules such as working out the function, planting arrangement and seating areas you can ensure design success. Unlike interior design where furniture can be moved around, once you have created planting schemes, its really hard to just lift and shift them. This is why designing before hand using a guide will help you avoid costly time consuming mistakes. The result is an area that can be used all year round that looks beautiful and can accommodate every social occasion. So why not get the drinks on ice and get designing!
The outdoor living garden design above is due to be completed April 2018 so please check back soon for updates on its progress. You can also check out my Youtube channel for more video guides and updates